furniture REMOVALISTS DINGLEY VILLAGE
Singh movers & packers provide the best Furniture Removalists Dingley Village. We have a qualified and experienced team of removals that provides you with efficient service. We have been working around all the suburbs of Melbourne. We provide moving in local or interstate.
Furniture removalists help you in the moving process. They make your move day easy and stress-free. They are well-experienced in furniture removalist. They do all the tasks with proper safety.
Moving is a stressful thing which can't be done by an inexperienced person. There is a number of risks involved in the moving process such as breakage or damage of items, personal injury, and any other. Hiring a professional for furniture removals is a good option. It will lessen your burden and take all the responsibility of moving the items.
We know that is the hardest thing to relocate but we make your move easy. With us, your furniture is safe and arrived on time at the destination. We offer professional and low-cost removal services. Singh movers are loyal to meet the requirements of customers with our fast and quick service.
Singh movers & services are one of the leading Furniture removalist Company Dingley Village who provides you with the best and quality service. So, come to us if you are planning to relocate, we will help you in the time-consuming and difficult task at minimum rates.
Let us look at our services:-
Pre-packing service
Packing and unpacking all material is a very difficult task. It requires more care and attention. With house removalist service of Singh movers & packers, you will get the good packing service. Our packing staff will make sure that your furniture and material are under great protection which decreases the chances of damage to the material. Our packers come with different types of packing materials. They also have full knowledge about how to pack and unpack the items.
Removals with care and protection
There are many fragile items that need more care and attention. Our professionals are fully expert in the proper care and protection of handling the items. Our storage and packing service is also planned while keeping in mind the protection and care of your items. Singh movers & Packers will give necessary care and protection to your items while moving.
Reliable Furniture removalist service
Before giving the removal service to customers, we determine their removal needs so that we are able to provide you customized move. We inform you at each stage of the move so that you also know what is happening. Our highly trained movers provide you with reliable and trustworthy Furniture removals in Dingley Village.
Singh movers & Packers have many years of experience in moving service. We make your move as stress-free as possible. Our professional attitude will make us able to build strong and long-term relations with customers. Our aim is to deliver outstanding and high-quality service to customers and provide them with satisfaction. We provide full-time service.
So, if you want to hire a professional furniture removalist in Dingley Village then Singh Movers & Packers is the better option. We have a professional team and special packing material in order to provide protection to your material.
Our special Furniture Removalists Dingley Village services
No depot to depot charges: our customers will never pay any depot to depot charges. Our team will reach to you. It is their responsibility. It also saved you from spending extra money.

Door to door charges: the customers of Singh movers & Packers will only charge for the door to door charges. They will not be asked for any extra money.

No fuel charges: our customers will never pay for fuel charges. We will offer you many facilities and don't charge extra for you.

Professional tool: we treat our customers with more care and respect. We will not only help in shifting and provide protection but work with proper safety and professional tools such as trolleys, ropes, shrink wraps, etc.
Singh Movers and Packers will offer these special services to their loyal customers in order to maintain long term relationships with customers. In this way, we make our customers happy.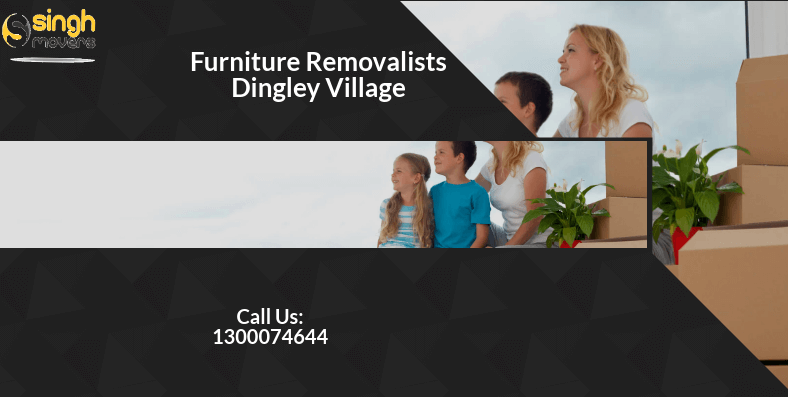 What is the need for professional furniture Removalists?
Moving a house is a stressful task. To make moving stress-free, you need the best packing and moving strategies. In today's life, everyone is busy and nobody wants to take the stress and burden of moving. Household items and furniture need care and attention. So, it becomes necessary to hire Furniture removalists in Dingley Village. In house removals, there are many items that require prevention measures for shifting from one place to another. Professional removalists can do this.
The major benefits of hiring professional Furniture removalists:-
More safety

:- with professional

furniture removalists

, your items are

safer

because individual attention is paid to each item. Safety of consignment is our main motto.

Timely delivery

:- hiring the best

furniture removalists

helps you in arranging all the things on time. Our movers are experienced and do their job on time. We always give estimated delivery time to customers.

Insured your items

:- customers always want removalists who have insurance and license. When a company has

insurance

coverage then your items and furniture are safe. We can say that they will pay money if any item is lost or damaged.

Offers packing material

:- packing and unpacking material is the most difficult and

time-consuming

task which requires to be done properly. A professional

furniture removalist

offers the best packing material and techniques to wrap your items. Best movers will come to your place with all

the packing

materials which

save

your time and money.

Well experienced:-

professional removalist

is

well-experienced and trained. They have in-depth knowledge of packing and moving. During the moving process, professionals make sure that your valuable things are under

safety

. They have many techniques through that your things will arrive safely at the destination.
Investing in hiring professional furniture removalist Dingley Village proves very beneficial for you. Your all stress and worries go away if you're hiring a professional for the moving process. There are a lot of things to do for moving.
Why choose Singh Movers & packers for furniture

removalists

Dingley Village?
Singh Movers & Packers is one of the leading Furniture Removalist Company that provides you with the best and reliable service. We trained our staff so that they can provide the best and safe service. We analyze the customer needs and requirements for moving so that we provide them with customized service.
Singh movers & packers are one of the reliable furniture removalist Company Dingley Village. We charge the actual and fair price from our customers. We determine the exact size and weight of the material so that they plan to move according to that. We make sure to provide you safely and timely delivery.
Give a look at our key features which makes us special:-
Experienced team

:- Singh movers have experienced and qualified staff who will handle all the activities of

the moving

process with care and respect. They are hard-work, friendly, and polite. They deal with customers in

a genuine

way and provide them with satisfaction.

Actual prices

:- We charge the actual and real prices from customers. Our prices are not hidden. The exact is depend upon the distance and traveling time of moving. It also depends on the vehicles used in the moving process. You will get the best and reliable service at affordable prices.

Offers packing materials

:- Singh movers &

Packers

will provide

you

with all the packing material which is of good quality. Packing material includes the packing boxes, packing papers and packing tapes, etc. We use good quality packing material so that your items are safe.

Transportation:

- When you are moving from one place to another then you need

transportation for loading and unloading your valuables. We have our own trucks and cargos for transportation which minimizes the cost of transportation.

All-time available

:- We are available for you 24 hours a day, 7 days in a week, and 365 days in a year. We have no holiday for

the weekend

and don't charge extra for weekend service. Whether it's day or night, we are available for serving you.

Satisfied customers

:- We spend time to determine the needs and requirements of customers. We provide the service according to their requirements. We have many happy and satisfied customers. They always recommend us for removal service. We also provide

a special

service to our loyal customers.

Safe removal:-

Our removals are

professionals

who provide you safe and secure removal service

.

The

special take care of your fragile items

.

They provide proper attention to your furniture during transit. They also pack your items properly so that they don't get

damaged

.

Storage service

:- We also provide short term and long term storage facility to customers. We have many storage rooms in Melbourne. At our storage rooms, your items are safely stored. Your items are under CCTV surveillance.

Fast service

: Our professionals provide

you

with fast and reliable service. They deliver your items at

the proper

time. we ensure that you will get timely and

safe

service.
All these are the features of Singh movers & packers which make us brilliant. If you want to make your move stress-free and easy then come to Singh Movers & packers who help you in this stressful task.
Dingley Village- A suburb city of Melbourne
Dingley Village is a suburb in Melbourne, Victoria, and Australia. It is 22-Km south-east from the central district of Melbourne. The local government area of this suburb is the City of Kingston. At the 2016 census, Dingley Village had recorded a population of 10320. Its postal code is 3172. Its State electorate is Clarinda and Keysborough. Its federal division is Isaacs. The City of Springvale is the former local government area in Dingley Village.
Dingley Village Fast Facts:
Postcode: 3172
State: Victoria
Country: Australia
Population according to 2016 census: 10,320
Distance from Dingley Village to Singh Movers Melbourne: 14.5 km or 19 minutes by car
Distance from Dingley Village to Melbourne CBD: 22 km
Local government area: City of Kingston
State electorate: Clarinda Keysborough
Federal Division: Hotham
Surrounding Suburbs Around Dingley Village:
Clarinda

Clayton South

Springvale

Moorabbin Airport

Dingley Village

Springvale South

Mordialloc

Braeside

Keysborough
Relevant Links:
Contact us for Professional Furniture Removalists Dingley Village
Singh Movers and packers are the Company who offers you the best service at minimum prices. We always focus on fulfilling your requirements. We use many techniques in order to give you timely delivery as well as more safety during transit. We ensure that make your move with zero damage to the destination.
If you are one of those who needs and finding the House Removals Company who can provide you with the best and professional services then come to us and get all the services at affordable prices.
If you have any doubt or questions then you can call us anytime. Our customer care executives are always present to answer your queries.
Come to Singh movers and packers for the professional furniture removalist service Dingley Village.