FURNITURE REMOVALISTS HAMPTON
If you are looking for professional furniture removalists Hampton who provides you reliable and perfect removal service then come to Singh movers and packers.
Relocating a house is very hectic. There are so many things to do while moving. It also requires care and attention to prevent damage and breakage. Relocation needs professional skills and knowledge. Nowadays, everyone has a busy schedule and they don't want to disturb their work. So, they hire professional furniture removalists for moving.
Singh movers and packers are one of the leading furniture removalists Hampton. We have a team of professionals who have many years of experience. We provide service across Melbourne. You will get the best and safe removal service at an affordable cost.
At Singh movers and packers, your belongings are safe and insured while transiting. We provide you with wide service including packing, assembling, loading, unloading and arrange the items at your new destination. Our team is polite and friendly to customers. They do their job very quickly and efficiently.
Moving is a difficult task which can't be done by a layman. If it is done by an unprofessional person then there is a risk of injury or damage. They also take a long time to move. It is very stress-full activity.
But if you hire a professional for relocation then it is a good option for you. It reduces your burden of moving. They do the entire work in very less time. They will make you free to do other work.
Singh movers and packers are the best furniture removalists Hampton. We provide the most efficient removal service at a real price. Our main aim is to make our customers happy. We ensure to provide safe and timely delivery. We are available for all time for the convenience for customers. We never charge extra from customers. We also provide special services to customers to maintain a healthy relationship with them.
The aim of Singh packers is to make the whole process is convenient and smooth. We provide you with a professional and low-cost removal service. We make sure that the customer's needs and requirements are fully met by our services. When you are getting our furniture removalist service, you will feel relaxed about your move.
Come to us for the finest furniture removalists Hampton.
Our Furniture Removalists Hampton Services:-
Singh movers and packers mainly provide these services to customers. We understand that everyone has a deep connection with their belongings so we provide special treatment to their belongings. Your items are safe and secured with our professionals. We provide the most efficient and effective removal service.
The major advantage of hiring a professional for furniture removal is that you save your time and efforts. They bring all the material which you need for packing, assemble all of your material, unload it and arrive it safely on destination. Hiring a professional for furniture removals also reduces the chances of breakage, scratches and dents.
Pre-packing service
Packing and unpacking of all items is a very tough activity. It needs more care and attention. Singh movers & packers provide a good packing service. Our packing staff will make sure that your furniture and material is under the great protection which reduces the chances of damage to material. Our packers come with the different types of packing materials which includes packing boxes, packing tapes and cartoons. They also have full knowledge about how to pack and unpack the items. We use high-quality packing material so that your items are safe.
Safe removal service
There are many fragile items that need more care and attention. Our professionals are fully expert in the proper care and protection of handling the items. Our storage and packing service is also planned while keeping in mind the protection and care of your items. Singh movers & Packers will give necessary care and protection to your items while moving.
Reliable Furniture removalist service
Before giving the removal service to customers, we determine their removal needs so that we are able to provide you customized move. We inform you at each stage of the move so that you also know what is happening. Our highly trained movers provide you with the reliable and trustworthy Furniture removals Hampton. At Singh movers and packers, you will get the most reliable furniture removalist service.
Delivering furniture to destination
When your furniture is packed, the next step is to deliver it. Our professional removalist will unload your furniture, arrange your furniture inside your home, assemble all items and unwrap all the excessive packaging. We ensure to deliver your furniture on time. We give estimated delivery time to customers. Singh Movers & Packers provides the best Furniture delivery Hampton.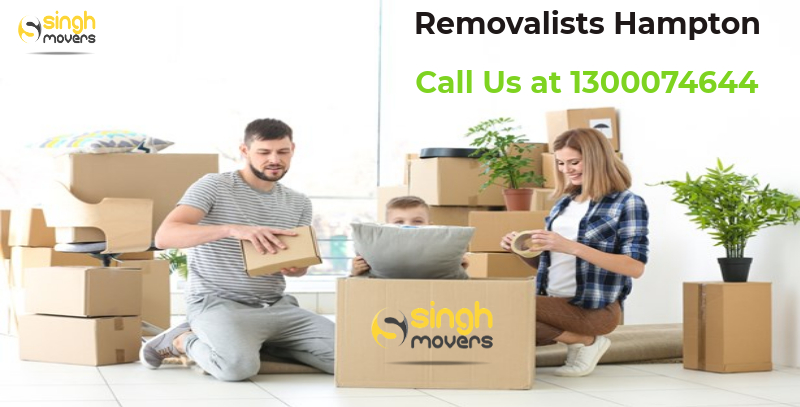 Pricing of the furniture removalist
The price of furniture Removalist depends on the distance and hours of delivery. We charge fixed price quotations. Our prices are not hidden. The actual price depends on some factors such as distance travel, local or interstate move and workload. We also tailor our services according to the budget of customers. You will get a cost-effective removal service at Singh movers and packers.
Singh movers & Packers have many years of experience in moving service. We make your move as stress-free as possible. Our professional attitude will make us able to build a strong and long term relations with customers. Our aim is to deliver outstanding and high-quality service to customers and provide them with satisfaction. We provide full-time service.
So, if you want to hire professional furniture removalist Hampton then Singh Movers & Packers is the better option. We have a professional team who is well-experienced and qualified. We provide special and high-quality packing material in order to provide protection to your material.
We give time to analyse the needs of customers so we are able to provide them a customized solution. We have our own trucks and cargos for transit. It saves time and cost. Our team will come with packing material. We use high-quality packing material so that items are protected from damage and dents.
So, Singh Movers & Packers is the moving company Hampton who keep in mind all the concerns and requirements of customers. We always satisfy our customers with our efficient removal service.
Our special services
No depot to depot charges: our customers will never pay any depot to depot charges. Our team will reach to you. It is their responsibility. It also saved you from spending extra money.

Door to door charges: the customers of Singh movers & Packers will only charge for the door to door charges. They will not be asked for any extra money.

No fuel charges: our customers will never pay for fuel charges. We will offer you many facilities and doesn't charge extra from you.

Professional tool: we treat our customers with more care and respect. We will not only help in shifting and provide protection but work with proper safety and professional tools such as trolleys, ropes, shrink wraps etc.
Singh movers and packers will offer these special services to their loyal customers in order to maintain long term relationships with customers. In this way, we make our customers happy.

Why choose Singh packers & movers for furniture Removals?
Singh movers & packers are the best furniture removal company Hampton who offers quality service at affordable prices. Our aim is to protect your material from breakage, scratches and dents while moving. Our professional and experienced team is very friendly, hardworking and skilled.
Singh movers & packers are one of the reliable furniture removals Company. We charge the actual and fair price from our customers. We determine the exact size and weight of the material so that they plan to move according to that. We always analyse the customer's need and requirement and focus on fulfilling their needs.
The key features of Singh movers & packers are as follows:-
Reliable and fast service: - we make sure that you can get reliable and fast service. Our professionals provide you with the timely delivery of your materials and gives proper attention to your materials.

Professional team: - Singh movers have a team of professional and experts who provide you with the best service. Our team is very friendly and hard-working, loyal to his job.

Storage service: - when there is interstate or far travelling for the moving then Singh movers provide the storage service. We have various storage rooms in Melbourne where your furniture is stored safely for short or long duration.

Affordable prices: - the prices we charge for furniture removals are transparent; that is not hidden from the customers. We charge the actual and affordable prices from customers.

Happy customers: - we analyse the needs and requirements of customers then provide the service according to their requirements. We have a long list of happy customers who always prefer us for any type of removal.

Secure removal: - our professionals provide safe and secure service. We give proper attention to furniture and fragile items. Your material is also insured while moving. We proper pack your items so that they don't get damaged while moving.

Packing material: - Singh Movers & packers provide the packing material which is of high and good quality. We provide all type of packing material such as packing boxes small or large, packing tapes and packing papers.

Transportation: - we are invested in special equipment so that we are able to provide you with quality service. We have own cargos and truck for transportation which minimizes the cost of removals.
All these are the key features of us which make Singh Movers & packers the best furniture removalist Hampton. We will not only focus on quality service but also on the satisfaction of customers. Customer satisfaction is our high priority. We have a record of timely delivery of furniture.
Hampton- a suburb city of Melbourne
Hampton is a suburb in Melbourne, Victoria. It is 14 Kilo-meter south-east of Melbourne's central business district. The local government area of this suburb is the City of Bayside. Hampton had recorded a population of 12482 in 2011 Census. The postal code is 3188. The state electorate is Brighton and Sandringham. The federal division is Goldstein. It has a vibrant shopping centre along the main road.
Hampton fast facts
Postcode: 3188
State: Victoria
Country: Australia
Surrounding Suburbs Around Hampton:
Port Phillip
Sandringham
Brighton
Hampton East
Highett
Population according to 2016 census: 12,482
Local government area: City of Bayside
State Electorate: Brighton
Federal Division: Goldstein
Distance From Hampton To Singh Movers Melbourne: 17.9 km or 35 minutes by car
Distance From Hampton To Melbourne CBD: 14 km
Relevant Links:
https://en.wikipedia.org/wiki/Hampton,_Victoria
https://en.wikipedia.org/wiki/City_of_Bayside
Contact us for finest furniture removalists service Hampton
Singh movers and packers provide the reliable and professional furniture removalist Hampton at a real price. We provide the most effective removal service. We have a long list of happy and satisfied customers.
You can call us or mail us for any doubt and query. Our customer care executive will always present to answer the customer query. We are always present to serve our customers.
Come to us for furniture removalist service and give us a chance to help you with moving.
Move with Us for Easy,Affordable,Quality Removalists Services Australia Wide.
Contact Us For Free Enquiry and to Arrange a Free Obligation quote.
For more information on furniture removals and Storage Services don't hesitate to get in touch to one of the Expert Team Members or representatives on 13000SINGH OR 1300074644 for a free obligation quote from the Singh Movers Team, simply fill out our quick quote form or write an email or call us directly as per your convenience. Our Head office is located in Melbourne and Singh Mover's offices are spread across over other major cities: Sydney, Adelaide, Brisbane, Canberra, and Perth.