REMOVALISTS ALBERT PARK, Melbourne
Singh Movers one of the best and the cheapest Removalists Albert park service providers, which offers its varieties of services all over Australia and in the different suburbs of Melbournes as well. We are specialized in providing the service of Furniture Movers, Office Movers, House Removals, etc. However, we are very well aware that Albert Park Furniture Removalists is one of the major demands all over Melbourne. We are the Melbourne based Removalists who offer quality services to our customers with affordable price quotes. Our staff is professionally trained and have years of knowledge in the field of Furniture Removals.
We use various professional tools in order to carry different types of removals. We carry the removal with proper packaging, wrapping the materials, and proper planning so as not to waste the time, no damage to the materials, and for the on-time delivery. Thus, saving them the time and cost of the services for our clients. Your furniture is packed well and loaded professionally and with proper planning and packaging so that there are no chances of damage while moving the materials either within the city or interstate move. Singh Movers And Packers are known for their quality work and render their clients with the best work possible. We do not believe in fake promises instead we believe in delivering 100% satisfaction to the customers. Hire us with just a call, an assignment online, or by mail. We will always be there to assist you with any type of problem.
Singh Movers is committed to providing the following services to their clients:
Furniture removalists are in great demand all over Australia and nowadays people do not have enough time to perform such types of works by themselves, they believe in hiring a Movers And Packers company. Everyone is very busy in their own schedule and hence try to get the assistance of various Movers And Packers round the city. In the list of those removalists, Singh Movers are the famous removalists offering the service of furniture removals at affordable price rates in this developed city-Melbourne. Although, there are many Packers Movers available offering the same service with years of experience. We have experience of more than 12 years in this same field and will provide you with cost-effective and quality service.
A furniture removal is a monotonous and tiring task and is required to be done with sufficient knowledge and time. This job is not a hurry-up job to be done within 2-3 hours instead it requires proper planning, analyzing the things and packaging material, loading vehicles needed.
What All Does Singh Movers And Packers Offer?
No Depot To Depot Charges: You will never be asked for any depot to depot charges as it is only our team who will reach you and why we will ask you to pay for that.

Door To Door Charges Only: We will only charge you for the door to door shifting as that is when the main process starts.

No Fuel Charges: Singh Movers will never ask their clients to pay any type of fuel charges as Affordable Furniture Removalists will endow you with every facility that we can and will not charge you for any type of extra stuff.

Professional Tools: Furniture Movers of Singh Movers And Packers Company treat every customer as their family and complete their work with proper safety and using different types of professional tools. Singh Movers also have professional trolleys and ramps for the shifting of various types of upright pianos.

24*7 Support: We will solve your every problem. You can call or mail us at any time you want to as we are available round the clock for our client's assistance.
No Hidden Charges: Singh Movers have shown all their charges beforehand to their customer in their company's quote. We do not ask you for any other charge for the sake of money. We just believe in providing quality work as we work for the success of this company and for the happiness of our clients.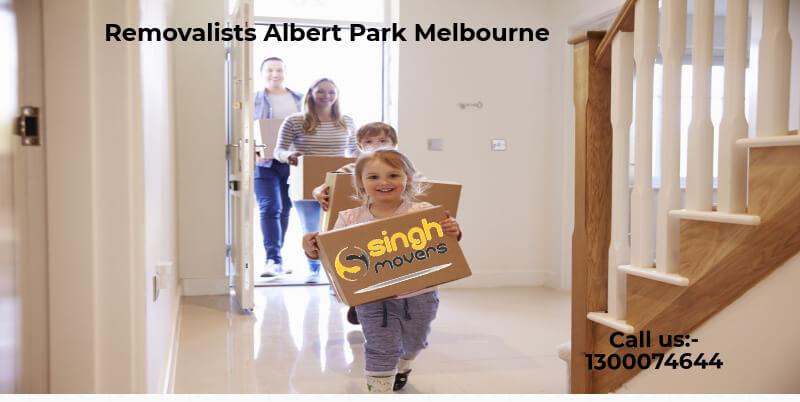 Why should you count on us for the Albert Park, Melbourne removalists process?
We make your work easy with pocket-friendly prices: Singh Movers And Packers Melbourne is believed by the Albert Park residents for their quality service at affordable prices. We endow our customers with all the facilities at the affordable prices possible. It is our company's main motive to offer their customers all the services at a low-cost so that the prices won't lay heavy on any type of customer's pocket.

Timely and safe delivery: Now, this is a major doubt in every customer's mind as many other service providers promise to always shift the stuff on time but do not actually do so. But why choose Singh Movers for Albert Park, Melbourne removalists service? Because Singh Movers is an on-time delivery company and do not let their customers disappoint in any case. Our timely delivery will always make you smile.

Trusted and safe delivery providers: Singh Movers can always be fully trusted for the safety of the stuff as they properly plan, pack, and unpack the stuff using professional tools and by undertaking the proper safety measures. Have full faith in us and call us to hire for quality services.

Quality Furniture Removals Melbourne: We along with furniture removal endow many other facilities like office moving, moving interstate whether an office or a house, storage facilities, etc.

Reliable Fully Insured Movers And Packers: Singh Movers is a company of Movers And Packers Melbourne at whom you can rely upon for all types of removals work. You need not worry at any point in the shifting process. We are fully insured removals in Melbourne and its suburbs. Though we and our professional team never let any problem happen during the shifting process if sometimes it happens for the materials in transit, we pay up to $100,000. On the other side, in case of any harm to the public, we pay for the public liability around $10,000,000.

Prima Singh Movers also because of our Storage Facility: We offer our clients with one more important service- Storage Facility at the Singh Movers Company. So, if for the time being, you do not want to shift all of your goods to your house, office, or industry, we have plenty of space for your belongings to be stored under CCTV Surveillance 24*7.
So, in order to acquire the quality services, contact Singh Movers and be ready to just chill with your family in the best possible way.
Hire the Best Furniture Removalists.
We render you with a variety of services for your convenience that you should not hire any other company for some sort of work. We are a one-stop-shop for our clients offering them a variety of services at nominal price quotes. We offer you this service also so that you do not even need to ask for the price reduction of various services. We are pretty much flexible with the timings and the price quotes of our quality services. Our thousands of satisfied clients have never asked us to do any sort of changes as we offer them the perfect work but we always surely need your suggestions to improve our services more and more. We value you and your opinions.
We provide you with a storage facility. Safe, secure, and thousands of people want this facility as many do not have much space to keep the rest material in their offices or houses and thus we provide them with this service with large storage boxes under CCTV Surveillance. Our professional team is responsible for the care of each and every item in the storage facility area. We offer you many other additional services. Just imagine how relaxed you will be when you will have no stress from the removalists Albert Park and you will just reach your new home with everything being at its place.
Albert Park - A Suburb City Of Melbourne.
Albert Park is an inner suburb of Melbourne, Australia, within 3 km of Melbourne's central business district. The local government area of this suburb is the CITY OF PORT Phillip. The postcode of Albert Park is 3206 and is surrounded by the port Melbourne suburb. This suburb is well serviced by public transport and the other essential lifestyle amenities. In the 2016 census, Albert Park had a population of 6,215. In Australia, 66.2% of the population was born. The next most common country of birth was England (5.4%), Greece (4.0%), and New Zealand (2.5%). 74.2% of people used to speak English at home only. Other languages spoken at home include Greek at 8.0%. The most common reactions to religion were no religion of 39.3% and Catholic 18.4%.
Albert Park Fast Facts:
Albert Park Postcode: 3206

State: Victoria, (VIC)

Country: Australia

Distance from Albert Park to Singh movers Melbourne: 24.9 km or 26 minutes by car

Distance from Albert park to Melbourne CBD: 3 km

Population: 6215 according to the 2016 census

Population Density: 1,942 people per square km

Local Government Area: City of Port Phillip

State Electorates: Albert Park

Federal Electorate: Melbourne Ports

Surrounding Suburbs around Albert Park:
Port Melbourne

Middle Park

Melbourne

Albert Park

South Melbourne
Relevant Links:-