Removalists Broadmeadows

Take Primacy Of Mastery Moving And Shifting Service And Get Stress Free Removal

All of us knows that move and packing Furniture Removalists Broadmeadows needs more attention. even you do accurate packing but more chance for possession damage. Be it is relocating nearby street it requires skill to handle. Alongside when you try to do when you make yourself saddle with anxious
Relocating isn't possible to do the moment you think it needs various skills. How it feels when all your valuable belongings arrive at the worst case in your new destination. Also when it comes to relocating you will have a lot of options to use.
When you decide to move your destination in Melbourne then avail our moving and packing service we will handle all stress. We've experienced Budget Removalists Melbourne really the payment we ask is unbelievable for you besides we won't make you to more than the service offered.
Broadmeadows area, home of the Wurundajeri Aboriginal nation, before European settlement was settled by pastoralists people in the 1840s. The original Broadmeadows aka "Old Brody" is now known as Westmeadows, which is located in the west of the current Broadmeadow. The first Broadmeadow Township was prepared in 1850 by a government survey. Ardley Street was a commercial hub with a hotel (Broadmeadow Hotel, now Westmeadows Tavern), Police Station and Shire Office (District Road Board Building, opened in 1866.

Make your move simple with Furniture Removalists Broadmeadows Singh Movers:
Our endeavour is to offer premium service to our customers in a hassle-free manner. Being a professional in packing and moving right from packing to lifting we load with proper safety measurements. On the other side, your belongings will be secured even under transporting.
We are very calculative in relocation and so we'd make the process reliably fast. We can ensure you the time of arrival you can expect from our team of packers and movers on your site. Besides our professional takes care of all your belongings even it is a small one this well-known quality leads our packing service worth even more.

Dedicated work of Singh Movers:
We are packers and movers are trained experts who carry out all your possession in the safest manner. If you still chaos with our service you can evidence all the following features on the day of the move.
Packing: This service is our trademark we have all the requirements for the perfect packaging. Our budget-friendly service will help you with each step. From packing to unpacking we will secure your possession with professional care.

Utmost relocating: We undertake even heavy lifting and we are experts in handling the removals in order to make any extra move our guys will do it efficiently.

Compact schedule: We are the reliable service providers since we execute any huge lifting and relocation without any flaws outright. Getting our service will make you enjoy perfect packing and unpacking.

Tools: All the equipment which we use to relocate is certified items we own it for the convenient packing and moving. Your load which we handle will get safe lifting and landing by means of our high-quality equipment.

Services that Singh Movers experienced in: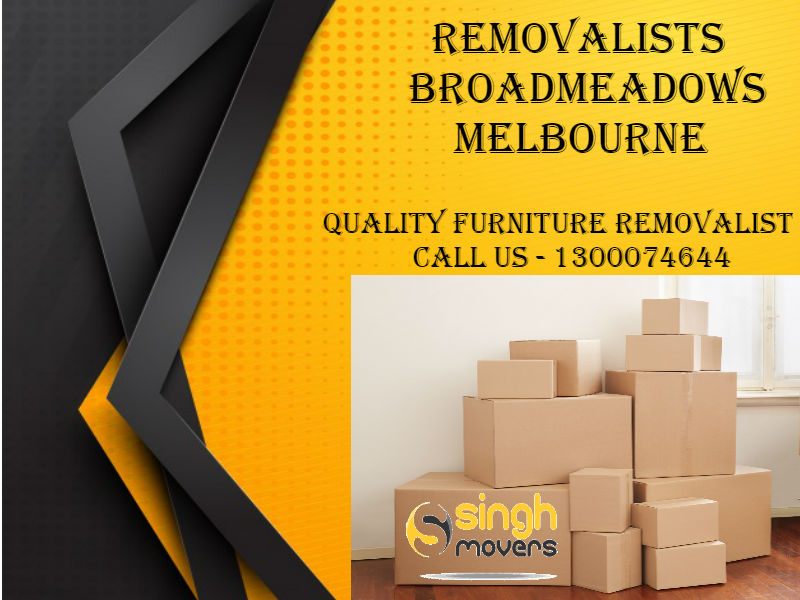 Experienced work you get in Singh Movers:
We aid in satisfying our customers with our full standard service. We are the Best Removalists Melbourne we will help you reduce your stress by cutting down your packing and moving work.
No need for worries even you're running out of time to relocating to the new destination. By means of our professional skills, you will be impacted with better packing and shifting service. Services you can rip from our professional company are,
House move: We offer the utmost care for your possession alongside our trained furniture movers will find it easy to pack all your household belongings. Our household moving service let you understand what reliable process is.
Office move: Our professionals will provide parallel service for both house and commercial move. The especially commercial move gets finished as per your time convenience. Besides we won't compromise in the quality of the removal. Service we offer will give an appropriate solution and meet your business relocation requirements.
From packing to reassembling:
Whatever your goods or belongings you can evidence the reliability on even single items. Since we concentrate all process and importantly we have an eye over your possessions while packing, lifting and unpacking.
By using accurate boxes and protection foams your goods will be safeguarded and the packaging equipment for your possessions are easy to pack. So we do this nightmare process in a very easier way.
The primary quality of Singh Movers:
We tend to be the full service offering movers and packers we get the trust of our customers even from the first meet. In terms of
Reliability: We have intense knowledge and experience in the packing and moving process. The strength of Moving Home Melbourne is serving various customer required service. We're glad to grand your desired packing and moving service.

Proficiency: We know how it's painful to bear packing and moving process on own and so we always in a ready state. Alongside once we get into the relocating we turn out it easy, comfortable and cost-effective even it is huge in size.

Loyalty: We keep your possession in a secure way and we support in every step of service that's why we meet the best quality possible.

Stress-free: You can cherish with our packing and moving process since we offer smoother and reliable service so you don't want to mess about your possessions.

Credentials of Singh Movers:
Other from? Cheap Removalist Melbourne you won't meet opted packers and movers. Since we keep on concerning your possessions aside from our service have ethics while getting paid. We do not even make you pay a bit of additional cost for the service we made
We reach on time sharply

Our packing equipment is certified and withstand for long-term

We care your things as you do

Our trained professionals will not disappoint you in any situation

Overall we manage packing and moving process professionally throughout

Best Movers and packers Melbourne - Singh Movers
Our dexterous movers are accomplished in relocating we pack up all your households in the safest way. Even you dire to move we'll make the process without any disappointments. We'll assure your possessions stability and we know its value so even single items will get special attention. Right from furniture to other belongings will meet the professional packing and lifting in Moving Company Melbourne at a cheap cost.
We're meant to be the specialist in removals till now since no one can offer match with our beyond expertise relocating service. As our movers and packers have years of experience so we are aware of your fragile belongings. By utilizing our unparallel service you will get profit in terms of quick packing and moving undoubtedly. So when it's time to move to Melbourne then its time to contact us for reliable packing and moving service.

Broadmeadows - A Suburb City Of Melbourne
Broadmeadows is a suburb of Melbourne city it is situated in a northeast distance of 16 km away from the central business district of Melbourne. Broadmeadows local government city is the City of Hume as per the 2016 census report the population numbers in Broadmeadows is of 11,970. In north suburbs, Melbourne where alone Broadmeadows sub-region centre is located and this place is also referred to as a municipality. Broadmeadows is the place for military training during the period of 1913. The post office of this place is renamed and remains as fourth distinct location.
Broadmeadows fast facts:
Postcode: 3047
State: Broadmeadows
Country: Australia
Population according to 2016 census: 11,970
Distance from Broadmeadows to Singh Movers Melbourne: 41.9 km or 37 minutes by car
Distance from Broadmeadows to Melbourne CBD: 16 km
Local government area: City of Hume
State electorate: Broadmeadows
Federal Division: Calwell
Surrounding Suburbs Around Broadmeadows:
Meadow Heights

Westmeadows

Jacana

Glenroy

Fawkner

Dallas

Campbellfield
Relevant Links:
https://en.wikipedia.org/wiki/Broadmeadows,_Victoria
https://en.wikipedia.org/wiki/City_of_Hume
Move with Us for Easy,Affordable,Quality Removalists Services Australia Wide.
Contact Us For Free Enquiry and to Arrange a Free Obligation quote.
For more information on furniture removals and Storage Services don't hesitate to get in touch to one of the Expert Team Members or representatives on 13000SINGH OR 1300074644 for a free obligation quote from the Singh Movers Team, simply fill out our quick quote form or write an email or call us directly as per your convenience. Our Head office is located in Melbourne and Singh Mover's offices are spread across over other major cities: Sydney, Adelaide, Brisbane, Canberra, and Perth.