REMOVALISTS BROOKLYN
If you have a new home for yourself, we offer you the best Removalists Brooklyn. You might be hunting for a good house relocation Melbourne. Relocation is the toughest thing ever because one, you have to pack each and everything of your old house in separate boxes, two, call for a movers and packers Melbourne, three, take the loading and unloading seriously as it is your belongings that you do not want to get damaged, four, unpack them in the destination location and five, give the whole of your time or days and six, stress yourself out like anything.
Brooklyn is largely an industrial suburb, with a small pocket of low-density housing in the south. The industrial area has offices of several logistics organizations including mine, landfill and recycling centres and CEVA logistics. Huntsman (Chemical Plant) is a large local chemical manufacturing plant in Somerville Road. Brooklyn is notorious for industrial pollution and sewer issues due to high oil content in the problem-causing soil with the foundation. In recent years, there have been many complaints about the industrial pollution of aggressive smell from Brooklyn by residents of nearby suburbs to EPA Victoria. The Federation Trail is a common access path for cyclists and pedestrians, which starts in Brooklyn on Millers Road. There are many big retailers in Brooklyn, which include a safe, coles and a mitre 10 home and trade. Brooklyn also has many adult entertainment venues, including Club 741 located on Geelong Road.

Look for the Best Furniture Removal Company in Melbourne
Furniture, on the other hand, is such a pain because they are so bulky and they cannot be packed in boxes. This becomes a way tougher job when there is an Interstate relocation. While most of the removal company Melbourne would not provide you with this particular service, Singh Movers have come up with this facility so that you do not have to think so much for the relocation to a different state.
Packing and moving can be a tiresome job if done by individuals of a house or office without proper equipment. And it becomes absolutely useless to buy and store such equipment which you will be using once or twice. So, the best option is to seek help from packing and moving company nearby. Having said that, there are innumerable Movers and Packers Melbourne who have cropped up with time making it difficult for people to choose the best out of the lot. So people fumble from one Removal Company Melbourne to the other in search of a proper quote and best service. On that note, Singh Movers being an ultimate furniture removalists Brooklyn comes with affordable and best services in Melbourne. To know more about Furniture Removalists Brooklyn, read till the end.

Furniture Removalists Brooklyn Services that you can avail at Singh Movers
Singh's Moving Services Melbourne is the ultimate requirement considering packing and moving of items in Melbourne. There are several services that you can avail from the Singh Movers and be stress-free until your packing and moving are done. Have a look at what Singh Movers have to offer you:

What makes Singh Movers the best Furniture Removalists Brooklyn?
Singh Movers is not just the other packers and movers Melbourne but is a complete package of services and satisfaction. Here are some of the reasons that make Singh Movers the best Moving Services Melbourne.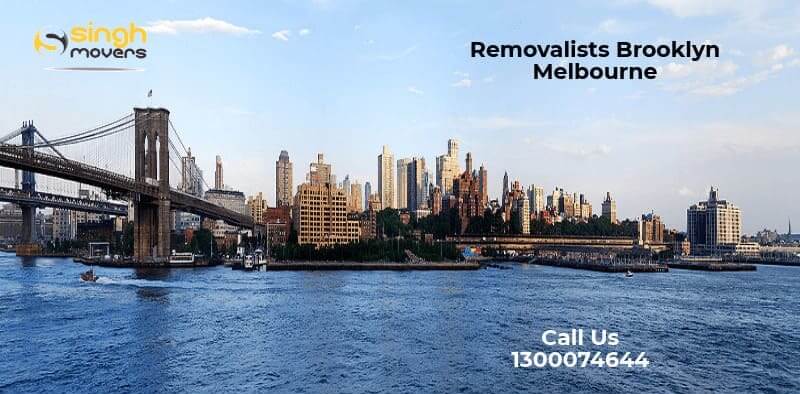 Singh Movers will never let you wait. Once the time and date and obviously the quote are fixed, they get to work. They will arrive on or before time and will deliver your belongings safely to the destination within the deadline. Also, they keep you updated with their moves.
Working with the Singh Movers will never cause a dent in your pocket. The quote they send you according to your service you want to avail is very much budget-friendly and probably no other Moving Services Melbourne will provide you with such an affordable quote.
The quality of service Singh Movers offer you is the best anyone can provide. All your furniture is taken special care of while loading, unloading and, transit. Therefore, there is absolutely no need to take stress about your belongings including your furniture.
When you have hired Singh Movers for packing and moving of your belongings, you absolutely need not worry about anything. All your stuff will be properly packed, transported and unpacked without any hassle.
In case you want to know about the client feedback, head straight to Google and read the online reviews and check on the rating Singh Movers have received. They have been gaining a lot of clients for over a decade now.
Out of all the movers and packers in Melbourne, not everyone provides you with the uber facility and of course insurance or take up liability for any damage. Singh Movers does. For any damage to any person, Singh Movers pay around $10,000,000 as public liability. Also, in case there is any damage occurred in the goods while transportation; they pay for liability of up to $100,000.
Apart from no hidden charges facility, Singh Movers does not accept any fuel charges that are involved in the process. You only pay for the door to door service that you have opted for.
Even if your work has been done with Singh Movers, you still would be able to take assistance from their 24*7 customer service. Whenever there is an issue or query, just take the assistance from anywhere.
Clients of Singh Movers will be able to book for the type of vehicle they want. Even if you want the company to decide for you, Singh Movers will absolutely do it for you and you will not regret.
If you own any antique furniture and want to move them to other destinations, Singh Movers will help you out with their super awesome services and professionalism. They are specialists in this and will never let you down.
As the packing and unpacking service of Singh Movers, there is also assemble and disassemble service where all your belongings those which needs to be assembled and disassembled, are done by the Singh Movers.
Brooklyn – A Suburb City Of Melbourne
Brooklyn is an industrial suburb of one of Australia's city named Melbourne which falls under the state named Victoria. Brooklyn is located 10 kilometres to the Central Business District of Melbourne, within the cities of Brimbank and Hobsons Bay local government areas. According to 2016 census, Brooklyn holds a population of 1856. Bro0oklyn is often called as the polluted suburb as it is an industrial area and the clay content of the soil is much higher.
Brooklyn Fast Facts:
Postcode: 3012
State: Victoria
Country: Australia
Population according to 2016 census: 1,856
State Electorate:
Federal Division: Gillibrand
Local government area:
City of Brimbank

City Of Hobsons Bay
Distance from Brooklyn to Singh Movers Melbourne: 34.2 km or 34 minutes by car
Distance from Brooklyn to Melbourne CBD: 10 km
Surrounding Suburbs Around Brooklyn:
Sunshine West

Sunshine

Tottenham

Brooklyn

Yarraville

Laverton North

Altona North
Relevant Links:
https://en.wikipedia.org/wiki/Brooklyn,_Victoria
https://en.wikipedia.org/wiki/City_of_Hobsons_Bay
Singh Movers have been reining the packing and moving industry of Melbourne for over a decade and have worked with a large number of clients and gained much experience in the field. They are expertise group of friendly moving men who handle your stuff with utmost care and professionalism. Moreover, they also provide Interstate relocation facility which most companies fail to provide. Singh Movers have extended their helping hands to various cities of Australia viz., Adelaide, Brisbane, Canberra, Melbourne, Perth, and Sydney. Their all-day client service is worth noting. All these have led Singh Movers to be the best packers and movers Melbourne.
Move with Us for Easy,Affordable,Quality Removalists Services Australia Wide.
Contact Us For Free Enquiry and to Arrange a Free Obligation quote.
For more information on furniture removals and Storage Services don't hesitate to get in touch to one of the Expert Team Members or representatives on 13000SINGH OR 1300074644 for a free obligation quote from the Singh Movers Team, simply fill out our quick quote form or write an email or call us directly as per your convenience. Our Head office is located in Melbourne and Singh Mover's offices are spread across over other major cities: Sydney, Adelaide, Brisbane, Canberra, and Perth.