fURNITURE REMOVALISTS Malvern east
If you need Furniture Removalists Malvern east and you Moving from one place to another one? It is always difficult, it does not matter where you are. If you got to find the place, the half journey is already travelled by you. But the next part of shifting that is shifting itself is a really tiring and difficult task. So, you must be searching for reliable furniture removalist.
And it is better to know for you that your search for furniture removalists Malvern east is towards the end now. You do not have to worry about the removal of the goods and
shifting to your new place because we will provide you with quality services regarding your furniture removals.
We are the most relevant furniture removalists Malvern east to help you in the process of shifting. We are the best removalists Melbourne only because of the faith and satisfaction of our customers that we have gained with our quality services provided. Singh movers and packers Malvern east will make your furniture removal more and more convenient with our help and assistance.
Our professionally trained workforce at Singh movers and packers deserve all the faith of our customers which they have in our company.
If you are relocating your office or you are shifting to a new house, moving is always difficult and a long process task for every one of us. Also, this process of relocation needs a lot of our efforts and a long time. Eventually, you may have to face some loss in your business due to your absence from there. So, to avoid this kind of situations, you will have to find good furniture removalists Malvern east.
At Singh movers and packers, we will provide you with total support and assistance in your furniture removal and goods removal. This is because we know our customer's needs and requirements completely and thus, we help them accordingly.
We can provide you with the quality furniture removal services so that to make your shifting stress-free at a reasonable and pocket-friendly price. So, whenever you are shifting to your newer place and wherever you just have to contact us so that we can make relocation very much convenient for you.
Our price lists to provide you with the moving services melbourne are very affordable and pocket- friendly in comparison to the loss which you may have to bear due to the unsafe transport and shifting of the goods of your house or company.
So stop here only and see our services, our workforce and then hire us, we will assist you in relocation completely for your convenience.
Specialisations Furniture Removalists Malvern East Services:
We are specialised in the following services by us:
We know the inconvenience that occurs to your family and you while moving to a new place. But Singh movers and packers will make your moving work so easy and convenient that you will not face any problem during the movement. Our experienced team works efficiently and with so much safety so that no harm will be caused to your stuff. Your fragile items, crockeries, piano and furniture will be removed carefully to your new place.
Our experienced team uses all the necessary and latest tools with the use of which we can provide you with the safest move to your new place. Safe moving is always the question of everyone when you are to relocate to your new home or when you are shifting your company to some other place. Give us a chance to serve you and we will provide you with the best services that you should be having.
Why should you give Singh movers and packers a chance?
The perks of choosing us among plenty of people providing you with the moving services Melbourne are many and you will find shifting your home this much easy with us that you least expected earlier. So, the benefits of hiring us are:
Swift and quick delivery- This moving company Melbourne assure you to deliver all of your furniture stuff on time that you a lot to us. We never delay our delivery time and will assist you with the quickest furniture removal for your relocation.

Customer satisfaction - Keeping our customers' satisfaction as the topmost priority, we have reached where we are. Satisfying our customers with our work has helped us in building and earning the trust of our customers. Thus, we can provide you with stress - free furniture removal services in Melbourne.

Pocket- friendly price lists- You need not bother about the price which we will ask you. We are the cheap removalist Melbourne who are here in services for you to provide you with the most convenient moving services Melbourne with professionalism, safety and at a low price. We give you the best price guarantee with the best services.

Safe and most secure movers- You must be thinking that what if we do not handle your furniture and all stuff safely. But, you be free for that because we will handle the goods and make them delivered to the specified place with utmost safety. So, while hiring us for your work do not worry at all as Singh Movers and Packers Melbourne will deliver your furniture with so much safety and care in anywhere across Melbourne.

Completely insured and reliable movers- You can completely rely on Singh movers and packers for your goods to be transported when you are relocating. We are an assured removalist of Melbourne. Although, there has not been any case of trouble in our furniture removal services history till now, we assure you if something happens with your goods, we will pay you up to $100000 depending on the loss of you.

Storage facilities - Singh movers and packers also provide you with the huge storage facilities that too under CCTV surveillance 24*7 if you have any such requirements. Your goods will be as secure with us as in your home or office. So, don't panic for this too.

Experience of 10+ years- Our experience in furniture removal and storage services has automatically given us more and more skills to handle your goods carefully and with utmost safety.

Professionalism - With our experienced team of experts and professionals for this work, you need not worry about your furniture and stuff. All your stuff will be delivered to the place of relocation with the best storage services provide by Singh movers and packers.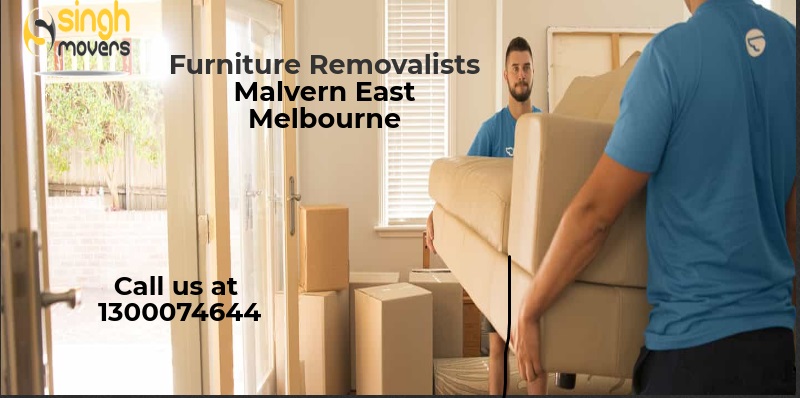 Packing facilities by Singh Movers and Packers
Packing is the most important part of removal. While transporting, there are many chances when good may get damaged. If we do not pack the goods properly, then they may damage. Packing can save them and keep them safe while transporting. There are several techniques with which packing can be effectively done. We have a number of equipment and ideas for packing. This all helps us to keep your furniture or other fragile items safe.
We use a variety of packing material for providing safety to your goods. Different Variety of material is used to fit a different type of small or big goods. These packing materials include heavy-duty blankets, shrink wraps, bubble wraps, differently sized cartons, thermocol etc. these materials provide safe transportation to your goods. Also, we pack yours accordingly on the basis of their size and breakability etc.
First of all, we place your delicate items in boxes or cartons. We choose these cartons according to the size of that article. After this, the empty space in the carton is filled with newspapers, thermocol etc. This will help in not giving your fragile items space to move around. This will ultimately save them from any type of damage.
Our workforce is fully trained to do this work of packing and transporting. These packing techniques help us to safely deliver your furniture.
Singh movers and packers' special services for their customers
We provide our excellent moving services to all our customers. And our services are more interesting with the special services of our company. This furniture removalist Melbourne will provide you with a number of quality services with so ease and will make it all convenient. Some of these services are:
No depot to depot movement charges: Singh movers and packers are a company that never charges their customers extra for anything or any related service. There are no charges for any depot to depot movements at all. But if you think to go for some other removalist Melbourne, they may charge you for the depot to depot movements.

The only door to door movement charges: we try to make the whole process of moving and shifting easier because we charge only for movements that will be from door to door. We never charge our customers anything extra. So, you need not worry if you are hiring us for moving tasks.

No charges for fuel:
We will not take from you anything extra other than what we have mentioned in the quotation provided to you. Also, we do not charge for the fuel which will be used while moving the goods from your old place to your new one.
Latest moving equipment and tools: we have many specialized tools and equipment which are used in the moving processes. Moreover, the latest tools and equipment also help us in providing the utmost safety to your goods and furniture while transporting. Some of the moving equipment which we use are ropes, heavy duty blankets, trollies, dollies, shrink wraps etc. these tools also make the pool table removal, piano removal or even the heaviest furniture removals easy.

No hidden charges: there are no hidden charges in our policy. We will ask from you only what we have already stated in the quotation provided to you. This gives relief to the customers that there are no hidden charges in the whole process of moving and shifting.

24 hours support to the customers: you will never get to feel insecure about your furniture and goods which you have handed over to the friendly moving men of Singh movers and packers. We will provide you with our contact numbers which are always open for our customers to call. Whenever you have any query, question or problem regarding our services or your goods, you can definitely ask without even hesitating a bit. We will calmly listen to your problem and will also find a relevant solution in respect to that.
Malvern east- A suburb city of Melbourne
Malvern East is a suburb of Melbourne in Victoria, Australia. Malvern East is 12 kilometres in the south-east direction of the central business district of Melbourne. The local government area of Malvern east city od Stonnington. The population of Malvern East, as according to the census, was 21,707 in the year 2016. The postcode of Malvern east is 3145.
Malvern East fast facts
Postcode: 3145
State: Victoria
Country: Australia
Surrounding Suburbs Around Malvern East:
Malvern
Glen Iris
Ashburton
Caulfield East
Malvern East
Ashwood
Carnegie
Murrumbeena
Chadstone
Population according to 2016 census: 21,707
Local government area: City of Stonington
State Electorate:- Malvern
Federal Division:- Higgins
Distance from Malvern East to Singh Movers Melbourne: 7.3 km or 15 minutes by car
Distance from Malvern East to Melbourne CBD: 12 km
Relevant Links:
https://en.wikipedia.org/wiki/Malvern_East,_Victoria
https://en.wikipedia.org/wiki/City_of_Stonnington
Move with Us for Easy,Affordable,Quality Removalists Services Australia Wide.
Contact Us For Free Enquiry and to Arrange a Free Obligation quote.
For more information on furniture removals and Storage Services don't hesitate to get in touch to one of the Expert Team Members or representatives on 13000SINGH OR 1300074644 for a free obligation quote from the Singh Movers Team, simply fill out our quick quote form or write an email or call us directly as per your convenience. Our Head office is located in Melbourne and Singh Mover's offices are spread across over other major cities: Sydney, Adelaide, Brisbane, Canberra, and Perth.