Thinking about relocating your office? Want to hire office removalists! Often, relocating a business can offer many advantages, For example, being more available to your client base, offering more space for additional staff or current staff to improve sorted out, better offices, and even an alternate lease plan. We at Singh Movers can move your office over the weekend, a time when many businesses are closed. This means there is less likelihood of you not being online or available to attend to customers who will go elsewhere if they don't get through to you. We have had more than nine long periods of involvement in moving office gear and know-how to pack and wrap fragile PCs and other hardware with the goal that it won't come to any harm during the trip. We make sure all those cords are kept with the right equipment so that there are no problems setting it all up again at the other end.
Office Removalists | Experienced business relocation
In addition, our professional and skilled staff know just how to pack up office furniture so that no damage is done to it, either in packing it into the truck, or unloading and taking it into your new office. We assist you with relocating each piece to the best position so your new office can get up and running effectively in no time.
Singh Movers understand your need for security. Numerous office records should be kept secure, yet when you move archives starting with one place then onto the next they can get lost. That is why our wrapping techniques may be of interest. When you completely wrap or seal your filing cabinets, they won't need to be emptied of important files. This tends to keep essential records in a single place where they are sheltered from prying eyes or incidental access by those without the vital expert.
But the actual removalists job of office removals in and around Australia can be a nightmare and cost you lost time and even customers, especially if you have to shut your business down through the week. That is where we come in. We can move your office over the weekend, a time when many businesses are closed. This means there is less likelihood of you not being online or available to attend to customers who will go elsewhere if they don't get through to you.
We have had over 12 years of experience in moving office furniture removals and know how to pack and wrap delicate computers and other machinery so that it will not come to any harm during the trip. Singh Movers make sure all those cords are kept with the right equipment so that there are no problems setting it all up again at the other end.
Moving offices without disrupting your business can be a stressful experience. At Singh movers, we can plan and manage your entire move from start to finish, leaving you to focus on running your business. With more than nine years of experience, our office removalists staff can move your office to the new premises with no downtime to your business.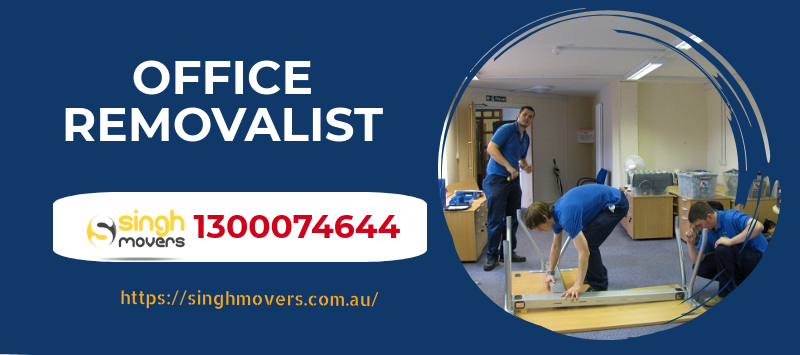 As critical as the process gets, we accept the challenge without any hesitation. A great team of professional and courteous business movers in Australia & other cities, we help you make the biggest shift in a prompt manner. Whether you are a big company or a small business, we have a wide range of removal packages that will meet your moving needs. With the required resources including machines and manpower, we can help your anywhere in Australia.
We understand that a huge sum of capital money has gone into investment. So, we provide a fully covered insurance benefit to each and every one of your belongings from the office space. Without a single scratch or corruption, we will deliver these items like they're our own.
Need additional storage for your business move? We have the perfect space for you! Oftentimes, a business move needs a bit of additional storage during the changeover. If you need extra room for business folders, office furniture, or the boss' fancy suit collection, you're in luck! Many of our locations provide on-site storage solutions to suit your individual moving needs. Businesses relish the peace of mind knowing that their valuable equipment and materials are safe in our hands.
Our Office removalists service a one-stop solution for all types of commercial move:
We understand that every office movers are different and so, we tailor our moving services to meet the exact needs of our customers and make the transition as smooth as possible. Right from packing your office furniture to transiting them to your new premises, our office removals staff will handle everything, making us a one-stop solution for your moving needs.
Why Choose Us:
Office furniture, computers, and documents storage facility

Competitive prices

Individual approach to every client

Innovative moving solution

Free office removal cost estimate

Full range of office relocation service

Friendly and supportive staff
We also provide storage facilities and access to conditions depending on your specifications and requirements. Call us today at 1300074644 and get a quick estimate of office moving service!
Looking to move out of your office and don't know where to start? If you're searching for an Australia experienced Office Removals team, there is only one name you can rely on – Singh Movers.
We are more than just a man with a van… we not only offer the full tactic of furniture removalist services, our extensive fleet of relocation vehicles are here to make your relocation as hassle-free as possible. We have an experienced team of dedicated office removalists who will help you get your items from your old office to your new one. With extreme attention to detail during disassembly and packing, we use only the best quality packing materials so that your belongings are protected with care. So, whether it's moving within Melbourne or to the other side of the country, Singh Movers is an easy, reliable, and cost-efficient way to get the job done.
We understand that everyone's relocation needs are unique. Our professional, experienced, and skilled office removalist consultants will work out and choose the best office removals in Australian cities to plan that caters to your needs, matches your budget, and suits your timescale. With many years of experience in the industry and thousands of successful moves, we have perfected a professional and affordable moving system. Our team of movers will be with you every step of the way and are happy to answer any questions you have.
Once we move you to your new office, you will not have to worry about assembling the furniture or dealing with a heap of unopened boxes. Once your delivery is complete, it's time for us to start setting up and unpacking all of your boxes and belongings to settle you into your new office. Allowing you to focus on your day to day activities.
As professional packers, we know what it takes to get your goods from one place to second, safely. We focus on giving you quality service and taking every precaution to pack your office and contents safely. But proper planning is just half of the equation. We also provide you with the ultimate cover, protecting you against the loss and damage of your goods.
Move with Us for Easy

, Affordable

, Quality Removalists Services Australia Wide.
Contact Us For Free Enquiry and to Arrange a Free Obligation quote.
Singh Movers is an experienced Office Removal specialists in Australian cities, we can expertly manage your relocation – locally and interstate. For more information on the office moving services we offer and to get a free quote, call us on 1300074644. Our highly-trained consultants can work with you to choose the best service to match your move and your budget.