FURNITURE ASSEMBLY & Disassembly SERVICE
Many People find that Packing removalists up all their household goods to move to a new home is like a nightmare. Singh Movers are the only perfect answer to your many questions for Furniture Assembly and Disassembly Service, packing and unpacking service. It takes a long time and is physically fatiguing, it is not difficult to find the time in your already overloaded schedule. That is why we offer the services of wrapping, packing, unpacking, furniture assembly, and disassembly service for those who need to move.
It does not matter if you need a mover or if you move to another city or across the country, your furniture and goods must be packed properly to ensure that no damage occurs to them. We can come in and pack all your goods properly to ensure the best results - or we can pack and wrap per item. You may have some valuable or expensive pieces that you need to be sure to keep safe and free from scratches on the journey. We can take care of your furniture, grand piano, organ, Pool Table, or other special items that need a little extra care to keep them safe on the journey. Our movers and packers are done per item for a small cost. We provide all the essentials like bubble wrap and accessories for this service. We take the hard yards out of motion.
If you are busy or find that packing removalists are giving you a really bad back, it is a good idea to call in the experts and Hire a Furniture Assembly and Disassembly expert for any job Near You. That is why we offer professional removalist wrapping and packing or Assembly and Disassemble services for all your goods. You can simply go out or relax and leave the entire moving job to us. We will pack, and disassemble every single item left in your home and take it across Australia to its new location. Then we can also unpack it at the other end and assembly it.
Having chosen for packing, Furniture Assembly, and Disassembly removalists in Australian cities you can count on to do all the hard work will take the stress out of Packers and Movers and make sure everything goes according to plan.
Pressing and unloading your effects is an award among the most impoverishing cases involving movement. A little carelessness when pressing or slipping when unloading can be the end of your cherished things. While sensitive objects such as crystals, porcelain, and works of art need special attention, furniture also needs special care when moving. It is always advisable to seek the help of experts, especially if you are concerned about the safety of your valuables. As an amateur packer, you may not be able to pack and unpack them without damaging or scratching them. Here, professional Singh Movers can help you.
Hire an Assembly and Disassembly expert for any job Near You.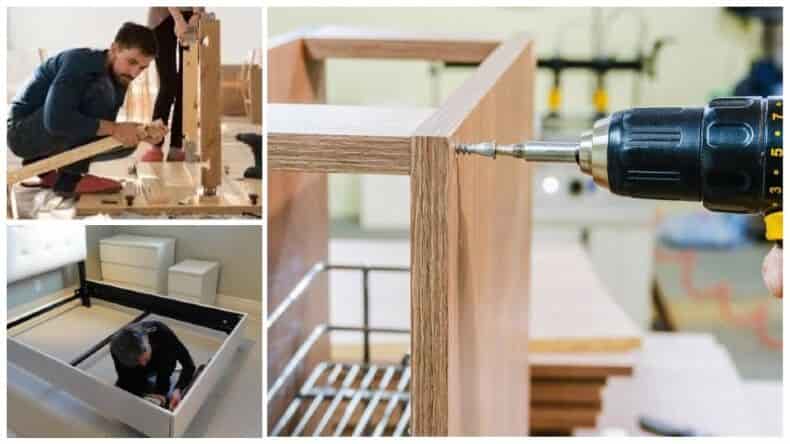 we have a team of expert movers to pack your furniture and assemble and disassemble large furniture to move. We are fully trained and can disassemble all furniture including solid or custom-built, commercial, desk, sofas, medical, and residential of all brands: Ikea, South Shore, Room and Board, Office Depot, and many more! We offer the right mix of commitment and the ability to guarantee a magnificent deal.
Custom Designed Packaging Solutions:
We know that a standardized solution does not work for everyone. Not all of your items may fit in a standard box. Whether it's fragile memorials or awkwardly shaped artifacts, our experienced packers pack everything efficiently with care. We pack, transport, and unload your goods without damaging them in any way.
Specific administrations - we offer your administrations for pressing and unloading. That's why you see that our Packaging Removalists do not pack your things. Instead, our dedicated expert team of movers and packers reaches your place and packs everything.

Fast services - we only need one day to pack your things and get them ready to move. Once you have reached your destination, our team will unpack and arrange things for you.

Custom Solutions - If you want us to just pack the fragile items and do the rest of the Packing Removalists on our own, we can do that too. Our employee is well trained to move your pool table and furniture.
Furniture that is ready to be collected, otherwise called thumbs down furniture, level pack furniture, or unit furniture, is a type of furniture that requires the client to meet. Prepared furniture is prominent among shoppers who want to save money by collecting the item themselves and collecting the furniture from the store, which saves transportation costs.
Expert Furniture Assembly and disassembly service include.
Our furniture disassembly service means that you disassemble your home or office furniture so that you can easily transport them from one place to another without risking damage.
Our experts can help you disassemble almost all home and office furniture, especially those that cannot easily fit through doorways and stairwells. This special service includes furniture assembly and disassembly service, as well as cot bed, dressers and drawers, Table, chairs, desks, sofas and beds, computer tables, conference tables, and filing cabinets in steel, disassembly of bookshelves, and more.

We can also help you reassemble your items, unpack drawers, and place desks so your employees can just keep working the next day.

We have many specialists who not only have experience in assembling but also dismantling the best IKEA furniture brands. - IKEA, Fantastic furniture, BRUSALI dressers, HEMNES daybeds, and more;
Packing And Unpacking Removalists Service:
You may prefer to do most of the Packaging Removalists yourself and only use our services to ensure that the most fragile and sensitive items are securely packed. Whatever you choose, we can provide you with industry-standard packaging materials and all the advice you can seek.
Fragile packaging and unpacking service - We provide you with press materials to pack most things yourself and an expert team will surely pack your kitchen crockery, plate sets, mirrors, pictures, and ornaments.
Packaging and assembly materials - Below are some examples of the types of packaging we can provide. All our packaging materials are new and recyclable.
Packaging boxes

Bubble wrap

Packaging tape

Set of tools

Packaging products, protective, shrink wrap, protective covers, labels, etc.,
We will always deliver the best quality services in Australia at the best price.
━━━━━━━━━━━━━━━━━━━━
+61 470 315 183 Call now!
Contact Us For Free Enquiry and to Arrange a Free Obligation quote.
For more information on Furniture assembly and disassembly, Removals and Storage Services don't hesitate to get in touch with one of the Expert Team Members or representatives on 13000SINGH OR 1300074644 for a free quote from Singh Movers Team, just fill out our quick quote form or write us an email or call us directly at your convenience. Our Head office is located in Melbourne and Singh Mover's offices are spread across over other major cities: Sydney, Adelaide, Canberra, and Perth.