Singh Movers offers a complete pool table removal service whether that be from house to house, house to storage, and old office to new office,. Give our pool table movers a call. Singh Movers has been moving all shapes and sizes of pool tables for more than 12 years.
Pool Table and billiard table Removal
If you care about your pool table, which we believe you do, trust the job to our team, who have successfully relocated thousands of pool tables, not only for homeowners but also for institutions and businesses. In our experienced team, you get the most experienced, talented, cheap, and committed services of relocating your pool table. There's no pool table relocation job that's too difficult for our team, or beyond them. Awesome as our removal specialists are, our arsenal of latest removal vehicles and advanced pool table removal tools, and special equipment are no less impressive. Because pool tables are heavy, people think nothing more is needed to shift them than tons of force.
It's true the job requires tremendous brawn, but at the same time, it needs brains, too. A pool table is first dismantled before it's moved. Without technical know-how, this is something that can't be done effectively. We at Singh Movers Pool Table Movers are proud of every pool table we set up, install or restore. Our furniture assembly and disassembly team assembles and disassembles the pool table and moves it from the old house to the new house and installs it. Similarly, after delivery, the removal specialists need to put it back. Again, this requires technical knowledge.
Another thing that needed in good measure is experience with special equipment and pool table removal tools, which make it easier to move a pool. Special equipment includes, among other things, a crane, which might prove immensely useful when pool table movers remove or deliver a pool table from a high-rise apartment. Our top-class pool table movers team has all this and much more. Then why look anywhere else?
What makes us Professional Pool table removalists?
The first thing that might cross your mind when you realize you would need to relocate the pool table that's sitting pretty in the recreation room in your spacious home is "how am I going to find a suitable pool table removal team?" This is a fair question, and often it comes with a good dose of anxiety. After all, your family loves the pool table like anything and you would surely not want just about any pool table removal specialists to touch it, let alone move it.
With that said, let us assure you there's nothing to worry about—if you hire expert removalists like Singh Movers pool table removal personnel. Knowing a great pool bunch of removalists specializing in pool table relocation surely makes pool table removal easy. The reason is simple: You know your pool table will be transferred without causing any damage to it. And, this, in turn, gives you peace of mind.
Therefore, for all your pool table relocation needs, simply give us a call. Upon first hearing from you, our specialists will give an accurate estimate of the costs involved for free. We are second to none in quality, as well as rates. So basically when you give us your pool table moving contract, you experience the best customer service and quality of work—all at the most reasonably-priced rates. You can call us for local pool table removal and also when you need to transfer the pool table to a new city or even a new state. You can call us when your pool table is of a famous brand or a local brand because we handle them all. To summarize, we do all kinds of pool table relocations—and do them with great efficiency.
Did you know that almost all customers rate their experience with Singh Movers very high? Yes, that's true. We can provide you with a great pool table moving experience, too. Check out what makes our pool table movers personnel truly special:
Low cost – Experienced pool table movers will expertly transfer your pool to wherever you want at affordable rates.

Quality tools – Our pool table movers personnel are well supported by our collection of quality tools and equipment, including high-tech removal vehicles.

Exact quotes – Honest pool table movers experts at Singh Movers will tell you at the outset exactly how much the whole procedure will cost you.

Structured relocation process – We know what we are doing and we show you how we do it to ensure you are completely relaxed about us handling and transferring the table.

Always available – Do you want to transfer the pool table on a Sunday? Boxing Day? No problem, just pick the date that suits you best and you can count on us to do the job. Our shop is open on all days of the year.
Hire Australia's best pool table movers.
At Singh Movers, the customer always comes first. Giving you the solution you want is our priority number one and we will do everything to ensure your pool table movers experience is a very happy one. We take care of the big things as well as all the small things involved in pool table transfer. And when it comes to going that little distance extra, you will never find our pool table movers professionals wanting. We will never ask you to pay something additional for steep driveways. This holds true even when stairs are involved. And in case your pool table can't be removed without a crane, we will bring that too, which, as is reasonable, is a paid service. For all pool table movers jobs we do use the latest and most high-tech removal vehicles to prevent any damage while the table is in transit. Our pool table movers can shift the pool table of yours a few blocks away as well as a thousand miles away. And of course, the pool table movers team at Singh Movers is equally competent in transferring pool tables of different makes.
One difference between Singh Movers and other pool table movers is that unlike them we are completely open about our moving process, and why not—after all that's our great strength.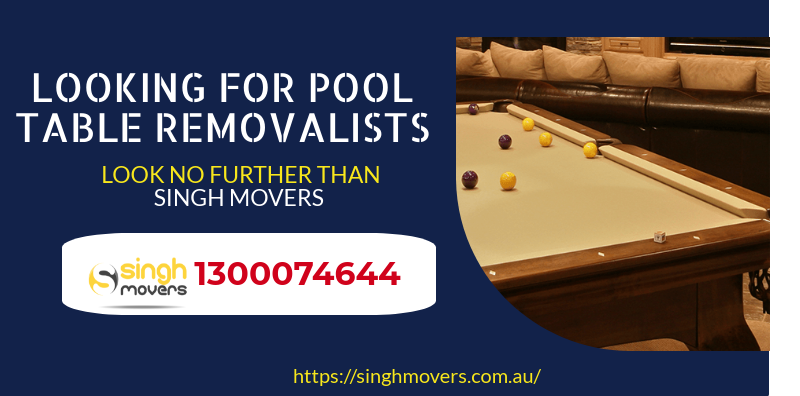 Packing the pool table – You'll be pleased to know that our team has expert pool packers and if you wish, we can use materials that are environmentally friendly.

Delivery – At the outset, our pool table movers will give you a time estimate for delivery. We promise you we will deliver the pool table within that time frame.

Unloading – This is the penultimate step and our pool table movers will take every precaution in the book to ensure the pool table is carefully unloaded.

An estimate of the cost – Every customer wants to know how much it would cost him/her to have her pool table moved to the desired location. Rest easy, because our cost estimates are highly accurate, and our pool table movers personnel will share them—for free, of course—soon after receiving an inquiry from you.

Book your date – We are sure you'll like our quote, and then you can book a date with us.

Feedback request – We would love to hear from you about your experience and will reach out to you regarding the same, not later than a few days following the delivery.
Singh Movers provide professional Billiard table and Pool Table Removalist services. Our expert Professional removalists take great care when loading and unloading your pool table. Proficient in Australia Removalists have been Moving Pool Tables and Billiards tables for nearby families, experts, and establishments for quite a long time. We have built a reputation for providing the best Pool table Removalists services at an affordable price.
Any size Pool Table can be moved from one location to another including Australia and interstate locations. Generally, large tables are dismantled as much as possible for ease of transport. More difficult access needs to be assessed beforehand e.g. Stairs, low ceilings, and lift access.
Move with Us for Easy, Affordable, Quality Removalists Services Australia Wide.
Contact us for free inquiry and to arrange a free obligation quote.
For more information on furniture removals and Storage Services don't hesitate to get in touch with one of the Expert Team Members or representatives on 13000SINGH OR 1300074644 for a free obligation quote from the Singh Movers Team, simply fill out our quick quote form or write an email or call us directly as per your convenience. Our Head office is located in Melbourne and Singh Mover's offices are spread across over other major cities: Sydney, Adelaide, Brisbane, Canberra, and Perth.