House Removalists
If you are looking for best house removalists in Australia then you have come to the right place. we are working for a long time in Australia cities like Melbourne, Sydney, Canberra, Brisbane, Adelaide, and Perth. We have worked in this industry for more than 10 years and we have 2 Ton Vans for single items , 4 Ton Trucks for 1-2 bedrooms , 6 Ton medium-size trucks for 2 bedrooms apartment & houses, 8 - 10 large size trucks preferable for 3-4 bedrooms moves and 12 Ton trucks suitable for 5 bedrooms and big villas and commercial office relocations and large warehouses for your possessions & your household goods and furniture to your new chosen destination.
We have full insurance and trained staff who know how and what they are doing when it comes to packing goods and furniture removals that they will arrive safely at their new home with all of your goods in one piece.
Singh Movers offer free travel time within some km and can take you across the city and across the state as well. So in the event that you are searching for a cheap removalist in Australia give us a buzz. In the event that you are looking down for local house movers or interstate removalists in Australia Give us call on 1300074644 & on the Internet you know that not all movers have trucks that move interstate; some prefer to do shorter runs.
When you need to move to a faraway area you require individuals with the correct trucks that you can trust to touch base on time and with every one of your products flawless. Singh Movers gives you surety when you are moving your home in and around Melbourne by ensuring all your house equipment. We understand that sometimes, people need removals at the weekend, especially when they have a long distance to travel. We are happy to work on Saturday and Sunday if this suits you best. In fact, the end of the school and working week is often the ideal time to make the move. It also suits business owners who need to relocate their office or house as there is less disruption to business over the weekend.
Singh Movers proficient and prepared staff have a considerable measure of involvement in pressing furniture and different products into the truck with the goal that it stays steady and safe on the adventure, regardless of whether it is a long one or a short one. Our furniture removalist organization offers unique pressing administrations for that costly furniture and your most loved fortunes to guarantee they are not harmed on the excursion.
We supply all the bubble wrap and whatever else we use. It is extremely justified, despite all the trouble for your genuine feelings of serenity to realize that there will be no scratches or scratches on your uncommon furniture pieces. We are affordable, professional and local house movers in Australia. We are moderate, proficient and nearby house mover Australia cities like Melbourne, Sydney, Canberra, Brisbane, Adelaide, and Perth.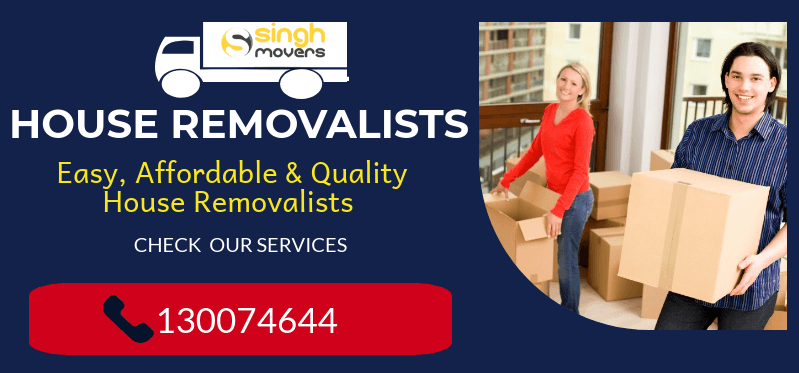 With Singh Movers and packers you will get an experienced team of professional movers and packers to help make the transition easier. Which is why hundreds of families every year trust and hire us? We will guarantee your valuable goods arrive securely at their new destination with our professional staff.
With more than 10+ years industry experience, Singh Movers and packers are all around prepared to give master counsel and help that starts with introductory contact and proceeds with Support until the point that the work is finished.
Whether it's a 1 bedroom apartment or a fully furnished 4 bedroom house or villas, Our house removalists specialise in moving your items safely and carefully. Your assets would be safe in the hands of our trained and efficient team of house removalists.

You can trust Singh Movers HOUSE MOVERS in light of the fact that:
We are experienced house removalists to move your belongings inside your property where no vehicle is required

We have all around prepared experts to help with pressing, stacking and emptying things in your own particular vehicle or truck

Some assistance to finish your assignment proficiently and with mind

Cheapest house removalist in industry

Specially tailored removal proposals for specific needs.

Special VIP furniture covers to protect your lounge suite and beds from any marks during transportation.

Our special art packs that will protect your delicate artwork.

Another service is also available including packing, unpacking, cleaning services, pet transport.

Cheapest removalists in Melbourne & Sydney

Give full insurance coverage to your goods

Friendly, professional, reliable staff

Cheap house movers and removals

Fully insured

No hidden costs

Provide Packaging materials

Storage for your goods also available
If you are looking for a reliable team for full-scale house removalists in Australia cities like Melbourne, Sydney, Canberra, Brisbane, Adelaide and Perth. and want your stuff to be moved quickly and safely at Singh Movers, we have a group of experienced and productive removalists who can move every one of your assets to your new home securely and rapidly. Whether you are moving to the next door or to other areas, we have got the right expertise to make your move a pleasant experience.
With long stretches of involvement as house removals movers and packers, we have built up an extraordinary level of ability and aptitudes to give the best evacuation administrations to our clients in Australia cities Melbourne, Sydney, Canberra, Brisbane, Adelaide and Perth. We do not just help with transporting your goods but also provide packing and self-storage services upon request. All our moving vehicles come prepared with essential equipment to move your stuff without causing any potential damages.

How Do We Stand Out Among The Crowds?
Services of Singh Movers include everything from packing, loading, transporting and unpacking your belongings at your new house to ensure a satisfying moving experience for all.

One-stop platform for all types of moving and removalist services for homes, appliances move, furniture, condos, townhomes and apartments in Australia.

Our removalists are all around restrained and they ensure that all your family and office moving effects (furniture, pool table, fridge and so on.) are moved in an auspicious and proficient request with most extreme care and thought

We will make moving house easy, discharge the stress and adversity

out of your not-so-easy action
Moving house can be exasperating, but our extensive experience and expertise helps us provide you with a high standard of service at affordable prices. Give us a call today at 1300074644 and discuss your requirements! Let us come up with a quote that suits your moving needs and budget!
Our services boost across an assortment of areas depending on what you need from us, we'll even take care of your stuffing and take out
Price promise guarantee

All furniture padded and wrapped

Fully licensed, insured and bonded
House removalists are our strength and we'll give you as much help as you require, handling the mind-boggling furniture while in regard to your home and your possessions. We have a stable staff, highly trained house removalists on hand for the daytime, evening, and even weekend moves.
To find out more about your local, friendly house removalists service simply contact us today, or, for a free quote, fill out our quick quote form.
We smooth the entire moving process – no matter where you're moving to in Australia all cities
It's not unusual to feel emotional when you move. We understand that the moving process is a stressful time, and so Singh Movers strive to deliver a first class moving experience to each and every customer we serve
Singh Movers and packers offer a hassle-free Furniture removalists services that take you effortlessly from your current property to your new home. Our company employs highly professional Removalists and motivated individuals who are fully trained in what they do.
We had customers that are forced to move without notice and that call us to handle the Same Day Moving job. We are sure to do the impossible for your short notice last minute moving request. Most importantly we will provide the same pricing as a regularly scheduled move.
If you want to move to Removalists Australia cities Melbourne, Sydney, Canberra, Brisbane, Adelaide and Perth. be stress-free and safe, we are the company to call! Singh Movers and packers
Singh Movers and packers are the smart choice for not only House Removalists but also for office Removalists, Business relocations and Piano Removalists in Australia.
Move with Us for Easy, Affordable, Quality Removalists Services Australia Wide.
Contact us for free enquiry and to arrange a free obligation quote.
For more information on furniture removals and Storage Services don't hesitate to get in touch to one of the Expert Team Members or representatives on 13000SINGH OR 1300074644 for a free obligation quote from the Singh Movers Team, simply fill out our quick quote form or write an email or call us directly as per your convenience. Our Head office is located in Melbourne and Singh Movers offices are spread across over other major cities: Sydney, Adelaide, Brisbane, Canberra and Perth.