Hard Rubbish Removal
Hard Rubbish Removal Service – Singh Movers and Packers
Singh movers and Packers is one of the most dynamic hard rubbish removal services which has been in service for more than a decade and is one of the most affordable services which you can go for. If you are having any such hard rubbish removal service needed at any place, be it your home or your office or even your backyard, then Singh movers and Packers is the best and most ideal option for you in this case. Most of the people who want the hard waste removal service usually end up finding such a service which costs a lot for no reason and usually offers very fewer services as compared to Singh Movers and Packers.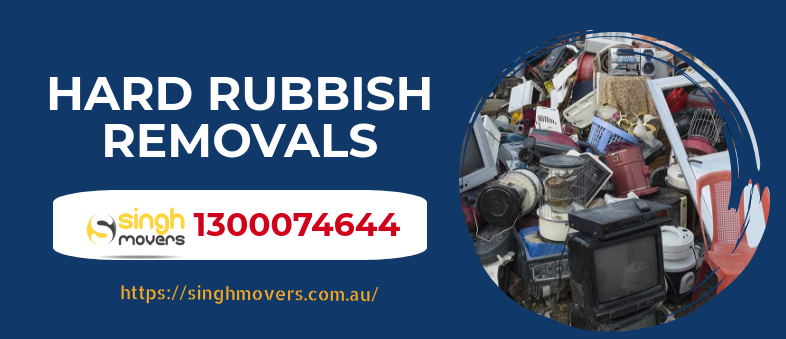 At Singh Packers, we have been the most trusted hard rubbish removal service and removalists who work and have their entire service spread all across Australia with millions of positive reviews by people who have actually gone for this service. We are the best service which you can find and we have a 24 x 7 service all the time. Along with that, we are the best waste removalists too which means that you can easily count on us.
Hard rubbish removal– Singh Movers and Packers (Features):
Singh Movers and packers have had a history of delivering all your stuff at proper time and has been always such a service which values time more than money as every minute of our service matters and thus we always make sure that our service is so fertile that it always comes to you in time and also, we can remove any kind of waste without any issues or any kind of delays.
Our service always makes sure that you don't have to pay anything extra any time and if any kind of waste removals are included, we are never going to charge you for it just because we curtail most of the extra charges in our service and that even excludes your charges from any kind of depot to depot charges of any hard rubbish removal which we always put as a charge of our service, which means you save money on depot to depot charges also.
If you want a proper service for hard rubbish removal, then you need to check out our service as it based on professional working and we always make sure that you never face any kind of extra charges and all you need to pay for is the removals. This means that we even exclude the fuel charges in our service and this kind of satisfaction, we guarantee for you because we believe in positive customer satisfaction.
Our service is always reluctant on delivering the lowest charges and if you waste needs to be removed, we do it at Singh Movers and only charge for door to door service. Our service wants to just charge you for door to door service which is the main service as removalists from our service and we make sure that everything is kept in accordance as per your needs.
We are a full-time house removals Eltham service along with being the hard rubbish removal with full delivery trucks for you and we make sure that all stuff is relocated or disposed off properly. Any heavy item which you want to relocate, we can do that for you as a part of our service. Even if you are looking for a piano removals service, we are bound to provide you that too as we are an efficient service for even relocating the heavy stuff from time to time and this means that if you are moving any heavy thing, we got it covered and everything is totally and fully packed by us. Along with that, any kind of waste which you have to remove, we can be the hard waste removal service for you.
Singh movers and packers is a proper house removalists service, but do you know that we can even be a full-time hard waste removal service too and we are such a service which takes care of its customers more than anything. Any kind of demand which you have from us, we fulfill it and we deliver proper satisfaction to customers every time and in any kind of service too which we offer. This means that if you have any kind of particular demand from us, we are going to complete that for you and this makes you the happiest customer ever from our service which we service.
Singh movers all along are the best in every term and any kind of service and we are a proper hard rubbish removal service as we are adamant on providing relocation for all types of moving services which you want and that even includes the hard rubbish removal which most of the people are looking for. Being good at waste removals also has been the main reason why most of the customers in our service has mentioned and reviewed us the best and most affordable all the time and we can easily match any of the services which you can find as we always want you to save money on our service.
Our staff is the most professional stuff which has been working for about a decade now and such kind of service which has the most professional service all the time which even includes the hard rubbish removal, and we are such a service which you are going to love and you are always going to get full cooperation from us, both on road as well as off-road.
Our service is the best when it is compared with other services as we always believe in working together all the time and we also provide you a 24 x 7 service, which means that whenever you are in need of our service, we are there for you and provide you relocation of every kind which you are looking for and you can easily reach out to use. We will guarantee you peace of mind, all the time.
Our transportation in every matter and aspect is the best and we make sure that you get the best from us as we always secure everything in your stuff. Most of the times, people demand proper trucks for hard waste removal which most of the services are barely able to offer, but in our service, it is offered for free.
We always use professional tools for relocation, the best which you can desire for. So, be at ease as we provide you the best tools for hard waste removal always.
WHY CHOOSE OUR TEAM FOR HARD WASTE REMOVAL IN AUSTRALIA?
There are many reasons why you should choose Singh Movers for your rubbish removal needs. These reasons include:
We have years of experience assisting with rubbish removal in Melbourne, Sydney and other Major cities for residential and commercial clients.

We offer reliable and efficient rubbish removal services that don't compromise on quality or workmanship.

We offer a wide range of cheap rubbish removal solutions, including hard rubbish removal and skip bin hire.

We can also assist with a range of additional services, including excavation, demolition, asbestos removal and site cleanups.
If you want to discuss your options or book our services, give us a call on 13000SINGH or 1300074644. Our team is happy to help you come up with a plan for rubbish removal in Australia cities like Melbourne & Sydney that's tailored to your needs.
Cheap Rubbish Removal
When it comes to cheap rubbish removal Australia's cities landlord and business owners all too often try the 'do it yourself access—only to end up exhausted, injured, or with damaged property. Don't' catch the risk; for decent waste removal, Australia dweller should always turn to the pros.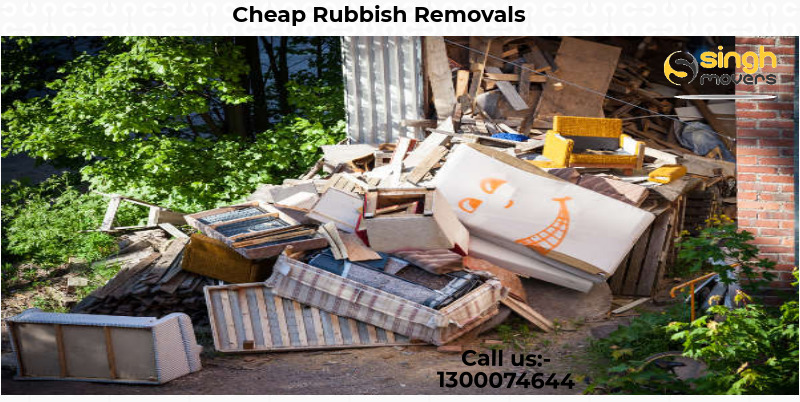 Not persuaded? Consider the four benefits of competent rubbish disposal discussed below:
1. Convenience. When planning an expedition to the best rubbish dump Melbourne & Sydney citizen often miscalculated the amount of work involved, assuming that removing their waste will be as simple as tossing a pile of rubbish onto the back of a truck and experiment to dump it in a depot.
In all actuality, moving a heap of garbage normally requires sorting out and getting out things (a moderate and arduous process for anybody not used to physical work), stacking them into a container or truck, at that point transporting them to the landfill—more often than not in a progression of excursions—and emptying them. Organizations can undoubtedly lose long periods of gainful, beneficial time when they endeavor this sort of employment without the help of a Singh Movers rubbish removals group.
2. Hiring a waste assemblage Melbourne team is both substantially and lawfully safer.
When intelligent about waste annihilation Australia residents frequently make one of two dangerous faults: They either assume they're strong enough to do the job themselves, or they believe they can entrust the task to a burly friend with a large vehicle. Neither of these things is usually true.
In spite of the fact that you might have the capacity to push or lift a huge thing and store it in a garbage heap, that doesn't mean you'll have the capacity to securely stack it onto a truck or van yourself—not to mention deal with a progression of substantial things in progression, with your muscles becoming logically more exhausted. It's very simple to lose control of an overwhelming item when you endeavor to lift it over your waistline, and in the event that it slips in reverse as you attempt to stack it, genuine damage may happen.
In like manner, with regards to garbage accumulation Australia occupants at times realize who their genuine companions are the most difficult way possible; on the off chance that another person gets injured while performing junk get or squander reusing obligations for you, they may sue you for harms and lost salary.
Hard waste collection, like Christmas, comes only once per year—and for many Australian residents and business owners, this is simply not often enough. Who wants to wait for the hard rubbish removal Australia (Melbourne, Sydney, Canberra, Brisbane, Adelaide ) city services provides (while that unsightly old fridge or the pile of rubbish takes up space for months) when it's possible to have rubbish taken away quickly and easily for a modest fee?
Before purchasing hard rubbish removal Australia residents are advised to spend some time researching what can and what cannot be labeled 'hard rubbish.' Don't worry, however, if you have something that doesn't qualify as hard rubbish—the primary advantage of working with Singh Movers Rubbish Removal (rather than relying on city services alone) is that we can help you to safely recycle or dump all of your rubbish, no matter what category it falls into. But for the sake of organisation and clarity, let's start with the basics of what constitutes hard rubbish:
Carpet and linoleum rolls. If you need carpet and linoleum removed from your home, why not pair our quick and convenient stripping service with our Australia cites hard rubbish collection service?

Porcelain, ceramic, and glass. These are challenging to remove safely, so you should never handle these items on your own—let us take care of it for you. If you need any advice or assistance when it comes to wrapping breakable materials, feel free to give us a call.

Fencing and timber. If you're engaging in landscaping and have other organic green waste, why not ask about our green waste removal services as well?

Furniture, including mattresses. When it comes to mattress disposal Melbourne & Sydney homeowners often run into obstacles; not only is mattress removal not covered by city services in many areas, some mattress disposal Australia companies charge steep fees or place a limit on how many mattresses they will remove…. But not Singh Movers. Not only will our mattress removal Melbourne & Sydney team take away your old mattress (or mattresses) quickly and affordable, we offer more than just mattress collection Australia cites homeowners can count on. In addition to performing mattress pick up Melbourne-wide, Singh Movers are also experts on mattress recycling.

Spa removal, tub removal, and fridge removal. Recycling an old refrigerator is a complex process, one that involves degassing, decommissioning, and destructing these complex appliances safely. Never, under any circumstance, should a refrigerator simply be dumped in a landfill—call Singh Movers instead.
Hard Rubbish Removal Australia
if you are looking hard rubbish removal in Australian cities like

Melbourne

,

Sydney

,

Canberra

,

Brisbane

,

Adelaide

and

Perth, then Singh Movers is the right place to move your rubbish.
Move with Us for Easy, Affordable, Quality Removalists Services Australia Wide.
Contact us for free enquiry and to arrange a free obligation quote.
For more information on furniture removalists and Storage Services don't hesitate to get in touch to one of our Expert Team Members or representatives on 13000SINGH OR 1300074644 for a free obligation quote from the Singh Movers Team, simply fill out our quick quote form or write an email or call us directly as per your convenience. Our Head office is located in Melbourne and Singh Movers offices are spread across over other major cities.: Sydney, Adelaide, Brisbane, Canberra and Perth.