Backloading removals
Backloading often refers to the inexpensive removal of load by trucks that are returning empty from a trip and can carry load back to the point from where they started. Backloading removals services are available all over the area so as to increase a company's profit and maximize downtime. If you are searching for Backloading removals in Australia at pocket friendly prices then Singh Movers is the company you are looking for. Our company provides backloading services to the residents of Australia at economical rates. Backloading removals are best suited if you have limited amount of furniture to shift. This works best for both, the customers and the company as the company emerges profit out of an empty truck and the customers do not have to pay a hefty amount. We at Singh movers, have an expert team of professionals who have been perfectly trained for all these years in backloading and shifting stuff.
Backloading removals not only includes furniture and office stuff but can include any type of belonging- major or minor. We have specialized moving techniques so that our customers do not have to face any complication while their furniture is being shifted to a new location. We use quality packaging sheets and other equipment measures so that even the most fragile object can be handled cautiously. We believe in rendering quality service to our clients to ensure that your transit is hassle free and stress free. We aim at giving satisfactory output to our clients so that their translocation becomes easy. Hire us and we will not let you down. We understand that you don't want to take any risk when it comes to handling your favorite furniture. You can easily rely on us and we will help you in your transit.
Our specializations:
Singh movers has created a name for itself in this field over a past few years. It is because of the dedication with which we work for our clients. We believe in your happiness and comfort. Along with Backloading removal services,Singh movers is also specialized in the following:
· All these services are provided to our customers by us at very nominal prices. Once your furniture is in our hands it is our responsibility to make it reach safe and sound. And we at Singh movers, try our best to make sure that while your furniture is on way you are at full ease and have no stress. Whether its Sydney or Melbourne, we are available over the entire Australia to assist our clients. We also provide storage facilitiesto our customers so that they do not have to face any difficulty while shifting. We also have all sorts of truck sizes to fit in your material. Our trucks run across the territory helping you 24x7.
WHAT ALL ARE THE ADDITIONAL SERVICES SINGH MOVERS OFFER?
NO DEPOT TO DEPOT CHARGES: We will not ask you for any depot to depot charges as it is only our team who will reach you and why we will ask you to pay for that.
DOOR TO DOOR CHARGES ONLY: We will only charge you for the door to door shifting as that is when the main process starts. We will endow you with the shifting that is done with proper planning.
NO FUEL CHARGES: You will not be asked to pay any fuel charges as we will endow you with every possible facility that we can and will not charge you for any extra stuff.
PROFESSIONAL TOOLS: SINGH MOVERS is not a company who just provides shifting but not with proper safety measures. Our professional tools include trolley, dollies, heavy duty blankets, toolkit for assembling, and disassembling furniture, ropes, shrink wraps etc. SINGH MOVERS also have professional trolleys and ramps for the shifting of various types of upright pianos.
NO HIDDEN CHARGES: SINGH MOVERS have shown all their charges before hand to their customer in their company's quote. We do not ask you for any other charge for the sake of money. We just believe in providing the quality work as we work for the success of this company and for the happiness of our clients.
24*7 SUPPORT: Our customer care executive team is set at the backend to help the customers with every doubts and queries that they have. We will solve your each and every problem. You can call or mail us at any time you want to as we are available round the clock for our client's assistance.
Interstate backloading tips:
· Always book your removal company in advance.
· Always pack your stuff on time.
· Label all your boxes before they are loaded.
· Be organized
· Keep your documents and important papers in one pack.
This is something what you should always do before making a shift to a new place. But first of all, do book a known and trusted Backloading removals company so that they can relocate your furniture with proper care. Check the quote before booking a company and compare the prices first handedly. Make sure that the furniture is packed and covered between blankets and packaging sheets so that it doesn't break. Lastly, check your entire list properly before shifting to a new place.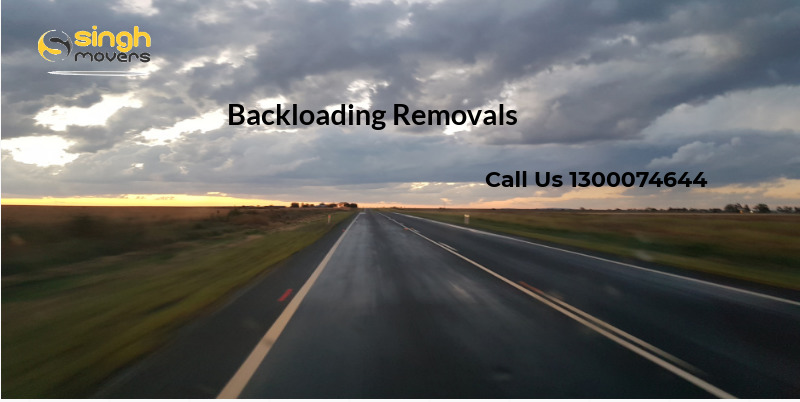 SINGH MOVERS PROVIDE TROUBLE FREE SERVICES AS WE:
MAKE PROPER PLANNING AND SCHEDULE
We do proper planning after seeing all of the furniture items.We ask for the client's delivery date with the starting of the work date. FURNITURE REMOVALISTS at SINGH MOVERS initiate the process by exploring all of the furniture to be moved. This vindicates us to identify and analyze the required packaging material with wooden crates that are required to safeguard the furniture.
Listing DOWN ALL THE FURNITURE:
After viewing and analyzing all of the necessary details about the furniture, noting down about how much packaging material is required; we list down all the furniture materials that are required to be shifted with our efficient and helpful service.
Scheduling the furniture removal according to the client's requirement:
We provide the client with the freedom of choosing their own suitable timing for the shifting of the items. However, we give you the confirmation call for your time and you should then relax with a cup of coffee while we efficiently pack your all stuff followed by the shifting of the items to the destination place.
CUSTOMER SATISFACTION
As we have already told you our all of the services and the cheap rate services, We, Singh movers believe just in endowing the customers with the best and quality BACKLOADING REMOVALS service. However, we have gained name and fame for our cheap and quality services already. Customer satisfaction is what matters the most and SINGH MOVERS are working for the happiness of the customers.
WHY SINGH MOVERS MELBOURNE BE YOUR ONLY CHOICE?
AFFORDABLE PRICE: SINGH MOVERS is believed for their quality service at affordable prices. We endow our customers all the facilities at the minimum price possible. Charging low doesn't mean our work quality is not good. It is just our company's motto to endow their customers with all the services at low-cost so that the prices won't lay heavy on any type of customer's pocket.
ON-TIME SERVICE: Now this is a major doubt in every customer's mind as many other service providers promise to shift the stuff on time but do not do so. SINGH MOVERS is fixed with their timings and do not disappoint their customers. Our timely delivery will always put a smile on your face.
SECURE TO MOVE YOUR BELONGINGS: SINGH MOVERS can be fully trusted for the safety of the stuff as they plan, pack, and unpack the stuff using professional tools and by undertaking proper safety measures.
CHECK OUR GOOGLE REVIEWS: This is a major important thing that customers always want to know whether the service of the company is good or not but our GOOGLE REVIEWS says it all as our customers have happily published reviews who were fully satisfied with our service.
QUALITY FURNITURE REMOVALISTs: We along with furniture removal provide many other facilities like office relocation, moving interstate whether an office or a house, storage facilities etc.
RELIABLE FULLY INSURED MOVERS AND PACKERS: SINGH MOVERS is a company of MOVERS AND PACKERS at whom you can rely upon for all sort of work as we do all the work by ourselves itself once you hire us. You do not need to worry at any point of the shifting process. We are fully insured removalists in Melbourne. Though there never happens any sort of trouble but if sometimes it happens for the goods in transit, we pay up to $100,000. On the other hand for any harm to the public we pay for the public liability around $10,000,000.
STORAGE FACILITY: We offer our customers with one more important facility that is STORAGE FACILITY at SINGH MOVERS. So, if at times you do not want to shift all of your stuff to your house, office or industry, we have ample space for your belongings to be stored under CCTV SURVEILLANCE round the clock. So, be free if you hire SINGH MOVERS.