Interstate Furniture Removals
When it comes to moving our favourite furniture, we generally do not trust anyone with it. Isn't it? But with SINGH MOVERS you can easily rely on us for your INTERSTATE FURNITURE REMOVALS. We offer you a dedicated group of experienced workers who will handle your furniture with the utmost care. From wrapping and packaging your stuff to unloading at the desired location, we make sure that your INTERSTATE FURNITURE REMOVALS takes place with great ease. SINGH PACKERS AND MOVERSensures that you get the right updates of your transit at economical prices. Transporting your valuable assets can be a major headache if a proper INTERSTATE FURNITURE REMOVALS is not chosen wisely. But with us by your side, all your worries can be put to an end. We render the best service quality to our clients so that the task of relocation can be accomplished without any hassle.
SINGH MOVERS AND PACKERSemploys fully trained individuals who are expert at packing your expensive furniture. We also make use of safe and well-equipped measures so that your fragile material does not break while making the transit. In addition to INTERSTATE FURNITURE REMOVALS, we also provide the services of OFFICE RELOCATION, INTERSTATE MOVING and so on. We also provide you with storage facilities for your benefit. Our company offers the best quality service at the best rates. Our removalists will pack your material with the best quality of bubble wraps, packaging sheets and so on to make sure that your stuff is reached on the location safe and sound. We make your INTERSTATE FURNITURE REMOVALS very easy and non-laborious without giving any stress to our clients. At SINGH MOVERS we believe in the 100% satisfaction of our customers and that is the reason we are one of the most trusted companies in a whole lot of Australia.

SINGH MOVERS- THE BEST FOR ALL TYPE OF REMOVALS
We also provide the following services to our customers: -

Home shifting can be a really difficult and complicated challenge. But if you choose the right team with you it becomes a really easy thing to do. SINGH MOVERS have a track record of ten complete years in rendering the best of services to their customers. We have a team of expert professionals who are able to handle your valuable assets with proper care. We are expert at shifting all sorts of materials from bulky furniture to light ones. We have proper measures for all sorts of furniture in order to make your work easy and swift. We aim at providing best and quick services to our customers. Whether it is Sydney or Melbourne SINGH MOVERSare available all over Australia to give satisfactory results to their customers. We work 24*7 to serve you always. We also provide STORAGE FACILITIES to with our customers in case they need it while shifting. So, if you have any problem regarding your transit, we have the remedy.

SINGH MOVERS OFFER INTERSTATE FURNITURE MELBOURNE SERVICES TO THEIR TRUSTED CLIENTS
You will not be asked to pay any extra fuel charges as we will endow you with every possible facility that we can and will not charge you for any extra stuff. But the customer has to pay worth time duration from depot to destination.
SINGH MOVERS is not a company who just provides shifting but not with proper safety measures. SINGH MOVERS treat every customer as their family and get their work done with proper safety and using professional tools. Our professional tools include trolley, dollies, heavy duty blankets, a toolkit for assembling, and disassembling furniture, ropes, shrink wraps etc.

SINGH MOVERS also have professional trolleys and ramps for the shifting of various types of upright pianos.
SINGH MOVERS have shown all their charges beforehand to their customer in their company's quote. We do not ask you for any other charge for the sake of money. We just believe in providing the quality work as we work for the success of this company and for the happiness of our clients.
Our customer care executive team is set at the backend to help the customers with every doubts and query that they have. We will solve your each and every problem. You can call or mail us at any time you want to as we are available round the clock for our client's assistance.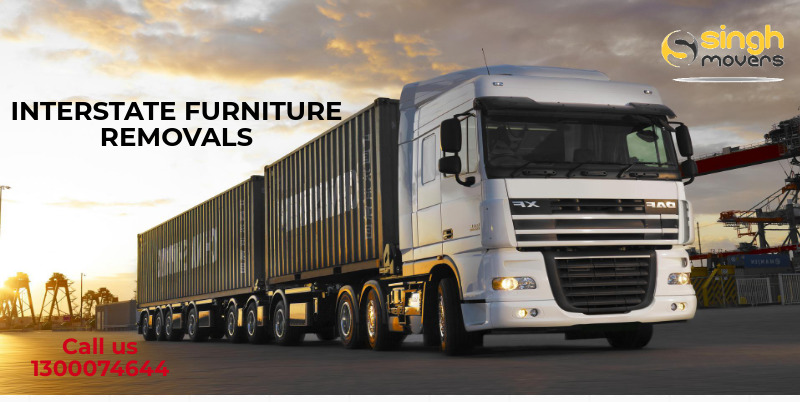 HOW DO SINGH MOVERS- FURNITURE MOVERS MELBOURNE MAKE THE MOVE STRESS-FREE?
After we receive a confirmation call or mail from our clients, we do the following:
We plan up a visit to your place and analyze all the things that are needed to be transported to your new desired location.
We make up a full list of the items you provide us to shift. We plan accordingly the packaging material and the vehicles to be used for the transportation of the stuff.
We, the INTERSTATE FURNITURE REMOVALISTS, initiate the process according to the client's requirements. We provide the clients with some timings but if they do not agree with that, then the mutual timings are decided for the process to be initiated.

WHY SINGH MOVERS?
SINGH MOVERS is always believed for their quality service at budget-friendly prices. We render our customers with all the facilities at the minimum price possible. Charging low doesn't mean our work quality is not good. It is only our company's motto to endow their customers with all the services at low-cost so that the prices won't lay heavy on any type of customer's pocket.
SWIFT DELIVERY OF THE GOODS:
This is a major doubt in every customer's mind as many other service providers promise to shift the stuff on time but do not do so. But why SINGH MOVERS? Because SINGH MOVERS is punctual with their timings and never disappoints their customers. Our timely and swift delivery will always put a smile on your face.
SECURE AND SAFE MOVE WITH SINGH MOVERS:
SINGH MOVERS can be fully trusted for the safety of the stuff as they plan, pack, and unpack the stuff using professional tools and by undertaking proper safety measures. Have faith in us and call us to hire for the services.
CHECK OUR GOOGLE REVIEWS:
This is a major important thing that customers always want to know whether the service of the company is good or not but our GOOGLE REVIEWS says it all as our customers have happily published reviews who were fully satisfied with our service.
QUALITY FURNITURE REMOVALISTS
We along with furniture removal provide many other facilities like office relocation, moving interstate whether an office or a house, storage facilities etc.
RELIABLE FULLY INSURED MOVERS AND PACKERS:
SINGH MOVERS is a company of MOVERS AND PACKERS at whom you can rely upon for all sort of work as we do all the work by ourselves itself once you hire us. You do not need to worry at any point in the shifting process. We are fully insured removalists in Melbourne. Though there never happens any sort of trouble if sometimes it happens for the goods in transit, we pay up to $100,000. On the other hand for any harm to the public, we pay for the public liability around $10,000,000.
We offer our customers with one more important facility that is STORAGE FACILITY at SINGH MOVERS. So, if at times you do not want to shift all of your stuff to your house, office or industry, we have ample space for your belongings to be stored under CCTV SURVEILLANCE round the clock. So, be free if you hire SINGH MOVERS.

ADDITIONAL SERVICE WITH SINGH MOVERS:
No time or money wastage

No worry and stay relax

Feel Friendly with employees

A door

to door service

Book on one call or mail or online

24*7 service

Trucks according to the client's need
You can count on us for all kinds of FURNITURE REMOVAL services as we are the experts in this industry.

GET THE QUALITY INTERSTATE FURNITURE REMOVAL
We, SINGH MOVERS, are known the best and the affordable FURNITURE REMOVAL service providers. So, you do not need to worry at any point and we will help you with your INTERSTATE FURNITURE REMOVAL. You can give us a call and solve your all of the doubts regarding the FURNITURE MOVE. Hurry up and do not hesitate or think twice as SINGH PACKERS MOVERS are the FRIENDLY MOVING MEN who will endow the quality move.