Do you need a Movers Melbourne that can help you remove furniture in the process of shifting your house? Why only houses, though? Even if you are moving your office or business to a new location, you need a Melbourne movers company to make your work stress-free.
Singh Movers Removalists company in Melbourne has completely well-designed moving strategies to benefit you. We are a moving company with years of experience that help us at all times to provide you with the safest moving packing services. Singh Movers Melbourne is the company that has all the goods you need during relocation. We pack the goods efficiently so that we can provide security for fragile items in your home. Packaging is an aspect that defines the safe delivery of your goods.
If you are looking for office removalists Melbourne, we provide relevant services for that too. You do not have to worry about the stress and hassle of this process. We provide personal relocation plans for each of our customers. This is because each customer, each house, or each office has different needs to be fulfilled. We provide high-quality personal movement experience and services to make your shift work easy. We are a team of expert movers with many years of experience in moving houses, office removals, and Piano Movers Melbourne.
We have a dedicated workforce that does its job with all honesty and professionalism. Can you get such great moving services in Melbourne at a reasonable price that you will get from us? We have all the incomparable services that you will get only after hiring Singh Movers and packers.
Hire our Movers Melbourne for the following specializations:
We specialize in providing you with the following services:
Furniture Removalists

Office Relocation

Antique Furniture Removalists

Furniture Assembly Services

Pool Table Removalists

House Removalists

Piano Removalists

Interstate Removalists
The fragile and delicate items in your homes must be transported safely. So, to provide special protection for the delicate items out there in your house, we have well-trained professionals to provide safety to your goods. The inconvenience and uneasiness caused to your family and you understand well from us.
We know the strategies with which we can make this work easier for you. The same is the case with the relocation of your office or business location. But, with these Removalist Melbourne, you can make your move easier. So, do not keep searching for removalist companies in Melbourne anymore. Singh Packers and Movers Melbourne are an all-in-one package service to solve all your packing, moving, and relocation problems.
What can you expect from Singh Movers & Packers?
Singh Movers and Packers Melbourne Removalists companies are well suited for all moving work in your home, office, or business. We will never disappoint you with anything related. You can also expect the following specialties in our company:
Transparent Pricing:
Singh Removalist's companies have all the variable prices completely transparent that will move your home in a perfect way. It means our customers know what we are charging you. We do not charge our customers anything extra. So, you do not need to worry about our company's price list.
Fully Insured Company:
We have an experienced team to make your shifting convenient and safer, it is also highly recommended. But, if in case some damage is caused to the goods or your furniture, then we will pay for that. Our company is completely insured for any kind of loss. So, do not fret about the damage as well.
Quality Customer Services:
Our company is known for its services in the entire moving market in Melbourne. We provide only the best experience for our customers. This is only possible due to our experienced, friendly moving men and the essential equipment we use.
Good Storage Facilities:
The large storehouse stocks in our company are under 24 * 7 surveillance by CCTV. So, if we need to store the goods, then we have so much space, it is also the safest space. Here, you do not have to worry about damage to your goods when stored.
24*7 Work Support:
You need not hesitate to ask for anything or any doubt you have regarding your work at any hour of the day. We offer our customers all-day and night support. We listen to our customer's problems and find relevant solutions for them.
Removals Made Easy with The No 1 Removalists in Melbourne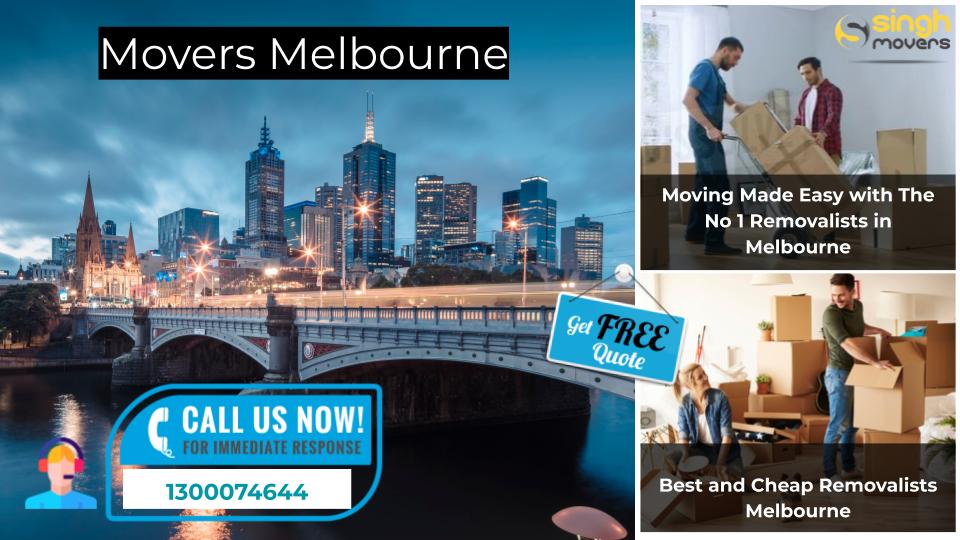 Choose Singh Movers and Packers - Movers Melbourne
Moving to a new house or shifting your business and office removalists Melbourne is a very stressful task. You have to do a lot of tiring work for the shifting. But, we are here to help you completely. You also do not have to worry about the price list of us.
Before hiring Singh movers Melbourne, you will get a quotation for the services you need from us. We will take out the tension and tiredness of the relocation process and will replace it with comfortable moving and the best customer experience.
Singh removalists Melbourne company has several options for packing of the goods that need to be transported. You can see and choose which services you want from our company on the list we give you. So in all, you can plan and get us to perform your move according to your choices.
How can Movers Melbourne pack the goods?
Complete Packing: Our team has professionally trained and experienced people who use all the latest methods and strategies for the packing of your goods with the use of the best packing materials. We pack everything in your home in detail. You just do not have to worry because your goods will be in the safest hands of Singh Movers and packers Melbourne.
Fragile or Delicate Packing: There are many items in the home that are very delicate to handle. They can be broken down easily. For the safety of such materials, we make special packaging. We treat everything very carefully with all the safe hands without causing any damage.
Pack Yourself Option: Singh Movers Melbourne gives you the opportunity for self-packages where you can also choose where you can pack all your belongings yourself. For this, we will provide you with all the cartons, moving boxes, and all other materials and also all moving equipment that you will need for the packaging of goods.
4 Basic Steps involved in Movers Melbourne Services
Packing: As we have mentioned earlier how we pack the goods with care at your home so that there is no loss or damage to your goods. To provide the safety and security of your product, we pack every item using the appropriate materials. To protect your valuable products and furniture from any scratches and dirt, we use plastic shrink wrap for packing.
Loading: After packing, we systematically load the goods, delicate items, and furniture into our moving trucks and are transported to the location of shifting.
Transporting: We transport your goods with maximum security. Our trucks have air suspension protection with which your goods do not have any damage. Also, our truck drivers are well-experienced and they drive safely so that they cause no harm to your goods. It does not matter at all if you are moving somewhere close, interstate, or in a very remote place, we have got your back. Your goods will never get even a single scratch with your local and interstate removalists Melbourne services.
Unloading: After the delivery of your goods to the desired location, we check whether everything is safe and no damage is caused to any of your valuable items. According to your requirement, our workforce places the boxes in the rooms where you want. We can also provide the services for reassembling your goods if accounted for.
Singh Movers and Packers: Best Decision For Furniture Removalists
Singh Movers is a respected company in the movers market or provides state-of-the-art Movers Melbourne. We provide all the excellent services and an incomparable customer experience. Our removalists companies ensure that our customers have a good moving experience with our company.
So you do not have to worry about shifting anymore, just contact Singh Movers and Packers Removalists Melbourne. We are available to provide you with reliable services regarding furniture removals service and office removalists Melbourne moving processes. We look forward to assisting you and making your shift easier and more convenient with our services.