Cheap removalists Melbourne
Searching for cheap removalists Melbourne to relocate your home in a secure way? If yes, you are at the right destination. Singh movers are one of the leading mover and packers in Melbourne. We have more than ten years of experience in the movers and packers field. So we provide the best service to our valuable customers.
Shifting the residential place is not a simple task that is a thrilling activity. Most people ask family, friends, and others to help them for lifting the heavy thing and some of them hire our furniture removalist. Hiring our removalists Melbourne cheap service is a simple way to shift the residential place faster. Our professional teams have the skills in shifting the heavy loads.
Moving to a new home can be hard both emotionally as well as physically. In your busy schedule, it is difficult to relocate your home to a new place. Our removalist packs your complete home and shifts it to a new destination easily. Our experts use proper tools and packing material to shift the home.

Pick experienced removalist in Melbourne
Today, there is a huge range of companies that are offering the furniture Movers Melbourne service. So you need to choose the right company which fits your requirements and budget. By considering the various things you can find the best Cheap removalists Melbourne company for shifting your home. We have created the reputed name in the field by offering quality and affordable service to our clients. Singh movers not only helps you to move the home securely but also helps the house owner to save huge time. We relocated the complete home in a short time.
Our removalists Melbourne cheap offers different types of services such as packing, unpacking, transportation, loading, and unloading. With our experienced experts, we are equipped with moving the heavy loads to a new home simple. The removal of a residential place holds inflammable as well as flammable items. These things need different safety measures for shifting the items from your old home to new. Our trained experts can do it securely for you.

Removalists Melbourne Cheap movers Services offered by Singh movers
Relocating the home is a complicated process. You feel anxious when moving home to a new location. You need to handle everything in the home relocating. By hiring our professional movers and packers service you can relocate the workspace easily. One thing you will happy to know that our Cheap removalists Melbourne service. We offer a cost-effective home relocating service. We can help you to move home, furniture, office, and others belonging to the proper tools.
We are a one-stop destination for shifting the home, office, furniture, and others. We have complete items and tools for home relocating that help us to shift everything securely. Without any hassle, you can shift home by hiring our Melbourne Cheap Movers service. You need not worry about additional price when hiring our movers and packers that we covered everything in the package. Singh movers offer a large range of movers and packers services such as
We offer 24/7 hours customer support service so you can contact our experts at any time you need and get the best solution. Our main aim is to provide 100% satisfaction service to our clients.

Singh movers – Leading Mover and Packer in Melbourne
Singh movers are trusted movers and packers in Melbourne. We offer all kinds of removal services to our clients at a lower price. We provide timely delivery to our clients that make them smile. If you are searching for the best removalists Melbourne then you are in the best place. We are the top movers and packers in Melbourne. So the people hire our service to be free from tension and worries of the shift.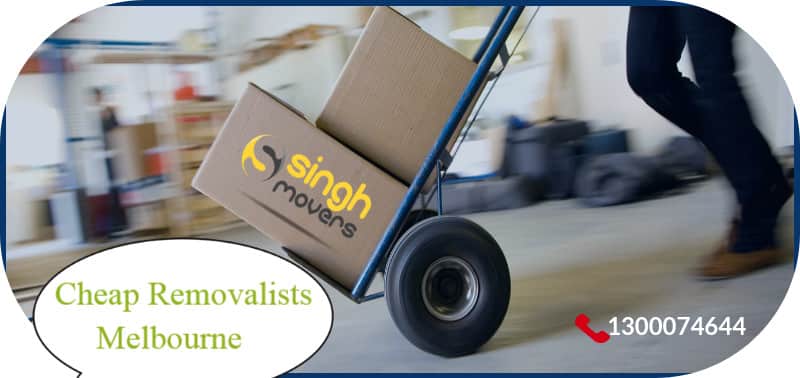 By hiring our best Removalist you can shift their home to a new location. Our cheap Removalists Melbourne offers excellent furniture removal service to the customers. Singh movers have trained the team at its backend and our experts are having more than two years of experience in the field. With the help of the certified and trained experts, we offer an effective service to everyone.
Our experts understand the needs of the customers and offer removal services. We help you save money on shifting the home. Moving heavy furniture is a dangerous and hard task. Sometimes, the accident happened while shifting the heavy times. So you can hire our Removalists Melbourne cheap to shift large items. Shifting the belonging with our experts is simple and also hassle-free.
When you are moving home by yourself there is a lot of the things you need to do such as hire labor, book truck and others. But if you hire our moving company Melbourne then you can choose the dates and times for shifting the home to a new destination. Everything will be completed on time with our movers.

What do Singh movers do?
Singh Movers are a leading movers and Packers Company in Melbourne, our mover and packer service is completely different from other companies in Melbourne. You can hire our service through call, email, or message. Our experts are available round the clock so you can call at any time you need it. Our experts do proper planning for shifting the home. Our teams have skilled in the field so we guarantee securely for all things while shifting home or workspace. Here you can look out what makes our difference from other Cheap removalists Melbourne movers and packers.
We have professional equipment for shifting the home. Singh movers not only offers the shifting service but also offer proper safety measures. We complete every work properly by using professional tools. We have a lot of tools such as trolley, heavy-duty blankets, dollies, disassembling furniture, shrink wraps, a toolkit for assembling, ropes, and others.
We offer 24/ 7 hours customer care service. We have an experienced a backend team to help our clients with all the doubts which they have. Our experts will solve every problem quickly through phone or mail. You can also call them and clear your doubts.
Never ask Depot to Depot charge
This is the main benefit of hiring Singh Movers furniture removalists. We will never ask for any depot to depot charges. Our team members reach you and will ask you to pay for that.
Charge only door to door delivery service
At Singh Movers, experts will charge you for the door to door shifting process only when the main process begins. We will provide you with everything during the shifting process. This one makes us different from others.
We will not ask you to pay for any kind of fuel charges. It is because we are budget movers in Melbourne. by undertaking the right safety measures, we relocate your home or office securely in a limited time.
Singh Movers will show all of their charges to their clients. We will not request you for any other charge for the sake of cash. We provide a reliable and cost-effective service to customers.
An advantage of hiring Singh removalists Melbourne for shifting home
To shift the home faster, then you can hire Singh movers. Our Cheap Removalists Melbourne handles everything in the home or workspace shifting. So you can stay away from tension and stress. Our professional team packs the household items in separate boxes that protect them from damage. It helps to avoid different types of damages while transporting. By hiring our mover and packer service in Melbourne you can gain huge benefits such as
For moving the heavy furniture, the proper equipment is required that helps to complete the task securely. Our Singh Movers Melbourne has proper tools to shift the heavy loads. The individuals do not have additional Dollie or other things for moving things. We have the necessary equipment that is critical for a safe and smooth move. We understand work needs and bring tools for shifting the home. You need not waste time and money on buying the equipment to shirt the heavy load.
Our Singh Movers and Packers has trained and experienced experts to offer quality service. Our Professional mover teams have depth skills in the home shifting. We provide proper training to our experts. Our Cheap Removalists Melbourne team can do home shifting work on a regular basis. So we complete the home relocating in a secure manner. We provide the right solution for the problems in a limited time. We use the correct tools for packing, unpacking, and transporting the belonging in the safe and fastest way. It assures that we will be reached to the right destination on time.
If anyone tries to move heavy items on your own then the property or home belonging gets damage. Moving the heavy items is hard that makes scratches on the doors, walls, and other places. So you can hire our moving services Melbourne to shift the heavy load properly. Our experienced movers have the skill to move large items without damaging the property. We have first-class tools and supplies which help to protect the household belonging as well as home from damage. Our skilled experts can use the safety plan to the home and other things while loading and unloading the heavy items.
Hiring our Removalists Melbourne Cheap movers and packers helps you to stay away from various damages in the belonging and others. We have the professional team complete the task faster plus safely. If you packing the things in the low-quality and packing box then the accidents can happen. By hiring our moving company, the property owner will shift the home with a lower risk of damages. If any damaged or mishaps then the property owners are covered. We cover a lot of the things in the insurance.
When you hire our Cheap removalists Melbourne cheap movers for furniture removal or home shifting then you can take rest to ensure. Our professional team will reach your new destination with the big truck at the correct time. Our experts will complete the work faster than shifting home with your family and friends. Most people may feel the tension and stress because they want to come out of the old home. By hiring our home removal service you can stay away from the stress and tension.
One of the major benefits of hiring our removalist Melbourne cheap for home or office removal is convenient. We provide the user-friendly home shifting service to the customers. Our experts help to shift the home securely. Our experts do not go away awaiting the work is completed fully and properly. The house owners don't want to hire labor to transport heavy loads. We have an experienced team to offer the best mover and packer service. We shift the home quickly at less risk. So the property owners can enjoy time with their family or focus on their business.
Singh movers offer mover and packer service at an affordable price. By hiring our Budget Movers Melbourne service you can save huge money. The property owners need to buy equipment for a home removal. If you hire our cheap removalists Melbourne then you can save money on purchasing the tools. We have the latest tools to shift all belonging. Hiring our service movers is cost-effective than shifting the office or home on your own. We have extra supplies to pack all the furniture and other belonging safely such as bubble wrap, cardboard boxes, necessary tools, and others to keep the shift running secure and smooth.
Hiring our removalist is a simple way to relocate the home or office effectively. We use the right tools to move the heavy loads to a new location. We have qualified experts to provide high-quality furniture removal services to our clients.