So you are one of those who are looking for a full-fledged mover and packer Melbourne team but only the service of Two Men and a truck that can help you move your belongings to the new desired locations. So why are you worried? Singh Movers are available to help you with everything at an affordable price. This service is available from our moving company which preferably means that we will even help you with the cheapest and best quality moving services with full-service moves, storage options, and hourly work for an assortment of in-home jobs. Either your stuff is just a table, or a bulky sofa, a king-size bed, a large fridge, a priceless piano, or whatever you have, we will be there at your doorstep and give you this best relocation service.
Two Men And A Truck
Large-scale moves with plenty of heavy equipment need efficient teamwork and a number of vehicles for the material to be transported. But we, at Singh Movers, acquire plenty of large-sized vehicles and give you service of only two men and a truck according to the customer's requirements. The size of the truck you choose or we recommend depends on your belongings to be shifted either locally or interstate. Regardless of Whether the truck size is 2 tonnes, 6 tonnes, or something else. We will assist you in all of the ways and you will not have to worry about the safety of the belongings also.
With us, your belongings are safe because the shifting process will be carried out to remember the safety measures. Do not worry and get in touch with our customer care executives and be free from all of the worries of your Office Move, Interstate Move, Furniture Move, and House Move, etc.
Two Men And A Truck

- One Stop Solution For All Types Of Removalists Services:
Furniture Removalists / Furniture Assembly Service

House Removalists

Interstate Removalists

Office Relocation

Piano Removalists

Pool Table Removal

Hard Rubbish Removal

Antique Furniture Removal​
As mentioned above, all service is performed with two men and a truck - no matter what the size of the truck is. The size of the truck will totally depend on your requirements as we have plenty of collection of the trucks to meet the needs of our various customers. We do not believe in saying NO to our customers for a small reason. We always provide all the things for our different customers so that neither one nor the other client will have to wait for their work to be done. Time is important and more significant is the work that must be done in time for the client's happiness and satisfaction. You can fully explain and prepare your needs to our customer care executives who are there to help you around the clock. And after analyzing all the things, they will surely recommend a truck size that suits your requirements.
It does not matter for us whether the small amount of stuff needs to be shifted within Melbourne city or to another state. We will endow you with every facility once you trust and hire us. Interstate Move is also a facility provided by our company experienced team having full professional knowledge regarding Movers and Packers work. We plan the trip with the utmost care and ensure the safety of your goods together with fast and on-time delivery.
Our Major Directions:
Moving From Melbourne To Sydney |
Moving From Sydney To Melbourne
Moving From Melbourne To All Suburbs |
Moving From Melbourne To Brisbane
Our Two Men and a Truck service provide you with assistance with moving the stuff from house to house. The two men will themselves pack the stuff, load, and unload all the materials on the fixed and dedicated time. Our large trucks have enough space to fit room materials. So do not worry at any time because we have an eye on every job that is done when you hire us.
The Singh Movers company in Melbourne does not only offer two men and truck service for long distances. But also for the local distances that take less amount of time. We believe in giving workers the best care and the best possible prices. Moving locally does not take much of our time. You can hire these local Two Men and truck removalists Melbourne service even if you want to move from one corner of Melbourne to the other corner of Melbourne city in Australia.
Singh Movers,

Two Men And A Truck

is the best choice for Move:
No Depot To Depot Charges:
We do not take any depot to depot charges from our customers as we have already said that we work for our customers' satisfaction. We only charge you for the door-to-door transport and shifting. Not even the fuel charges are taken from the customers.
━━━━
Door To Door Charges Only:
We only charge you for the door-to-door shifting because that is when the main process starts. We will provide you with a shift that is done with proper planning.
━━━━
No Fuel Charges:
You will not be asked to pay any fuel charges as we provide you with all the possible facilities that we can and will not charge you for any extra items.
━━━━
Professional Tools:
Two Men and a Truck Service provide you safety shifting with proper safety measures and professional tools. our professional mover gets their work done with proper safety with professional tools. Our professional tools include trolleys, dollies, heavy-duty blankets, a toolkit for assembling, and disassembling furniture, ropes, shrink wraps, etc.
━━━━
No Hidden Charges: ​
Our company has shown all its charges in advance to its customers in their company quote. We do not ask you for any other fee for the sake of the money. We only believe in providing quality work when we work to succeed with this company and for the happiness of our customers.
━━━━
24*7 Support: ​
Our customer care executive team is set at the backend to help the customers with every doubt and query that they have. We will solve each and every problem. You can call or mail us at any time you want to as we are available round the clock for our client's assistance.
━━━━
Visitors to this site if you have any questions regarding our Services can actually Check Out Our Google Reviews and Testimonials. If You Still Have Doubts, You Can Contact The Review Authors And Our Executive Team To Clear Up Any Doubts.
Hire TWO MEN AND A TRUCK Service almost anywhere in Australia.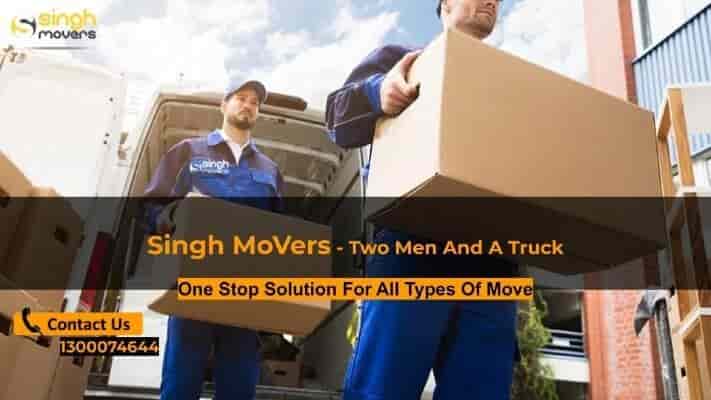 Singh Movers

Handle Your Moving Needs in

Two Men And A Truck

Service.
Singh Movers believes in cheap Removalist Melbourne services for its quality service at affordable prices. We give our customers all the facilities at the lowest possible price. Charging low does not mean that our work quality is not good. It is only our company's motto to provide its customers with all services at a low cost so that prices do not put a heavy burden on any type of customer pocket.
Now, this is a big doubt in every customer's mind because many other service providers promise to move things on time but do not. But why us? Because we are fixed with their times and do not disappoint their customers. Our early delivery will always put a smile on your face.
​Our company is completely reliable for the safety of things as they plan, pack, and unpack things with professional tools and by taking appropriate safety measures. Believe in us and call us to hire for the Two Men and a Truck services.
Singh Movers is a company of Movers and Packers Melbourne that you can trust for all kinds of work because we do all the work ourselves once you hire us. You don't have to worry about the shifting process. Though there never happens any sort of trouble if sometimes it happens for the goods in transit, we pay up to $100,000. On the other hand for any harm to the public, we pay for the public liability around $10,000,000.
​We offer our customers a more important facility which is a storage facility. So if you sometimes do not want to move all your belongings to your house, office, or industry, we have plenty of space for your belongings to be stored under CCTV surveillance around the clock.
So feel free if you hire the Two Men and a Truck service.