Removalists Western Suburbs Melbourne
Singh Movers and Packers are a leading and top-ranked removalist among all the Removalists western suburbs Melbourne. This is just for a good reason. Our staff is dedicated, experienced, and skilled in performing all types of relocations throughout the Melbourne area. We are truly a reliable office removalist, house removalist, and interstate removalist in Melbourne.
We have to go to Removalists Melbourne which only has all the important removal services under one shed. The specialty of this western suburb of Melbourne movers is the dedicated workforce who are all experienced and skilled in performing and offering all services related to the removal or displacement of furniture with total efficiency. For Singh movers and packers, there is no relocation and shifting-related service that we can not do with ease.
Our whole team of friendly moving men is very dedicated to their work and always walks an extra mile to serve the customers with the best services. It does not matter whether you want to take any single item from one place to another or you want to shift your house to some other place, we are always available to make your work easy. We are always here to provide you with support. Our experienced staff takes care of our customer's belongings as if they are ours.
When you have hired Singh movers and packers Melbourne for your shifting work, then you can be free of stress to know that all your goods are in the safest hands. We never ever disappoint our customers by providing the utmost safety to their goods. This way you will get to spend comparatively more time with the family without having any stress of relocation and house moving.
We will always take care of your best in a noticeable way and deliver them with security. Based on evaluating our customers' requirements, we plan the entire Removalists Western Suburbs Melbourne process, pack your goods efficiently so that they do not damage them, and finally deliver them to the desired location on time and unload. Our team provides all the quality moving companies service to our customers at an affordable and reasonable price. This combination of excellent services and reasonable prices cannot be found with any other removalist in Melbourne.
The professional approach of Singh Movers and Packers.
When you hire quality shippers from Singh Movers, you get many of them. The best thing about hiring us for western Suburb relocation services is that you get served with what we have said and promised. We are not a type of run-of-the-mill type removal company that only does the average job with less effort. We always do our best to keep our customers happy with our work. Every relocation, whether large or small, is thoroughly planned by professionals in the moving suburbs of the western suburbs of Melbourne. This efficient planning helps us to provide excellent services when moving to Melbourne.
When you contact Singh movers and packers to avail the moving services for you, we provide you with a free-of-cost quotation. You are also free to choose the date and time when you want us to assist you in the shifting process. We are the removalist company which provides the services all the 365 days of the year. So, even if you are thinking about the relocation being done on weekends, we will be available on weekends too.
We can provide you with relocation services throughout Melbourne. So, wherever you are relocating across Melbourne, we can always help you with that.
We use all the eco-friendly stuff and materials for the packaging of your goods. Our professionals have a clear understanding of the efficient packing techniques so as to deliver them safely. The goods are professionally trained, packed, and transported to the desired location without causing any harm to the goods.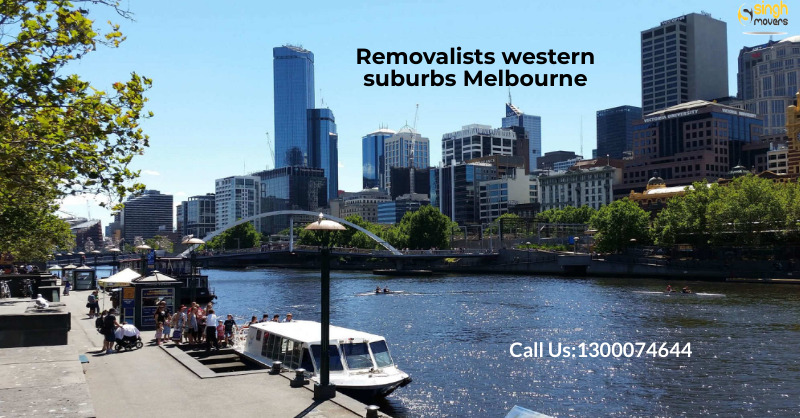 All types of Removal services offered in Removalists Western suburb of Melbourne.
The special thing about Singh movers and packers is that this removal company has every solution to every problem or query you have. Our Western Suburb Removalist Melbourne can help you in relocating interstate, shifting your office to a new location, removal of furniture and other items, and moving heavy goods like a pool table or piano from one place to another. So, the services we can offer you are:
House Removalists Melbourne: if you want to relocate to the new house you bought, then you can call this removalist Melbourne anytime. We will safely shift all the stuff and goods you have quite quickly and safely. Our workforce will assist you in everything starting from planning, packaging, and delivery and unloading of the goods.

Office Removalists Melbourne: Relocating to a new office is not a bed of roses. It involves a lot of hard work and effort to perform the same. But, this office removalist Melbourne will make your work easy and convenient with their assistance.

Furniture removalist Melbourne: shifting your furniture to any other place needs a lot of effort and hard work. A strong workforce and the necessary tools, both required to move furniture. But, Singh Movers and packers have both to assist in furniture removal.

interstate removalist Melbourne: are you thinking of relocating to any other in Melbourne? Then, you can inquire about the same. We provide excellent interstate removal services with efficiency and total safety.

Piano movers Melbourne: piano moving is such a tough and delicate task as it is very heavy. Our team can help you with the same efficiency with the years of experience of our professional workforce. It does not matter what the size of the piano is and how heavy it is, we can do it with the same excellence and safety.

Pool table movers Melbourne: we can also do the pool table removal for you. We will surely make this task easier with our assistance. So, you can hire us for the same.

A man with a van service Melbourne: suppose if you need to take some small goods from your old house, then you will just need a man with a van. And, this service is also provided by us. This service can also be used in case of relocating to any nearby place.
So, now you know, Singh Movers and Packers have all the necessary services of every type related to relocation. And, you can trust this removalist in Western Suburb Melbourne for any type of removal services.
Everything you move in or out of a Western suburb of Melbourne with Singh Movers.



4 steps of effective relocation and shifting:
Relocation is not an easy task. It requires a lot of hard work, mind games, and tools. The most important aspects of the relocation are safety and on-time delivery. So, to ensure this, we follow a certain pattern for relocation that includes the essential 4 steps. These steps are:
Packing: packing of goods is, no doubt, the most crucial step of moving. If the goods are not packed properly, then there are undeniably many chances of getting the goods damaged.
So, our professionals who have years of experience in this work of moving and shifting, perform this task of packing and unpacking with efficiency. We use every suitable packing material to provide the safety of your goods. For the protection of the furniture items from any scratches, a stretch wrap is used. Along with it, the delicate and fragile items are packed with a number of safety measures to keep and deliver them without any damage.
Loading: after the preparation of goods to transport to the desired location, they are loaded in truck of size according to the requirements. All the huge goods, delicate items, furniture, home appliances, etc; everything is loaded with the system in the trucks keeping in mind the safety of the goods.

Transporting: the transportation of goods is done with complete safety. The trucks of our company have air-ride protection, which does not allow any damage to occur with your goods.
Moreover, the truck drivers of our company are well-experienced and licensed. So, they get your goods delivered safely to the place you want. It does not matter where you are moving, somewhere distant or somewhere very close, we always perform our job in the best way it should be. You will not be having a single scratch on your goods or furniture.
Unloading: After transporting the goods to the new place, we check the well-being of your goods first. According to your needs, we unload the goods at your place. We can also avail you of the reassembling services if you ask for the same.
We are a reliable Removalist Western Suburb of Melbourne and we aspire to provide our customers with essential satisfaction with our work. We ensure the best moving experience with our company due to our excellent services and experienced crew.
So, what are you waiting for? Come and hire us to avail the best removal services and to ease up your work of shifting and moving. We are looking forward to providing our assistance to our customers.