Removalists Eastern Suburbs MELBOURNE

Are you moving to your new home in the Eastern Suburbs of Melbourne and need a moving company for Eastern Suburbs Melbourne removalists? Not only the house, but if you are considering moving your office to a new location, we also have our excellent services available to you. We can provide you with the most relevant furniture removal services that will make your work more convenient.
It is an indisputable fact that relocating your office or house can cause you so much stress and inconvenience. But, Singh Movers and Packers are available for you to provide services that will help you in relocating and shifting entirely. We will make your stress level from high to null with our assistance. Our moving company will never disappoint you with our excellent customer service. When you hire us, you do not have to worry about moving anything. All work will be done by us with great efficiency and effort.
If you are going to relocate your office, then we also have our esteemed services available to you. You will not have to take any stress or anything. We will do everything for you and will make your move easier. We have a specialty in the removalist eastern suburbs of Melbourne, providing special and separate, personalized plans for the needs of every customer. This is because we know that every individual has different requirements. We ask our customers about everything they expect or need from our services and mold the plans accordingly. This provides great relief to customers. So that makes our services satisfactory and in demand as well.
Singh Movers and Packers work with a strategic approach for your shifting tasks so as to provide customers with maximum results. We have an experienced workforce and each of them has many years of experience in this shifting work. And we offer the safest moving services to our customers. This is the reason why our customers trust our company for professional moving services.
We all have positive points that attract customers to our company. In addition, our packaging capabilities are incredible. We have professionals for the packaging of goods. They pack your goods with so much efficiency and it is so much safer to just move with our moving company. Your fragile items are also treated accordingly to give them the greatest safety during transport.
We have a group of friendly moving men who are faithful and honest in their work and will always do their job with complete professionalism. All these excellent moving services are provided at a very reasonable price. Our services are the most affordable of all other removals in the eastern suburbs of Melbourne.
Specialized removal services in the Eastern Suburbs of Melbourne:
When you are dealing with the leading furniture removalists Melbourne, then you can be sure of the great services at your door. We can provide you with different types of relocation-related services. These services for which we specialize are:
• Furniture removalists
• Office relocation
• Antique furniture removalists
• Furniture assembly services
• Pool table removalists
• House removalists
• Piano Movers Melbourne
We all have some fragile items which need to be handled with safety and care. While shifting, we have the most fear of such delicate items. So, these items need to be properly packed and transported with maximum safety. And to provide this protection, we have a special professional team who will never let your goods damage. They will give maximum safety to these delicate items.
We understand how inconvenient it can be for you and your family during shifting. So, to make this inconvenience go, we have certain strategies which make the work easy and convenient. When Singh Movers and Packers assist you with this process, you will not have to worry about anything. We will make your shift completely stress-free.
So, you need not search for removalist Melbourne anymore, as you have already found the best one. We will render you with all the services related to relocation that you will ever want.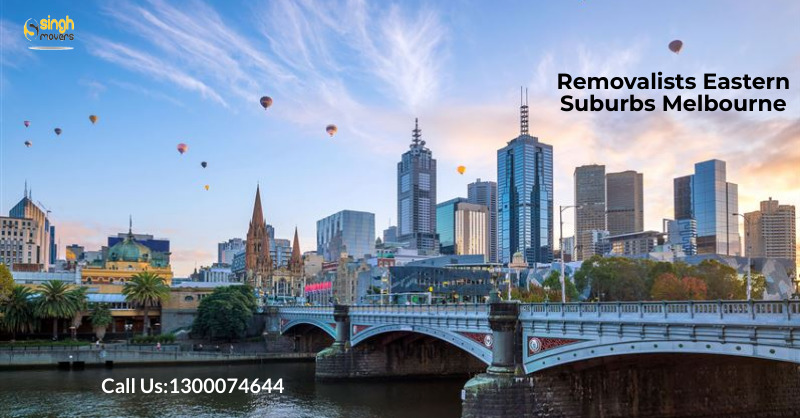 The step by step Eastern Suburbs Melbourne removalists process of Singh Movers

:
We have a strategic removal process in Eastern Suburbs Melbourne and that is why we are highly sought after. If you employ Singh Movers and Packers, you can be sure of the careful planning and the excellent execution of each task. The step-by-step procedure for our work is as follows:
Initial inquiry: Most people are too stressed when it's time to relocate or shift. There is a possibility that you may also feel the same way about yourself. But this should not be the case. So, to change the same situation into a positive situation, we will get everything to make everything simple and convenient. The only thing you will have to do is send an inquiry to us. After this, we will provide you with the maximum details possible in the response to that inquiry.

Provide a quote free of charge: after you have sent an inquiry to us, we will offer you a quote, also this one free of charge.

Selecting the date of shifting: After finalizing everything, you will have to decide the date when you want to shift your house or office. We are available to provide services even on weekends. So, you can choose the day at your convenience.

Relocation: on the appointed date, we will come to your place to perform the shift process.
This relocation process further involves the following basic four steps:
Packing: we have a professional approach to packing skills. Packing material is an important step of shifting because it ensures the safety of your goods. Our team has experience in packing by using several essential materials of packaging that will provide protection to your goods while transporting. These materials include differently-sized cartons, bubble wrap, thermacol, newspapers, heavy-duty blankets, etc.

Loading: After packaging your goods and furniture, they are safely loaded into the trucks of our company. In these trucks, they are transported to the desired location.

Transporting: we have our trucks with special air-ride protection to provide safety to the goods. Moreover, the truck drivers are also well-experienced and take your goods to the defined location with utmost safety. Distance does not matter, but all your goods will be transported with proper safety. And there will not be even a single scratch or damage to the goods.

Unloading: delivering the goods to the desired place and checking the damage to them. The goods are unloaded into your new house or office location. We can also reassemble the goods if you wish us to do so.
This process is followed by our moving company to provide strategic services to our customers with excellence and complete safety.
Why choose us for Eastern Suburbs Melbourne Moving Process?
Singh Movers and packers are reliable and relevant furniture removalists. We specialize in the services of house goods removal, pool table removal, piano removal, office removal, and so on.
Our professionals have years of experience in using the professional tools and equipment of relocation and thus, make your shifting work easy and convenient. Our assistance will surely help you with the same. This professionalism of the workforce at an affordable and reasonable price is desirable for any customer. We provide the best customer service all across Melbourne due to our experience, hard work, and skills.
We are a quick and swift transporter. We deliver the goods at the place you want at the decided time only. We never cause any delay in transportation. This is the reason our customers admire our services. For us, customer satisfaction is above all things. And, we make our customers satisfied by providing the best kind of moving services throughout the Eastern Suburbs Melbourne.
Our team will reach the place you want at the right time, in complete uniform. They will provide you with the best services at your doorstep. Moreover, these friendly moving men are very honest and generous. They will always make you love the services provided by our company.
In order to provide our customers with only the best services, we have a range of the latest equipment, tools, and trucks. All this helps in providing essential safety to your furniture and goods.
We customize the shifting plans for our customers. This is because we know that the needs and requirements of every customer are different. So, you need not worry while calling us for the moving services for you. We will do everything with efficiency.
So, hurry and enquire Singh Movers and Packers to avail you of the best removalist service in the Eastern Suburbs of Melbourne. We are Melbourne's best removalists and will provide you with excellent services regarding relocation, moving, and removing under one shed.