Moving to a new place puts many stresses on a person. How much time will it take for everything to be moved? Do you find a cheap removalists Yagoona service providing company that delivers high-quality service according to our expectations? Then you are in the right place. We at Singh Movers' best furniture removal company offer a safe, fast, and stress-free move in Sydney and throughout Australia.
When we move from Yagoona across Australia, our professional low-cost furniture companies in Yagoona know how to protect your furniture during transportation to ensure a successful relocation. Removing furniture to your moving location and from Yagoona is also made stress-free with our excellent communication and customer service; We pride ourselves on making sure you know what's going on with your precious antiques and disposable designer pieces at all times.
Our focus is on customers' peace of mind in all phases of work. When you contact Singh Movers and packers, our professional service begins.
At each stage of the removal procedure, we take maximal care of our customers and the things being moved. In each step of the removal procedure, we take maximum care of our customers and the things that are moved. Our professional staff is available at every step to answer any questions you might have about any step. With real-time tracking, you know in which phase the removal operation is and can be sure that the service is current. Our goal of meeting our stated deadlines differs from other service providers. Our reputation for exceeding customer expectations means that our customers know exactly when their belongings arrive at the destination.
If you are considering moving from Yagoona, look no further for Singh Movers as we are local and interstate removalists Yagoona residents can trust for safe transport across Sydney, New South Wales, and around Australia. Our professional moving teams are trained to take care of all your local and interstate moving needs.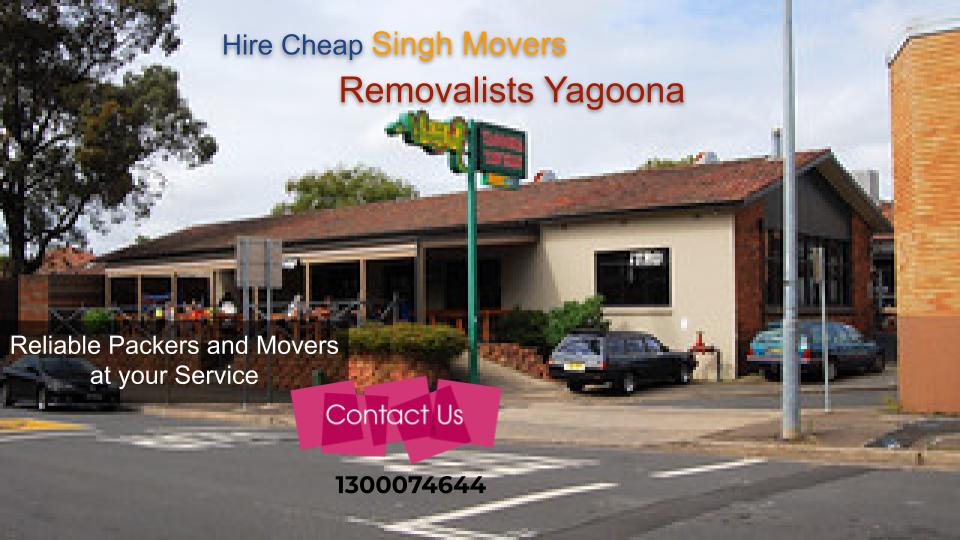 Singh Movers Yagoona removalists services
We are one of the most experienced movers in Yagoona, Sydney, New South Wales with an expert moving team serving the best removalist service. The relocation team are experts in your local moving needs and relocation of families across South Western Australia or anywhere the trip takes them.
We clarify our choice of movers who are best able to meet our customers' needs and requirements. Reliable and dependable, Singh movers ensure professionalism and world-class quality standards when removed between states.
Our team will make sure that all the hard work is done for you and pack, protect and transport your furniture carefully. Our heavy materials are a testament to our many years of experience in protecting your treasures on the move across Australia.
Singh Movers provides in Yagoona:
Furniture Removalists

Office Relocation

Antique Furniture Removalists

Furniture Assembly Services

Hard TableRemovalists

Pool Table Removalists

House Removalists

Piano Removalists

Interstate Removalists
Singh Movers is the best removalist company for Removalists Yagoona that also offers interstate moving services. Based in Australia.
We are based in Melbourne and the Singh Movers Melbourne offices are spread across other major cities: Sydney, Adelaide, Brisbane, Canberra, and Perth. and many emerging markets around Australia. A good alternative to consider if you are moving to or from somewhere a little more off the beaten track.
Why is Singh Movers best for Yagoona Removalists?
Moving Local
There is no need to do it yourself when Singh Movers Yagoona furniture removalists can help you with an affordable service. Singh Movers offers a comprehensive range of services including packaging, transportation, insurance, and storage. We can offer an hour for a fixed price transfer service that best suits your needs.
Moving Interstate
When moving interstate, trust the pros at Singh Movers. With the complexity of not just packing and preparing your furniture for transportation, storage considerations, pets, cars, and family travel arrangements, there are also quarantine restrictions that are now available for many states in Australia to be aware of. Our interstate removalists experts will help you through the interstate removal process and help you with the paperwork and ensure that your moving experience is as stress-free as possible!
Storage
Our storage facilities in Yagoona are state of the art. Maximum protection for your furniture and goods against weather, dust, and pests with our ISO quality systems in place. Our secure storage is safe and secure for your short and long term storage needs.
Packaging
If you are looking for a complete packaging service for your next move, then Singh movers experienced removalists in Yagoona are here to help you. We can offer professional packaging services for works of art, antiques, glass, and all your household treasures. Our team understands the importance of treating your items with the care and attention they deserve as part of the relocation process.
Insurance
Moving across southern Australia and around the local Yagoona area always involves external risks beyond our mobile team control. We strongly recommend that you consider our insurance and storage insurance that provides security to protect your household items.
Reliable service
Not only affordable but our services are also very reliable. We guarantee the total security of your assets by packing them with the best methods. With the help of the best transport media, we make the whole relocation process safer. You just have to give your work to us. We will handle all related work.
Experience staff
Our highly expert and qualified staff helps us to develop these services. Our employees are always ready to provide you with all kinds of help and support services. Everything from transport, packaging, and inspection, we have separate staff for everything. So whether you need any type of service, we have the best staff to understand your needs and provide you with the services that suit you best. With our high-quality services, we help people make their moves easier than ever.
Why is Singh Movers Best as Removalists Yagoona?
Our work is highly appreciated by our clients. We have received various positive reviews and high ratings from different organizations. Even after receiving enormous praise, we continuously improve our services. The best methods that we use for our work help us to be competitive in this area.
Some other highlights of our services are the following.
With our services, it will be easy for you to get rid of the hassle of packing and transporting your assets. You can easily move your assets to any location with our support. We help you through preparation, packaging, loading, unloading, and transport. Our highly efficient staff is always ready to give you what you want.
So if you are looking for a good company for any type of your move, Singh Movers and Packers for Removalists Yagoona is the best option for you. We help you in all types of work that are related to your move in the most efficient way.
Yagoona - Sydney, New South Wales
Yagoona is a suburb of the local government of the city of Canterbury-Bankstown, in the state of NSW (New South Wales), Australia, is located 20 km southwest of Sydney's central business district. Yagoona is part of the southwest Sydney region. Yagoona is an Aboriginal Australian word meaning "today" or "now". It was the site of the 1st McDonald's restaurant to open in 1971 in Australia.
Yagoona fast facts:
Postcode: 2199
State: Sydney
Country: Australia
Surrounding Suburbs Around Yagoona:
Sefton

Birrong

Chullora

Bass Hill

Yagoona

Greenacre

Georges Hall

Condell Park

Bankstown
Population according to 2016 census: 18,013
Local government area: City of Canterbury-Bankstown
Distance From Yagoona To Singh Movers Sydney: 28.2 km or 32 minutes by car
Distance From Yagoona To Sydney CBD: 20 km
State Electorate: Bankstown
Federal Division: Blaxland, Watson
Relevant Links: