REMOVALISTS CLAYTON SOUTH
Relocate Your Home By Hiring The Quality Furniture Removalists
Hiring the Furniture Removalists Clayton South is the best idea for the people to shift their home or office without any hassle. These days moving from one place to another place are a stressful and complex task. While moving or relocating the place one has to face many unwanted, confused, and tiresome issues.
There are a lot of things to be done in the shifting or moving process like packing of stuff, loading, shifting, transporting, and many others. The person who decided to shift the home doesn't have time to pack the things they want and need to be done due to the busy schedule life. All the shifting tasks are very unexciting and make the person uncomfortable and hectic. In addition to that, the shifting process also takes a long time to be complete.
In order to reduce all your worries regarding the relocation needs, it is the perfect idea to hire the packers and movers. In the present scenario, there are numerous furniture removalists available to choose from so pick the best one who has several years of expertise in the furniture move field.
Are you a resident of the suburb of Clayton South of the city of Melbourne? Do you look for the reliable and Best Removalists Melbourne? If so then you have arrived at the right platform. The Singh Movers is one of the leading and popular furniture removalists in Melbourne. We are the one-stop solution for all the relocation services.
However, there are many packers and movers companies accessible in the suburb of Melbourne but we are the famous moving service Melbourne provider removalists who take care of all your stuff in the best possible way. We will make the shifting process from traumatic and tiring to the most relaxed one.
Furniture Removalists Clayton South Service offered by Singh Movers.
The Singh Movers is fully dedicated to providing a wide range of relocation service to their customers which are given below:
Singh Movers is the Melbourne Company who aids the customers while shifting their home or office. They are available round the clock so you can access them at any time when you need them. We are the leading furniture movers so you can trust and hire us at any time for your home, office, furniture, rubbish, or interstate move.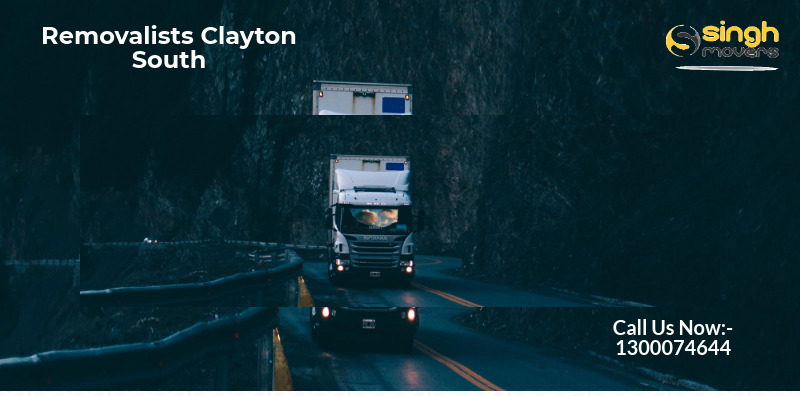 Our furniture Movers Melbourne have many years of experience in this field so they are capable of providing complete shifting services such as packing the items, wrapping, shifting, unpacking, unloading, and many others. Thus the below mentioned is the service offered by us:
24/7 hours customer support: We are available 24/7 hours so you can book us at any time when you want by phone call, mail, or online chat. Once you confirm our service, our experienced and qualified team members will visit your location and analyze the stuff you have thoroughly. And then they will make a proper plan according to it.

The door to door charge only: Our movers will only charge you for the door to door shifting process.

No petroleum charges: We will never ask our customers to pay any fuel charges. It is because we have affordable furniture removal.

Professional tools: The Singh Movers and Packers used to treat each and every customer as their family member. They will provide user-friendly shifting services to their clients. They will complete their work safely by using the various kinds of equipment and tools such as the box, taps, bubble sheet, ropes, etc to pack the possessions securely. For moving various kinds of pianos they have slopes and trolleys.

No hidden charges: Singh Movers team members will not ask for hidden charges from the customers. The experts first used to shift the stuff from small to large to the home, office, or furniture moves. They are well recognized for their furniture delivery in Melbourne.

Transport your stuff safely: Our packers and movers have many years of experience in this field so they are fit to ensure the safety of all your things. As well as transport your objects to your desired location securely.
Reason to count on us for Furniture Removalists Clayton South.
When compared to the other furniture removalists, we provide reliable and cost-effective service to the customers. There are many reasons to count on us which are as follows:
We provide safe and efficient packing: This is the main reason to choose our Furniture Removalists Clayton South service. Hiring our packer and movers service provider will ensure that your furniture, decorative items, appliances, and many others are safe & secure. We use suitable wrapping material for packing the possessions. We pack it and transport all your things with the most care. Once your destination is reached, our experienced crew will unload all your things carefully and place them in the right place. As well as we aid our customers to unpack the items carefully.

We make your shifting process stress-free: Basically packing or shifting to the new home can affect the person's daily schedule. By hiring Singh Movers, they can aid you to save your time. They provide efficient packing and moving services to their customers. Our Movers Melbourne will make the stress-free shifting task.

We make your relocating work at the lowest price: We provide only quality shifting service to our Clayton South residents that too at a reasonable price. Our main aim is to afford 100% customer satisfaction.

We provide safe delivery service: We are always dedicated to providing safe and secure shifting service to our customers. We help you to pack, load, shift, wrap, unpack, and unload the possessions by using the tool safely. So believe and hire us at any time for the quality services.

We provide quality Hard Rubbish removals in Melbourne: We are one of the leading Rubbish Removal in Melbourne. Our experts will get rid of the wastes in the industry, factories, office, as well as home accurately.

We provide insurance to our service: The Singh Movers is a famous company in the suburb of Melbourne so you can trust them for all your removals work. You do need to worry about the shifting process. If our professional team members did any damage to your stuff during the shifting process, we will pay for that.

Superior customer service: We provide enhanced customer service to the residents of Clayton South. So if anyone decides to shift their home can hire us at any time they need us because we are accessible 24/7 hours.
Clayton South - A Suburb of the City Melbourne.
Clayton South is a suburb of Melbourne, Victoria, Australia which is at 21 km south-east of Melbourne's Central Business District which is located within the City of Kingston local government area. According to the 2016 census the population of the suburb Clayton South is 12,642. The suburb is sometimes called Westall. The suburbs sometimes go by the name of Westall due to the main station's name and railway station serving the area. Westall, however, is not an official name, and all posts addressed to this area are addressed to Clayton South.
Clayton South Fast Facts:
Postcode: 3169

State: Victoria

Country: Australia

Population according to 2016 census: 12,642

Distance from Clayton south to Singh Movers Melbourne: 11.1 km or 24 minutes by car

Distance from Clayton south to Melbourne CBD: 21 km

State electorate: Clarinda

Federal Division: Chisholm, Hotham

Local government area: City of Kingston
Surrounding Suburbs Around Clayton South:
Clayton

Mulgrave

Clarinda

Springvale

Oakleigh South

Heatherton

Dingley Village

Springvale South