REMOVALISTS DOCKLANDS
Removalists Docklands is one of the demanding services as moving furniture items by yourself is not an easy task and requires plenty of effort for the work to be done efficiently, safely, and securely. It is not always easy to ask your family members and relatives to help in the Furniture Movers and being tired of so long. So, in order to save yourself from the hustle and bustle of any type of move whether it be Furniture, house, and Office Movers. We are available for your service in order to endow you with the quality and amazing work of Furniture Movers. We help move your furniture with full safety and by undertaking the safety measures. Our company has Friendly Moving Men who help you with your every move and are known as one of the top Melbourne Furniture Removalists in Docklands. Many companies offer the same service but getting quality work is what differentiates a company from another.
You here at Singh Movers will experience all kinds of moves at affordable prices along with the quality and amazing work. We will make your move monotonous to an interesting span. There are different house removalists and office removalists available for you for the packing of all your stuff and shift it from your old place to the new place. It does not matter what service you want to avail of, we will assist you with every possible service that we can.
So, be free and contact Singh Movers Melbourne as the best Furniture Removalists service in Docklands. Singh Movers provide the following services in the Docklands area:
Singh Movers is happy to serve the residents of Docklands, Melbourne. Whether you are moving locally, interstate, or anywhere, Singh Movers And Packers will assist you at every point. We are also known as the best Interstate Furniture Removalists Docklands and are ready to help you with the affordable prices of the fabulous service. We have successfully helped most of the Australians in the moving job as we provide them with the peace of mind and the amazing work of Furniture Removal. Movers And Packers Melbourne will eventually convert your Furniture Removals work from monotonous and tense to the ultimate easy job. So, do not think much and hire the Furniture Removalists Melbourne of the company Singh Movers. This company has more than 12 years of experience in the field of Furniture Moving.
Singh Movers Furniture Removalists Docklands Assembly Services.
Hence, to all the residents of Docklands, Singh Movers is available for you all to render you amazing services and make the tough job the easiest one. Hire us, forgetting all of the work done by just one call. We are known as the most Affordable Movers And Packers who make the stressful task into the relaxing one. A furniture removal is a boring and monotonous task and it needs to be done with enough planning and precisions and is a big part of the house moving process. Furniture is an essential part of the house that needs utmost care. So, for the careful move and shifting, hire us, and be free from all the worries.

Singh Movers Render These To Their Trusted Clients.
We will not ask you for any depot to depot charges as it is only our team who will reach you and why we will ask you to pay for that.
We will only charge you for the door to door shifting as that is when the main process starts. We will endow you with the shifting that is done with proper planning.
You will not be asked to pay any fuel charges as we will endow you with every possible facility that we can and will not charge you for any extra stuff.
Singh Movers is not a company who just provides shifting but not with proper safety measures. Singh Movers treat every customer as their family and get their work done with proper safety and using professional tools. Our professional tools include trolleys, dollies, heavy-duty blankets, a toolkit for assembling, and disassembling furniture, ropes, shrink wraps, etc. Singh Movers also have professional trolleys and ramps for the shifting of various types of upright pianos.
Singh Movers have shown all their charges beforehand to their customer in their company's quote. We do not ask you for any other charge for the sake of money. We just believe in providing quality work as we work for the success of this company and for the happiness of our clients.
Our customer care executive team is set at the backend to help the customers with every doubt and query that they have. We will solve each and every problem. You can call or mail us at any time you want to as we are available round the clock for our client's assistance.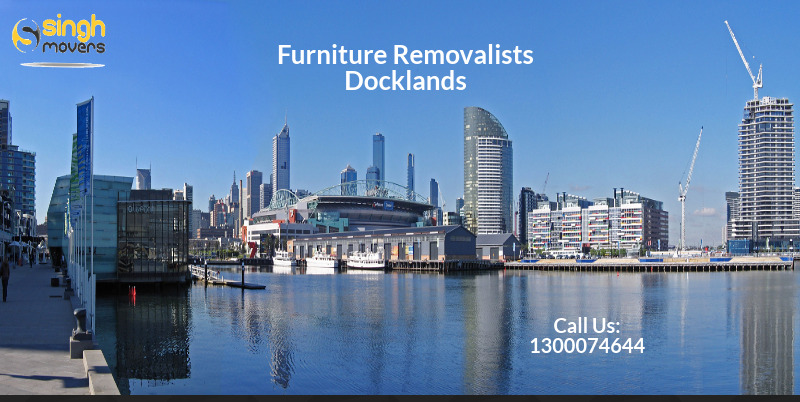 Why You Should Count On Us For The Furniture Movers Docklands?
1. We make your work easy with pocket-friendly prices:
Singh Movers and Packers Melbourne is believed by many Docklands residents for their quality service at affordable prices. We endow our customers with all the facilities at the affordable prices possible. It is our company's main motive to offer their customers all the services at low-cost so that the prices won't lay heavy on any type of customer's pocket.
2. We are known for a timely and safe delivery:
Now, this is a major doubt in every customer's mind as many other service providers promise to always shift the stuff on time but do not actually do so. But why choose Singh Movers for removalists Docklands service? Because Singh Movers is an on-time delivery company and do not let their customers disappoint in any case. Our timely delivery will always make you smile.
3. We are trusted and safe delivery providers:
Singh Movers can always be fully trusted for the safety of the stuff as they properly plan, pack, and unpack the stuff using professional tools and by undertaking the proper safety measures. Have full faith in us and call us to hire for quality services.
4. We provide the quality Furniture Removals Melbourne:
We along with furniture removal endow many other facilities like office moving, moving interstate whether an office or a house, storage facilities, etc.
5. Reliable Fully Insured Movers And Packers:
Singh Movers is a company of Movers and Packers Melbourne at whom you can rely upon for all types of removals work. You need not worry at any point in the shifting process. We are fully insured removals in Melbourne and its suburbs. Though we and our professional team never let any problem happen during the shifting process if sometimes it happens for the materials in transit, we pay up to $100,000. On the other side, in case of any harm to the public, we pay for the public liability around $10,000,000.
6. Prima Singh Movers also because of our Storage Facility:
We offer our clients one more important service- Storage Facility at the Singh Movers Company. So, if for the time being, you do not want to shift all of your goods to your house, office, or industry, we have plenty of space for your belongings to be stored under CCTV Surveillance 24*7.
Therefore, to achieve quality services, contact Singh Movers and be ready to chill with your family in the best possible manner.
Hire Singh Movers Melbourne to get our work done with the optimum ease and being stress-free from any type of worries of Docklands Furniture removalists. Our Friendly Moving Men will make your move the best for you. With our quality services, you will be pleased with every point of the process. Ask our customer care executives if you have any doubts, have a talk with our experts, set your mind, and feel free to hire us for the fabulous services.
Docklands - A Suburb City of Melbourne.
Docklands, also known as the Melbourne Docklands is an inner-western suburb of Melbourne, Victoria, Australia, which is 2 km from Melbourne's central business district. Its local government area is the City of Melbourne. According to the 2016 census, dockland had a population of 10,964. Docklands captures an area adjacent to Melbourne Central Business District (CBD), in which land and water total are 200 hectares. It is surrounded by the Wurundjari Way and the Charles Grimes Bridge in the east, the city of Sitelink and Lorimer Street in the south of Yara, and is mainly the waterfall area on the banks of the Jeruna River. The contemporary docklands are a product of the ongoing urban renewal project to expand the area of Melbourne CBD (excluding Southbank and St. Kilda Road), by approximately 2015. It is now home to many modern Melbourne destinations, including the Dockland Stadium. And the Melbourne Star Observation Wheel.
Docklands Fast Facts:
Postcode: 3008
State: Victoria
Country: Australia
Population according to 2016 census: 10,964
Distance from Docklands to Singh Movers Melbourne: 24.2 km or 27 minutes by car
Distance from Docklands Village to Melbourne CBD: 2 km
Local government area: City of Melbourne
State electorate: Albert Park
Melbourne
Federal Division: Melbourne Ports
Surrounding Suburbs Around Docklands:
Footscray

West Melbourne

North Melbourne

Yarraville

Docklands

Melbourne

Port Melbourne
Relevant Links:
https://en.wikipedia.org/wiki/Docklands,_Victoria
https://en.wikipedia.org/wiki/City_of_Melbourne