REMOVALISTS Greensborough
Melbourne most trusted Furniture removal in Greensborough
Relocating can be frustrating but hiring Removalists Greensborough never lets you feel like so. Of course, the relocation process leads to much stress and pain. In addition, you will get tired soon. In fact, it needs proper planning, scheduling, analysis, and many more things. Moreover, it can't be handled alone. However, it possible but you need more care and attention while attempting it.
Are you ready to get into such a critical situation? Just imagine yourself after the completion of your relocation process that is handled alone.
Yeah… it is very tiresome work. So, it is better to hand over all your troubles to the professional removal company. It is no matter whether it could be residential or commercial, but our experts are really well versed to reduce such burdens.
You never get any tension on any occasion once if you hired our Packers and movers service. It is because; we know how expensive our customer's belongings are and so we transport with the utmost care.
Are you struggling to move your existing home in or out of Greensborough? If so, then our Packers And Movers Melbourne will help you in all possible ways and provide the best Greensborough furniture removal services at an affordable price. We are highly demanded by the civilians of Melbourne, Australia due to our reliable and high-quality services.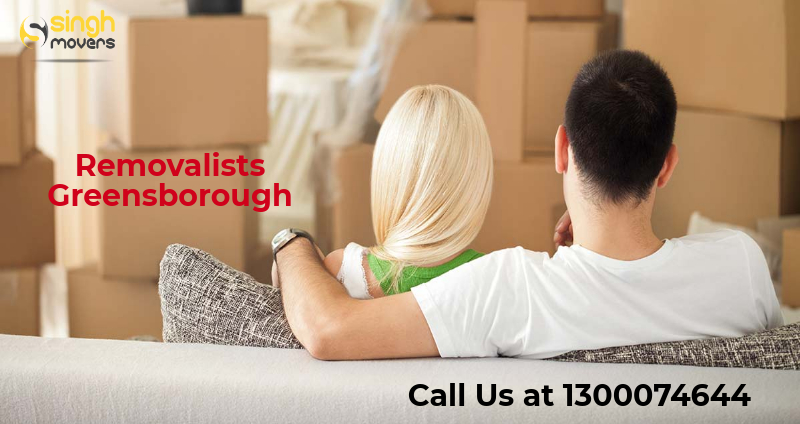 Singh Movers - An Effective Way To Move Your Stuff:
If you are the one who resides in Greensborough, Melbourne Suburbs then you definitely came across the word Singh Movers, right? If not so, then don't worry. Let me tell you everything about the removal company and its services.
In the busy schedule, most of the people are struggling in order to relocate the existing home. They are seeking the best solution as well. But at the same time, the solution is always here to help you and ease your tension too. Yes, Singh Movers is the solution for all your relocating troubles. With the help of our moving services, you can surely say goodbye to another removal company. It is because; no other removal company will offer the services as Singh Movers did.
In addition, most of the people have done their moving process successfully with the help of our experts and dedicated team. Want to attain a stress-free move? If so, then it is better to avail of Singh Movers services widely.
Want to grasp our Greensborough Removalists services? If so, then why are waiting? Just pick the phone and free to call us at any time and anywhere.
As we are considered the best Removal Company Melbourne and so pride to provide all our moving services at reasonable prices. So, make the right decision and enjoy your move to a greater extent.
Services provided in Furniture Removalists Greensborough:
We offer hassle-free and tension-less removal service. Even though the removal takes much time we will patiently work for you and complete it. When it comes to moving household things you can witness our professional's skills because without leaving even a small piece of item everything will be carefully packed and shifted to your new place.
We ensure that your belongings never meet any flaws in case if anything happens then our insured removal service will offer the offset to our clients. We never ever disappointed our clients in any situation. In fact, we put much effort into the core for our customers to bring the removal as a successful one. No matter the type of removal process we carry out by using the highly equipped things we make even impossible into possible.
Also, we are included with the latest moving technology which lets us finish the removal process quite quickly and seamless manner. Thereby avail our customer-friendly service for an effortless move.
Why Singh Movers removalists service is unique from others
We are capable to solve any kind of shifting issues for our valued customers. As we are one of the leading and Best Removalists in Melbourne, so you can trust and hire us for your home, furniture, or office move in or out of Greensborough.
We have several years of experience in this moving field. Therefore we are capable to provide complete shifting service for our valuable customers such as packing, shifting, loading, wrapping, unpacking, unloading and many others.
Once you book our service our experts will visit your home and plan according to that. Our employees provide more safety and security for your goods during the shifting process. By this, your things never get damaged. We transport your goods to your preferred destination on time without any damage. Below is the uniqueness of our removalists Greensborough service:
We are always there to solve each and every problem. We provide customer service for 24 hours so you can contact or mail us at any time you need. We afford only a reliable and cost-effective service to our customers.
Singh Movers will provide only a reasonable price to their customers. They never charge or ask you for the extra money.
We will only charge our customer for an end to end shifting process
We will not ask our customers to pay for any kind of fuel charges. It is because we are affordable removalists and provide you with all facilities during shifting without any trouble.
Singh Movers and Packers treat their client like family members and friends. We provide more safety to your items while shifting. As well as pack load or shift your stuff by using the various kinds of professional tools. In addition, we also have ramps and trolleys for moving the various kinds of pianos safely.
Benefits of Hiring Singh Movers for Removalists Greensborough:
Most people will never get 100% satisfaction with their moving process. But, Singh movers did the same. Are you confusing how it is possible? If so, then continue to read. We are Melbourne's most trusted furniture removal company who offers all the additional services with a pocket-friendly budget. The following are some of the huge benefits of hiring Singh Movers and Packers for Greensborough Removalists.
There are the main benefits of hiring our furniture removal service. It is because; as a professional removal company we and our dedicated team will take care of your goods with the utmost care.
They handle your stuff in a smart way in order to secure them from any kind of damages. We will deliver your stuff to your destination on time
Are you troubling in packing your stuff? If so then don't worry. Our dedicated team will help you in all possible ways. We carry out different packing style that makes your stuff stayed securely.
The basic things used for the packing process are tapes, unwrapping boxes, partitions, and many. As a guide, you can simply sit at the back and watch our style of packing. In this way, you will at ease and convenient.
Do you know? Not all the removal company offers services like Singh Movers. in addition, one can able to reap huge benefits of additional services like packing, unpacking, loading, unloading, transportation, insurance and many more. Moreover, we highly proud to provide all these services at reasonable prices.
As mentioned above, relocation alone can lead to consuming more time. So, it better to hire our dedicated team in order to minimize your workforce and time.
Our Moving Company Melbourne professionals make use of the right material and method to pack, load, shift, wrap, and transport your belongings. We provide only quality materials that prevent your stuff from damage or crack.
Our experts are knowledgeable and professional and assist customers 24/7 via email phone or online chat. So you can call us at any instance when you need our Greensborough removalists service.
Greensborough - A suburb city of Melbourne
Greensborough is a suburb of Melbourne which is located in Melbourne, Australia. At a distance of 19 km, this suburb is located in the Northeast part of Melbourne's central business district. The local government area of this suburb is the City of Banyule. According to the 2016 census, Greensborough had a population number of 20,821. The Greensborough is was termed only after the settler Edward Bernard Green who is also the district mail contractor. This place is known well as Keelbundoora.
Greensborough fast facts
Postcode: 3088
State: Bundoora
Country: Australia
Surrounding Suburbs Around Greensborough:
Bundoora
Plenty
Diamond Creek
Watsonia North
St Helena
Briar Hill
Montmorency
Population according to 2016 census: 20,821
Local government area: City of Banyule
Distance From Greensborough To Singh Movers Melbourne: 25.5 km or 39 minutes by car
Distance From Greensborough To Melbourne CBD: 19 km
State Electorate: Eltham
Federal Division: Scullin
Relevant Links:
https://en.wikipedia.org/wiki/Greensborough,_Victoria