REMOVALISTS CAULFIELD NORTH
Hire Singh Movers Furniture Removalists To Shift Your Home and Office
Moving somewhere? Want to hire Removalists for moving in or out of Caulfield North? Hiring Singh Movers Melbourne based furniture removal company for Removalists Caulfield North is the best option for businesses or residues. It is the best and the cheapest furniture removalists. It acts as the best service in order to relocate the office or home. Basically shifting or relocating the office or home is the difficult one. One needs to face many problems during the shifting process like packing important things, unpacking, loading, and many more. All these parameters are not an easy task, it will make the people so pained and stressed.
Moreover, shifting can be a painful thing. Preparing to move from one place to another place is a tedious process. For any shifting process, first, it needs careful planning. Since the shifting process is the lengthy one it is better to hand over all the work to the experts. In order to reduce all your qualms and the workforce, it is the best idea of hiring packers and movers.
Looking for the best removalists in your locality? Do you have a resident in the place of Caulfield, Melbourne, and move to Caulfield North? If thinking so, you have come to the correct place. Since the Singh Movers Melbourne has a specialist for shifting the office or home. Here, there are a top leading and experts called Singh movers operated in the section of packers and movers. It is because; we are the best and have top furniture removalists in our concern.
We have the capability of shifting all the things for your concern or home. Moreover, we have well experienced and efficient workers to relocate the office or home. We will offer the services for the clients at an affordable price. If someone is looking forward to hiring the removalists then come to Singh Movers Furniture Removalists Melbourne in Caulfield North.
Services we offer:
We are not only giving importance to the relocation of offices or homes but are also able to do all the shifting strategies. If you are moving interstate or locally, Our Furniture Removalists Caulfield North will help you in both cases. Our main objective is to give 100% customer service to our respected customers. We are always enthusiastic and committed to providing many relocating services to our clients that are mentioned below:
Singh Movers - Furniture Removalists Caulfield North:
Singh Movers and packers Melbourne are designed to make your shifting easier. We will guide you through the entire moving, door to door activity. We always go all the way to make our customer receive a top class service. We are the most recommended and reputed moving companies in the section of Furniture Removalists in order to satisfy our valued customers. Your shifting will be smooth and easy with our affordable service. We will be the first and the best choice for your move. We never let our customers down in many cases, so hire Singh Movers and Packers for corporate or residential shifting.
By hiring a reliable service of ours you can make yourself free from the stress and uncomfortable of moving to a new place. From loading to unloading, pick and pack services, Singh Movers and Packers works for our valued customers under any extreme conditions. Everything of yours will be transmitted to the destination, safely and securely.
Why choose us?
Not only do we concentrate on the shifting of offices or home, but we are also able to relocate any type of stuff. We are not only experts at our job but also user-friendly, quick, and efficient workers. As professionals, we will concentrate on your belongings and pack them safely to your specified destination. We hold ourselves to the highest standards of customer service and enable all your Caulfield North removalists processes with simple, smooth, and hassle-free.
More than 12+ years of experience

Well trained professionals

Excellent customer service

A highly well-equipped technology used

Valet service offered

Innovative strategies used

Doesn't charge extra

Reasonable price
We will provide only consistent and cost-effective services to our valued customers. Our team members have several years of knowledge in this field so they can give assurance in the safety of all your things and transfer them to your desired location with more certainty and safety. Singh Movers Furniture Removalists Caulfield North not only packs and loads your things but also does other services such as unpacking and unloading all things in the desired place. We concentrate much more on pack, load, and transfer, unpack, and unload all your valuable belongings with more concern. Once your things arrive at your desired place, our expert and qualified team will unload all your goods and help you unpack.
Once you book a call, we are ready to help with packing services. You need not sit simply with boxes for a week. Our experts are available at all times to help you. If you are troubling in the process of packing never mind about that, our experts are there for you at your doorsteps to help in the packing process. We concentrate on valuable things and belongings of our valued customers and prepare in working with packing services. Our experts help you in packing things you considered precious. Glass made things will pack separately and the wooden things will pack separately by us. We never afford extra charges for packing services.
In Singh Movers, unpacking services are also done for customer satisfaction. Once the goods or belongings transport to the desired location, our team members will offer unpacking services. They will do the job according to the command of our valued customer. We help you by unpacking all the things in the place where you want to place. For this, Singh movers never afford money from their customers.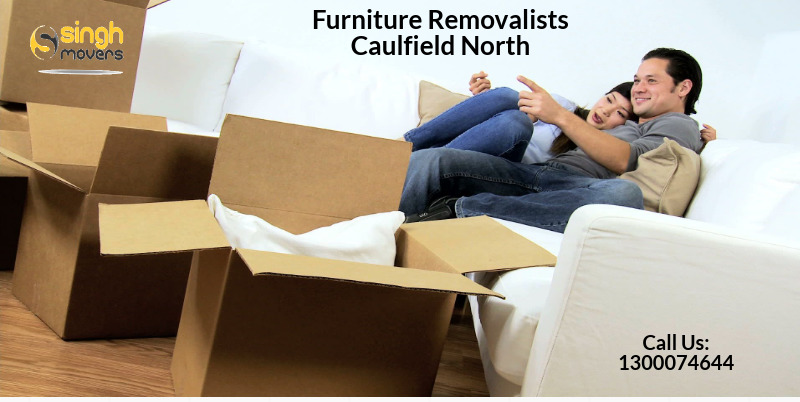 Enjoy the benefits of hiring packers and movers:
The Singh Movers professional packers movers is one of the topmost leading solutions for your relocating or Furniture Removalists Caulfield North services. We are one of the most trustable Furniture Removalists in Melbourne. Our objective is to offer shifting services more capable to the citizens of Melbourne. Since customer satisfaction is very important for us when compared to other services.
With so many things to consider when you move from one place to another, why let us handle some of the trouble and stress? Our wide-ranging service will attract every feature of your move from start to finish. From packing of goods to cleaning purposes, to store your things and many more, we have a full-fledged team to work under any extreme situation. Here are some of the benefits you will attain when you hire our furniture removalists,
Offer service at an affordable price:
We very much concentrate on the charging cost of relocation. Keeping in mind all classes, Singh movers and packers afford the reliable price for the shifting process. Since we have a reputation in Melbourne city, afford the only reliable price for all services. We never put extra charges for fuel, packing and unpacking services, and transportation fees.
Basically, relocation or shifting needs more time to complete. Since it is a difficult and tedious process our experts are avail with all advanced equipment. With the help of technology, all your goods can deliver to your desired destination. We will assist from start to the end process like packing, loading, transporting, unpacking, and unloading.
We never put extra charges for fuel, packing and unpacking services, waiting for a charge, and transportation fee. Collects charge only for transportation.
Singh Movers Furniture Removalists Caulfield North not only concentrates on packing and loading your goods. Once your things arrive at your place, our expert and skilled team will unload all your possessions and help you unpack.
We are the top most leading company to give you fully professional based work at the most reasonably priced range. In need, the furniture removal professionals are dealing with a large number of the woodworks and fully trained moving professionals. We have modified our methods of working in order to reduce the risk of damage occurring while in the process of furniture moves.
We really take the ongoing commitment seriously as well as professionally. The biggest quality of Singh movers is the trade organization in the intrstate moving industry. On another hand, we work with trusted partners, as well as high-performance standards for your furniture, received from the level in the entire relocation process to the final destination.
Caulfield North - A Suburb City Of Melbourne.
Caulfield North is a suburb of Melbourne state of Victoria, Australia which is located on the Mornington Peninsula. The Shire of Mornington Peninsula is its local government area. The population of the suburb Caulfield North is 15,269 according to the 2016 census. Caulfield North was once the location of many large Victorian mansions on large estates, most of which were demolished and split at the beginning of the twentieth century. Labasa is a notable surviving national trust owned by the Trust. The mansion was originally built in 1862 and was expanded in 1873.
Started by William Alexander Robertson in 1889 and expansion and grand renewal created the present mansion which is of national importance. The house is sometimes used for filming ABC's female detective series Miss Fischer Murder Mystery and was one of the filming locations for the 2002 film Queen of the Damned. At the end of the 1850s, many streets of the suburbs were named after places of the Crimea war and in the name of people, for example, Cardigan, Cobert, Inkman, Alma, Raglan, Radan, and Balaclava.

Caulfield North Fast Facts:
Postcode: 3161
State: Victoria
Country: Australia
Population according to 2016 census: 15,269
Local government area: City Of Glen Eira
Distance From Caulfield North To Singh Movers: 19 minutes and 11 km
Distance From Caulfield North To Melbourne CBD: 11km
State Electorate: Caulfield
Federal Division: Melbourne Ports
Surrounding Suburbs Around Caulfield North:
Armadale

Malvern

St Kilda East

Caulfield North

Caulfield East

Elsternwick

Caulfield
Relevant Links:
https://en.wikipedia.org/wiki/Caulfield_North,_Victoria