REMOVALISTS PAKENHAM

Want to move from one destination to another? If so then hiring professional Removalists Pakenham is the right option for you. Generally moving stuff by you is a very difficult, time-consuming and tiresome task.
It causes a lot of stress and makes everyone uncomfortable and annoying. It involves a lot of various tasks such as packing, loading, shifting, unpacking, and unloading which you cannot do on your own.
That's why it is the very best idea to hire packers and movers for your relocation. They will play a significant role in your move. The professional packers and movers company have come to aid you and make your shifting process stress free and easy.
They provide a wide range of shifting services like packing, moving, loading, unpacking, assembly of furniture and many others. All these services can be availed when you needed.
Booking their service is more beneficial because it reduces cost. Overall they will offer only customized and comfortable shifting service which keeps your goods safer.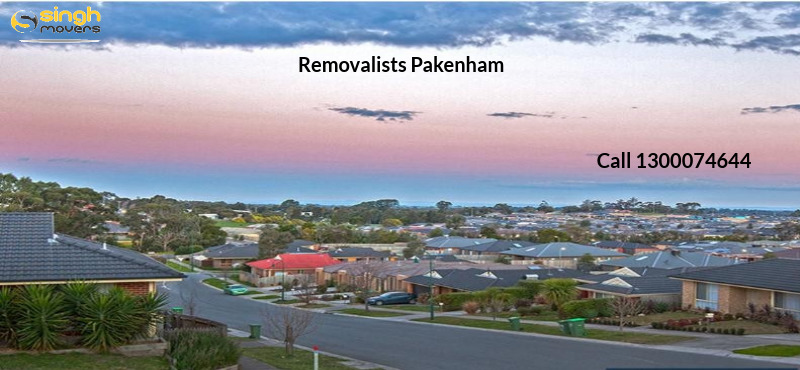 How Furniture Removalists Pakenham help You In A Relocation Process
At present, there are numerous furniture removalists available so it is very essential to pick the reliable one among the others. One needs to research a lot and find out the best one. Do you need to move your home to Melbourne?
Are you searching for the best Packers and Movers Melbourne? If so then hiring the Singh Movers is the right choice. We are one of the leading and popular furniture removalists when compared to others.
We have experienced and skilled experts to carry out the shifting process from stress full to most relax one. Also, we have huge vans to accommodate a large number of items such as cabinets, furniture, etc.
We provide shifting service from one state to another or one country to another. Therefore you can hire and trust us for local as well as interstate move at any time.
Singh Movers - Best Packers and Movers Melbourne
Shifting residential or commercial to a new place needs proper planning. Planning is a vital function when you decided to start your process. You need to pack your things and move them yourself.
This task will make you so uncomfortable. So it is a good idea to hire the right packers and movers. Singh Movers is a reliable Moving Company Melbourne who will make your shifting process so easier for you.
When you hire us you will be assured that your stuff will be delivered at the accurate place within on-time.
We help you to move your things effortlessly and efficiency. You can contact our experts on the phone or by online chat.
Once you book any one of our Moving Services Melbourne, our team members will pay a visit to your home and provide proper planning. We follow step by step process which will make the entire relocation easy and smooth.
The staff provided by our company is highly trained to deliver high-quality service to customers. We have different packing materials for various items as well as furniture.
For instance, for the fragile items will be packed in quality packing materials such as bubble sheet, box, and tapes. This way we will ensure that your goods never get damaged at any cost. Below are the various types of moving services offered by Singh Movers:
Antique Furniture Removals

Home Removals

Interstate Removalists

Furniture removalists

Pool table removal

Piano Movers

Office Movers

Hard Rubbish removal

Removalists Melbourne
One of the most complex tasks in life is to shift home from one place to another. It generally involves a lot of tasks. So this is the main reason why you need to our
House Movers
Melbourne
who can aid you shift to the new place securely.
We make use of the best packing materials to pack the goods. We will aid you to carry out the moving task very easily. Here are some of the benefits which make us different from packers and movers:
We will never ask a hidden charge from our customers. The charge only depends on the removal service.
Singh Movers experts are available at a round of clock so you can call them at any time when you need their shifting service
We will only charge our clients for the door to door shifting process only. So, this one makes us different from others and most of the people hire us for their relocating service.
We have different types of tools and equipment to move the household or workplace belongings very safely. In addition to that, we carry out the Pool Table Movers Melbourne by using the ramps and trolleys for moving the different kinds of pianos.
Same Day Furniture Delivery Service:
Want to move your furniture safely? When shifting the household items, some things need more care and attention. Similarly, moving furniture from source to destination is the difficult one.
Since it needs more work and care in handling, so without the help of professionals you could not move. For you this help in all possible ways to move the furniture without any hassles.
While shifting your household goods like furniture, fragile items and so on, our dedicated team will take handle very carefully. We also arrange well maintained moving vehicle to load all your goods smoothly. So don't hesitate to hire us for your moving process.
We deliver your furniture within a few hours to your destination. We also pride to provide furniture delivery service to several areas in Melbourne city. We offer reliable services that will perfectly suit your budget. Our professionals equipped your furniture with necessary tools like,
In order to heavyweight furniture, television table and so on, our dedicated team uses this dolly in a smart way. With this dolly, all your furniture items can be assembled easily.
With the help of the hand truck, the furniture can be transported easily to the truck. It is two-wheeled vertical equipment used to transport tall standing items like a refrigerator, washing machine etc.
It is a defensive tool used by our professionals in order to protect the furniture from scratches, damage and so on. It is simply used to pack the furniture items in pads or blanket.
This smart tool is used to cover the sofa, dining table and many more. And the item should cover with tapers before sending it for transportation.
This tool can be used to move the furniture from one corner to another corner easily. With this tool, you can protect your furniture's easily from scratches and damage. Through this tool, our professionals can easily move heavy item furniture.
Ropes are used to secure the furniture and other household goods. With the help of ropes, your household item remains safe when you are moving.
This tool is used to take apart all the bolts and nuts from the bed and heavy cupboard. With the help of this tool, our professionals handle the entire heavy furniture item easily.
Hire The Budget Movers And Avail The Services:
Are you looking for a Budget Movers in Melbourne? If so, you are at the right destination. Yes, Budget Movers Melbourne offers reliable and cost-effective moving services for the customers.
We stand ahead for providing reliable and quality moving solutions at an affordable price. Our budget movers can help you in all possible ways and assist throughout your moving process. So, don't hesitate to hire us for all your shifting needs.
Without any doubt, you can surely trust all our moving service for all your moving needs. We are dedicated to offering moving services of the highest standards at comprehensive prices. For your safety move, you can surely avail our service without any hassles.
Why budget movers?
Extra Care for Fragile Items

Punctuality

Tailored Service

Uniformed Movers

Well-Maintained Truck

Convenience and Transparency

Hassle-free services without higher costs
Best Piano Movers Melbourne:
Of course, the piano is a delicate instrument and needs more care for moving. It has more than thousands of moving parts. Each part is a unique one in order to sound wonderful.
So, for moving the piano to your new destination, you need more care and professionals to handle in a proper way. Therefore Piano Movers Melbourne understands the distinctive arrangement and complex needs of a piano and can able to handle properly and ensure for a safe move.
Why choose Piano Movers?
Your move is fully insured

Professional piano relocation services

Skilled and experienced

Value-added services
Pakenham - A Suburb of the City Melbourne:
Pakenham is a suburb of Melbourne state of Victoria, Australia which is located on the edge of the West Gippsland. The Shire of Cardinia is its local government area. The population of the Pakenham suburb is 46,421 according to the 2016 census.
Pakenham Fast Facts:
Postcode: 3810
State: Victoria
Country: Australia
Surrounding Suburbs Around Pakenham:
Beaconsfield Upper

Nar Nar Goon North

Nar Nar Goon

Koo Wee Rup

Pakenham Upper

Officer

Officer South
Population according to 2016 census: 46,421
Local government area: Shire of Cardinia
State Electorate: Gembrook
Federal Division: McMillan
Distance From Pakenham To Singh Movers Melbourne: 44.2 km or 42 minutes by car
Distance From Pakenham To Melbourne CBD: 64 km
Relevant Links:
https://en.wikipedia.org/wiki/Pakenham,_Victoria
https://en.wikipedia.org/wiki/Shire_of_Cardinia
Move with Us for Easy,Affordable,Quality Removalists Services Australia Wide.
Contact Us For Free Enquiry and to Arrange a Free Obligation quote.
For more information on furniture removals and Storage Services don't hesitate to get in touch to one of the Expert Team Members or representatives on 13000SINGH OR 1300074644 for a free obligation quote from the Singh Movers Team, simply fill out our quick quote form or write an email or call us directly as per your convenience. Our Head office is located in Melbourne and Singh Mover's offices are spread across over other major cities: Sydney, Adelaide, Brisbane, Canberra, and Perth.