Moving from one place to another can be a daunting task, and Removalists Kalkallo is here to help you with this. There are numerous things to be done while shifting from one place to another and thus it is inadvisable to add one more task of removing to the list. While there are various benefits of hiring a professional mover, some of the major ones are have compiled here.
Leave all worries to the Professionals:
Once you hire a full-service mover company, you no longer need to worry about the tedious task of packing your items. The professionals have the knowledge as well as the skills which are required for the safe handling and packaging of all your belongings. Many times it might happen that you might be confused about the type of material that you need to use for the packing of a particular item. However, it is not the case with professional movers. They know exactly what type of material has to be used for which item.
Get relieved from the stress of Moving:
Whether you are planning to move from one home to another in the same locality, or change your locality or even the city or town, it can be extremely stressful. On the other hand, when you hire removalists Kalkallo you can be completely stressed free. The movers handle all your responsibilities and worries and leave you completely stress-free during the entire moving process. Once you have professional movers and packers Melbourne, you can be assured that all these tasks such as transfer of electric and cable services can be carried out by you while the moving will be done by the company
Save a lot of your Precious Time:
If you are in a hurry or have limited time while you are moving from one place to another, hiring movers can be the best option for you. Not only this, when a person tries to do the packing and unpacking it takes a lot of time since they are mostly slow in the work. However, the professional movers are quick and efficient in their work and can complete the entire process in half the time you would have taken.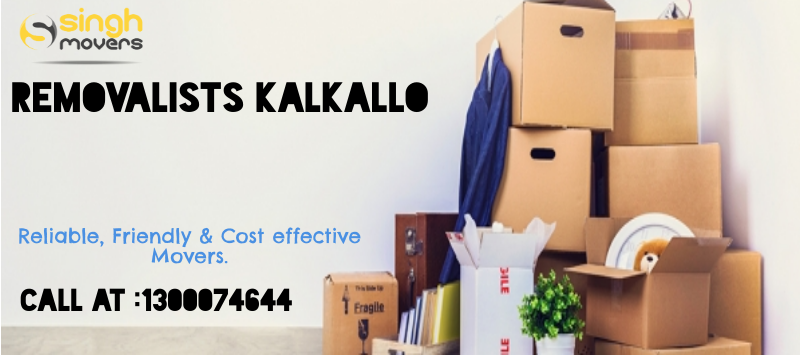 Specialised Services Of Singh Movers - Furniture Removalists Kalkallo:
Hire the Best Furniture Removalists Kalkallo



You can keep your belongings in a safe Storage Facility:
Many people face the trouble of storing their belongings if there is a gap in between their leases, or if their home is under some renovation. In order to avoid this issue, you can rent a storage place. The removalists Kalkallo offers both long terms as well as short term storage facilities at some of the best warehouses with state-of-the-art facilities. All the warehouses are extremely secure with a twenty-four-hour monitoring system. The security system can keep you assured and stress-free that all your belongings will be absolutely safe.
Avoid any injury during the Moving Process:
No one wants to suffer from any injury especially while the moving process. Sometimes people think that they can carry out the entire moving process themselves and thus carry even the heavy pieces of furniture themselves. As a result, they suffer from sprains and other injuries while carrying heavy furniture or boxes. In order to avoid this, it is advisable to hire a Removalist Kalkallo company. The experienced movers have a number of tools that are required for carrying heavy items without any compromise with the safety of your belongings.
Most of the public think that the hiring of a mover company can cost them a lot of money. As a result, money is the biggest factor that keeps people from hiring Removalists Melbourne. However, most of the people do not know that hiring movers can actually help them save a lot of money. Once you hire a moving company you do not need to worry about buying tons of packing materials such as bubble wrap, packing tape or boxes. You would not need to either hire transport trucks.
Ensure that all your assets are completely Safe and Protected:
Once you hire a full service moving company such as Singh Movers, you can be completely assured that all your belongings will be completely protected from all types of safety issues and theft. Singh Movers are proud to be the leading company in Australia. Whether you are moving from a small apartment to a big apartment, or you are moving your office from one location to another, we are there to help you with it. With several years of experience in the moving industry, we can assure you that you will be receiving the top-class services at the cheapest rates. With us, you do not need to worry about transport services, packaging of items or any other task. Our experts take care of all the work that is involved in the moving process.

Kalkallo

- A Suburb City of Melbourne

:
Kalkallo is a town in Victoria, Australia, 33 km north of the Melbourne downtown area. It is a neighbourhood government zone is the City of Hume. At the 2016 Census, Kalkallo had a populace of 105.
Situated on the Hume Freeway, Kalkallo has a couple of streets, an assistance station and a bar. It is surrounded by ranches not yet created by the urban spread of Melbourne. The closest access to an open vehicle is the Donnybrook railroad station which is overhauled by territorial V/Line trains.
Kalkallo Fast Facts:
Postcode: 3064
State: Victoria
Country: Australia
Distance from Kalkallo to Singh Movers: 10.2 km or 14 minutes by car
Distance from Kalkallo to Melbourne CBD: 33 km
Local government area: City of Hume
State electorate: Yuroke
Federal Division: Calwell

Relevant links:-
https://en.wikipedia.org/wiki/Kalkallo,_Victoria
https://en.wikipedia.org/wiki/City_of_Hume
Move with Us for Easy,Affordable,Quality Removalists Services Australia Wide.
Contact Us For Free Enquiry and to Arrange a Free Obligation quote.
For more information on furniture removals and Storage Services don't hesitate to get in touch to one of the Expert Team Members or representatives on 13000SINGH OR 1300074644 for a free obligation quote from the Singh Movers Team, simply fill out our quick quote form or write an email or call us directly as per your convenience. Our Head office is located in Melbourne and Singh Mover's offices are spread across over other major cities: Sydney, Adelaide, Brisbane, Canberra, and Perth.