Removalists Briar Hill

Furniture from one place to another is hectic to you then Furniture Removalists Briar Hill can come to your rescue. If the answer is yes, then you know how it feels to move all your belongings from one city to the other. Or even from a country to another country. In case you have bought a new home elsewhere in a different city, you still have to shift your belongings which will also not very easy as it might sound. It is such a pain in the ass! After you have received a relocation letter from your boss, the second thing that comes to your mind post getting a house is shifting your belongings, especially the furniture and stuff. Then there is also another thing to be considered is getting the best packers and movers, the best removalists around who would take up all the packing duties off your shoulders and give you a stress-free removal of your furniture.
If you have been going through such a situation and looking out for a good Furniture Removalists Briar Hill, Melbourne and belong from the same location, then here is good news for you. Singh Packers and Movers Melbourne is all set to help you out with a smooth service with Friendly Moving Men. Never has moved and packed so much easy without Singh Movers in Briar Hill.
Services Offered By Singh Furniture Removalists Briar Hill
Singh Movers is the ultimate destination of movers and packers Melbourne. Their clients can avail the following services:
A special facility that comes as a free service which none of the other packers and movers Melbourne provides. The free service is the low-cost prices as compared to the other companies providing packing and moving facilities.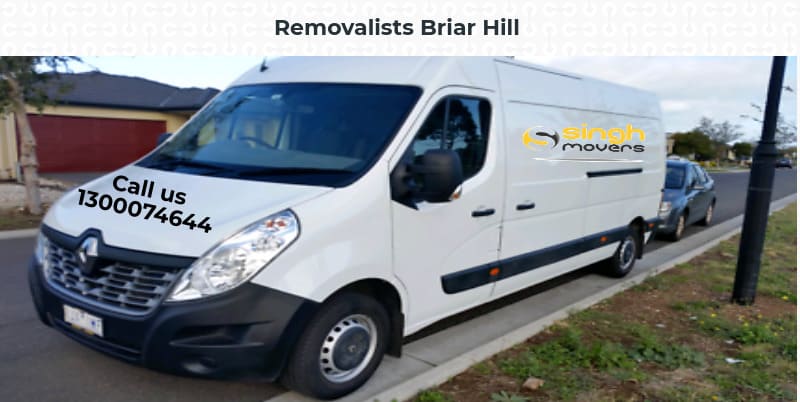 Why Choose Singh Movers for Removalists Services in Briar Hill, Melbourne?
Packing and moving services from a company were never there a few decades back. People used to depend on themselves to pack all their goods and call for a truck or matador for the transportation facility. This quite led to leaving behind the bulky furniture or selling them to the new owner. But with packing and moving services made available by several companies have made life easier. Therefore, lately, there has been a steep in the growth of packing and moving companies throughout the world including movers Melbourne. With so many choices in the companies, it became a really tedious job to pick out the best one in terms of service and budget at the same time. While some provide you with good service and fail to adjust to your budget, while the others provide you with not so hassle-free services but come within your budget which is not worth the investment. And there come another set of companies who neither delivers you best services nor do they provide budget-friendly services. On the contrary, Singh packers and movers Melbourne provide you with top-notch services within an affordable budget. Here are the other reasons why Singh Movers stand out of the crowd:
Implements Professional Tools: With the advancement of technology, various latest tools have been invented to make the packing and moving work easier. At Singh Movers, the customer satisfaction and safety is given special attention and no extra charge is counted for the extra tools used in the process.

No Extra Charges for Fuel: Singh Movers do not charge extra a penny for the fuel exhausted in the packing and moving process throughout.

No Depot to Depot Charges Applied: All the services availed by you from Singh Movers are devoid of any depot to depot charges as they believe in the best client service.

Pay for Only Door to Door Charges: Singh Movers charge for the only door to door services which is exclusively a client requirement.

No Hidden Charges: Unlike other packing and moving companies at Melbourne, Singh Movers believes in transparency with their clients. Therefore, all the charges are settled before they start working for the clients.

24/7 Support: You will be able to get 24/7 customer service assistance to solve all your problems and answer your queries.

Timely and Safe Delivery: Singh Movers assures you safe and sound delivery of all your belongings within a given deadline. They do not mess up with the work they have taken in hand for full customer satisfaction.

Well Trained Professionals: Singh Movers have a group of well-trained professionals whose professionalism is what helped them grow a better business and client connection.

Highest Experience: The Singh Packers and Movers Melbourne is not so recent company providing packing and moving services to their clients. They have been ruling this particular sphere for over a decade now with a lot of client experience and work experience. They are the trusted brand people prefer in Melbourne.

Fully Insured Moving and Packing: At Singh Movers, you will be able to get insured packing and moving service that assures you that you do not have to pay any liability charge in case of any accidental damage which will be borne by Singh Movers.

Provide Storage Facility: Another most important service offered to the clients of Singh Movers is the storage facility. In case you do not want to or under any circumstances cannot move all your belongings to the destination, you can store the remaining belongings in the Singh Mover's Storehouse which has plenty of spaces and provide full security with 24/7 CCTV Surveillance.
All of these reasons made Singh Movers stand out of the crowd and a Cheap Removalists Melbourne.
Do Singh Movers provide their budget-friendly services in just Melbourne?
The answer to this is obviously not! Singh Movers being at the number one position for over a decade has extended their services to the valuable clients, new and existing, to various other cities of Australia including Melbourne. Here are all the names of the cities from where you can seek help from Singh Movers:
Adelaide

Brisbane

Canberra

Melbourne

Perth

Sydney
As already stated there is a huge number of Removalists Melbourne available but choosing the best out of all is difficult. You really need to consider some points before you can actually hire a company for your purpose because, at the end of the day, it is your money that will be invested and your belongings that might not be safe with the random packers and movers you choose. Also, for interstate packing and moving, not all companies have this facility. But Singh Movers provide you with Interstate Removalists facility as well with so much care and security. Moreover, you do not have to have your brain crushed while packing everything you want to shift as Singh Movers take packing seriously as they do with the other things. The uber service without any hassle and total security is only available to the exclusive customers of Singh Movers. Therefore, the clients consider Singh Movers as the Best Furniture Removalists Briar Hill, Australia.

Briar Hill - A Suburb City Of Melbourne
Briar Hill is a suburb of Melbourne, Victoria, Australia, 18km north-east of Melbourne's Central Business District. Its local government area is Banyule city. In the 2016 census, Brian Hill had a population of 3,152.

Briar Hill Fast Facts
Postcode: 3088
State: Victoria
Country: Australia
Population according to 2016 census: 3152
Distance from Briar hill to Singh Movers Melbourne: 23 km or 20 minutes by car
Distance from Briar Hill to Melbourne CBD: 18 km
State electorate: Eltham
Federal Division: Jagajaga
Local government area: City of Banyule
Surrounding Suburbs around Briar hill :
Greensborough

Eltham

Briar Hill

Montmorency
Relevant Links:

https://en.wikipedia.org/wiki/Briar_Hill%2C_Victoria
https://en.wikipedia.org/wiki/City_of_Banyule
Move with Us for Easy,Affordable,Quality Removalists Services Australia Wide.
Contact Us For Free Enquiry and to Arrange a Free Obligation quote.
For more information on furniture removals and Storage Services don't hesitate to get in touch to one of the Expert Team Members or representatives on 13000SINGH OR 1300074644 for a free obligation quote from the Singh Movers Team, simply fill out our quick quote form or write an email or call us directly as per your convenience. Our Head office is located in Melbourne and Singh Mover's offices are spread across over other major cities: Sydney, Adelaide, Brisbane, Canberra, and Perth.