REMOVALISTS DEANSIDE

Most trusted Furniture removalists Deanside: Singh Movers
One of the best Removalists Deanside is Singh movers and packers which offers every proper service for you to shift from a place to place and if you are shifting office or your flat and going to a new one, Singh Movers has got your back. As a resident of Melbourne, you can get the best out of Singh Mover as we are the fastest moving services from Melbourne, and are such a service which you should always opt for. This service is going to be the best for you and the most ideal option for you as a resident of Melbourne and if you want furniture removalists Deanside.

Singh Movers and Packers offer specialized Furniture Removalists Deanside services, which include:
Furniture Removals: We have specialized furniture removalists for you which makes sure that every light, as well as heavy stuff, is relocated and sent to the proper place as per your needs. We can easily relocate your furniture for you with our 'all the time' in-service trucks which deliver everything which you want from a place to another.
No Depot To Depot Charges: In our service, we always make sure you don't have to pay extra for anything, and so, we never put any kind of depot to depot charges and make sure we don't charge you for anything extra. We have excluded the depot to depot charges, which makes our service really worth a while as we believe customer satisfaction is the top priority for us.

No Fuel Charges: In our service, we never charge for any kind of fuel etc. for our trucks which we use for relocating your stuff as we never charge for the fuel in our service just because it is included in our service only.

Door To Door Charges Only: Our service charges you just for the relocation of your items, which means that you got to pay for the door to door service only, one of the main parts of our service.

On-Time Delivery and Pickup: We always make proper efforts to make sure everything is delivered at a proper time and in the perfect shape you want. If you want your stuff to be delivered at a particular time and along with that, you can make a special demand for that and we would be delivering that for you at that particular time only.

Fast Moving Service: We believe that time is money and thus we make sure that everything is delivered and relocated for you in the time which you want us to. We barely make any delays or whatsoever in our delivery and so, you can trust us with relocating your stuff in proper time.

Professionalism: Our service guarantees your professionalism and we guarantee you that you are doing to be dealt with such a staff which makes sure that each of your personalized demands is fulfilled properly. You would really like our staff and make sure you would work with them in future also.

Move Heavy Equipment Easily: We have already mentioned that we can easily make sure your stuff is delivered properly and easily. It doesn't matter if you are moving heavy equipment or light, we can do it for you as a part of our service.

Packing Service: In our service, we also provide you with the boxes which we need in order to pack your stuff. Our packing service is exclusive and the best all the time. This means that if you are equally looking for the proper packing of your delicate stuff, we can do that too for yo

What do we offer as a part of our service?
Singh Movers and Packers is the top-rated service as furniture Removalists Deanside, and you are going to love it for sure. Let us brief you about our service:
The service of Singh movers is really personalized with proper care of the customers.

There are no extra charges for any extra service or handling.

This service takes care of even the minutest things in your stuff.

No hidden costs at all.

We offer 24 x 7 service.

If you own a pool table, this service would be a full-time pool table movers Melbourne for you.

You would easily get the feasibility of transport facility for all your stuff.

We are a furniture delivery service with packing service and a door to door service.

This company would provide you with packing material on their own so that you don't have to worry about packing either.

We are a fully licensed company.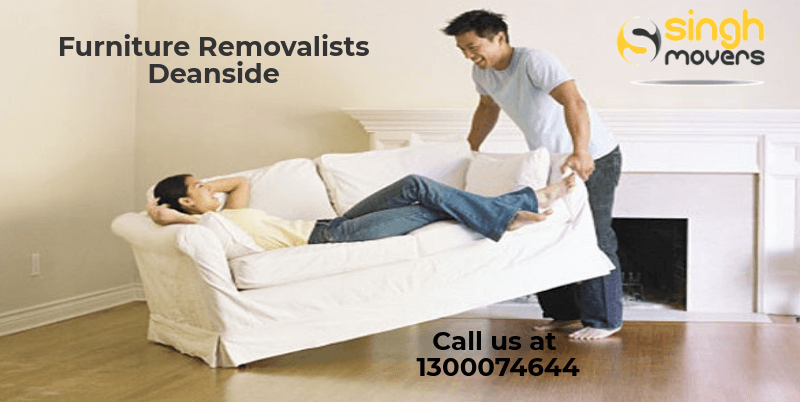 It doesn't matter if you are looking for a house removalists or furniture removalists service to shift everything from a place to another, you are going to find us appropriate all the times as we include each of the services which we have mentioned here and if you have ever felt the need to shift from one place to another, then you actually might be needing our service. We offer a full-time house removals service which you can't find anywhere else.

Safe and secure removals for Deanside VIC 3336 Suburb:
We are offering such a service that actually includes all types of shifting for you and even if you want to change office, we offer you as being the best office removalists, and you would get the best out of this service at an affordable price and we guarantee that for sure. It is one of the best removalists Deanside service which offers everything you need from any kind of moving service. This service is something which you are never going to regret picking and above every kind of service we offer, we are actually a 24 x 7 working company and provide you boxes for delivery, which means that you don't have to find your own boxes to pack your stuff because we do that for you. Make sure you pick this service rather than any other service or any vendor. You would be easily able to move all your office to hold items from one place to another. This means that if you are shifting from one office to another, you can easily find the best office removalists service in Singh movers and packers.
Full-time house removalists.

No delays in delivery anytime.

24 x 7 service.

Proper handling of all the heavy stuff while transportation.

We are an interstate removalists company with reliable service.

Full-time furniture removalists.

Best deals on the prices all the time.

100% Satisfaction guaranteed on every service.

Best and most quality service for your Antique Furniture Removal.

Always affordable.

Professionalism guaranteed.
We, at, Singh Movers and packers are actually one of the best moving services Melbourne and allow you to shift anything you want from one place to another and a lot of time, people look for this service, are interested in music and everything and want to shift to new offices or studious. In this case, it usually involves heavy and delicate music instruments at their homes or the places where they record. While shifting from one place to another, these instruments are something which needs to be taken care of all the time and with us, they are even more secure as we are a full-time piano removalists service which makes sure that all your equipment which you have and own and instruments are fully taken care of. You are absolutely going to find our service comfortable.

Deeside – A Suburb City of Melbourne
Deeside is a suburb which lies in the north-west of Melbourne, Victoria, Australia, and it was established in 2017. Deeside region has its local government area in the city of Melton. This area was just split between Rockbank and Plumpton and the postcode of Deanside is 3336 and is a proper residential area with a grown population in schools and other institutions.
Singh movers and packers have always been providing a great quality service for its customers and have been providing happy and satisfied customers all the time. If you are moving to Melbourne, then don't forget this company at all for the relocation of your stuff. The best thing about this service is that you actually get the best and most affordable removalists to decide and this means that you can trust us with your stuff all the time.
Deeside Fast facts:
Postcode: 3336
State: Victoria
Country: Australia
Local government area: City of Melton
Federal Division: Gorton
State Electorate: kororoit
Distance from Deanside to Singh Movers Melbourne: 49.3 km or 51 minutes by car
Distance from Deanside to Melbourne CBD: 31.2 km

Surrounding Suburbs around Dean side :
Aintree

Bonnie Brook

Caroline Springs

Truganina

Ravenhill

Deanside

Fraser Rise
Relevant Links:

https://en.wikipedia.org/wiki/Deanside,_Victoria
https://www.melton.vic.gov.au/Home
Move with Us for Easy,Affordable,Quality Removalists Services Australia Wide.
Contact Us For Free Enquiry and to Arrange a Free Obligation quote.
For more information on furniture removals and Storage Services don't hesitate to get in touch to one of the Expert Team Members or representatives on 13000SINGH OR 1300074644 for a free obligation quote from the Singh Movers Team, simply fill out our quick quote form or write an email or call us directly as per your convenience. Our Head office is located in Melbourne and Singh Mover's offices are spread across over other major cities: Sydney, Adelaide, Brisbane, Canberra, and Perth.