Want Fast, Reliable, Cheap, and Comfortable Move? Get Singh Movers, Friendly Moving Men.
Things Go Better With Friendly Moving Men
Singh Movers and Packers is a company that offers world-class customer service, the first time, every time friendly nature called Friendly Moving Men. Whether you're just looking to hire a truck and any number of helpers to get you from one distance to another, or a comprehensive service to take care of your entire move from one end to the other, we have a solution for your every move.
Got a challenging item you need moving? We moved and completed the entire thing without a single scratch on our employees. If you have got something heavy, awkward-shaped, or fragile, try us – we're ready for the challenge. You get the peace of mind that each of our services, from packing & moving through to waste removal, is performed to the highest standard.
No matter the size of your house & office, if you're in Australia, we can move you. We have the most competitive prices in Melbourne. We are a team of friendly moving men.
Our Friendly Moving Men are ready to help you relocate your office every day of the week, even outside business hours. You and your staff can go home on Saturday night and come into your new office on Monday like nothing ever happened. This is our specialty for you.
Our House removalists Melbourne team can pack you, move you, and even unpack you. It's like clicking your heels and finding yourself at home. Packing and moving are some of the most tedious parts of moving. You just want to be there, enjoying the new spaces. And with our high-quality and low-cost packing service, you can do just that. We offer complete cardboard boxes, plastic moving boxes, book boxes, Tea Chests boxes, butcher paper, bubble wrap, packaging tape, and tape dispensers – everything to make sure your belongings are wrapped uptight and won't be damaged. All the boxes you need with a few simple clicks.
While we always endeavor to take the utmost care with our possessions, sometimes accidents and unforeseen assets that are out of our control can occur. Not a worry – we have zero damage history with 12 years of experience in Australia, and we can legally provide Insurance on your behalf to protect your items from any unexpected damages
Singh Movers and Packers have over 12 years of experience of moving interstate to all areas of Australia including Melbourne, Sydney, Canberra, Brisbane, Adelaide, and Perth. Our customers include some of the largest national corporations and organizations who entrust us to ensure their domestic staff relocations are managed and executed professionally.
Our furniture removals services team has the network, people, experience, training, and processes to ensure your move is both smooth and cost-effective.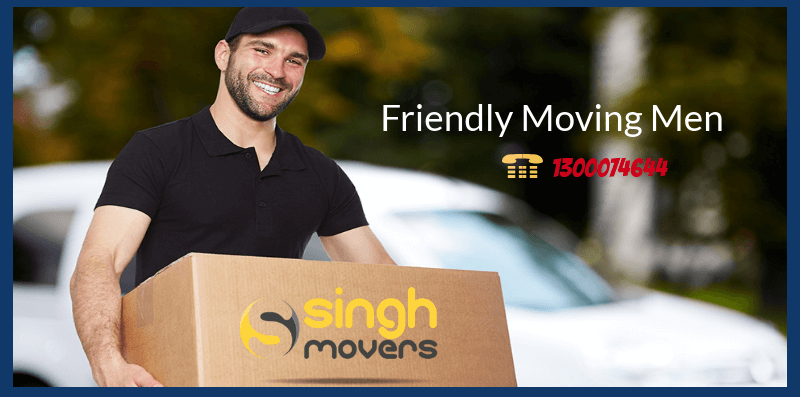 Here's how our Friendly Moving Men works:
• Singh Movers and Packers conduct a consultation meeting or home visitor office visit to guide you through the moving process and determine the best moving plan for you. This process usually takes between 30 and 45 minutes.
• On day of the move, men that move will visit your home to pack your items into specialized boxes and professionally prepare and itemize your furniture and other antique removable things.
• Our well-trained and professional removalists Melbourne team will carefully load your packed belongings into either a dedicated two men and a truck or a removal truck for transportation and delivery to your new home.
• All furniture removals process include the careful compilation of a detailed packing list. All types of items transported are numbered and listed to ensure every object is accounted for. Singh Movers and Packers ensure all of your necessary paperwork is in order to facilitate prompt inspection and clearance.
• When you reach your point, our team of friendly moving men unpack each of your belongings safely and with care.
• We can unpack your cartons. Can provide you with furniture assembly services position your furniture to your requirements and dispose of any packing waste material or hard rubbish removal.
Singh Movers and Packers have been successfully moving Australians into and out of the sunshine state for nearly ten years now. We also provide quality, competitive furniture removalist services from Melbourne and all Victorian cities and regions to Melbourne, Sydney, Canberra, Brisbane, Adelaide, and Perth.
You can save yourself time and money by comparing quotes. Avoid the chasing around and let Singh Movers and Packers help you find the right removalists Melbourne. We are a team of professional removalists in your local area, so you can easily find their services. As part of our moving services, we offer long and short-term storage at our warehouse. Our facility features storage modules, undercover steel containers, and high-security climate-controlled storage systems.
Many clients choose to store their belongings in one of two before moving. In all cases, we offer competitive pricing and a level of care consistent with our other world-class services.