Removalists Emerald, Melbourne
Hire Singh Movers for Removalists Emerald service and make a safe, secure, and hassle-free move. Singh Movers and Packers have always been the best and cheap Removalists in Melbourne and our professional removalist service is available and movers go all the way to Melbourne and Australia suburbs. Along with this, we also provide a greater price than our competitors because our staff is professionally trained, and we use state of the best equipment, which results in less wastage and also makes sure there is no damage to moving items and saves the cost and time for our customers.
We offer you low-cost professional removalist services which you might always have wanted to have and even if you want interstate removalists, we can be that for you as we are a really dynamic removalist service. We are preferred because we specialize in home furniture, piano moving service, office relocation, billiard table moving service, and more.
Singh Movers offers the best services to Emerald Customers and Melbourne suburbs:
Our service is quite personalized and promotes the best for you. Some of our finest services are:
Our services always promote packing and unpacking, furniture moving, multiple items from Emerald and other suburbs of Melbourne. We are Melbourne trusted furniture removalists and we provide the best service which you need. We offer the best service without higher cost as furniture removalists Emerald. We believe lower price services should not come at higher costs.
We are a full budget Singh Movers Melbourne based Company; you find a wide range of additional services that make the relocation reasonable price for you while keeping the low costs. If you are looking for a reliable house removalists service for relocating anywhere in Emerald, Melbourne, Australia, don't look further. Our highly professional staff will be ready here for you to always solve your removalists' problem.
We have experienced and trained staff to pack your valuables items in proper appearance. Our Professional Mover and packers know about different annoying tasks that need to be taken care of while moving. All Singh Movers staff is trained in the latest removalists techniques. In every case, you are going to find us the best and will find our staff friendly, reliable and experienced as they are trained to provide the highest level best of customer service.
When you will go for Singh Movers, we always provide you door to door services which we are proud of, and also provide the heavy trucks as per the sizes and weight of the load and can also provide the short term and long term storage services for your valuables at lower rates.
We make sure that you don't have to pay anything extra any time, which means that we curtail most of the extra charges in our service and that even excludes your charges from any kind of depot to depot charges which we always put as a charge of our service, which means you save money on the depot to depot charges also.
Our service is always based on professional working and we always make sure that you never face any kind of extra charges and all you need to pay for is the removals. This means that we even exclude the fuel charges in our service and this kind of satisfaction, we guarantee for you because we believe in positive customer satisfaction. In our transportation, we would never include charges which you shouldn't be paying for at all.
Our service is always providing and delivering your things and based on that, we just want to charge you for a door to door service which is the main service as removalists from our service and we make sure that everything is kept in accordance as per your needs.
As long as you are removing stuff and being under our service, we are responsible for everything which we do, and any kind of damage, etc is not even an option because we don't leave any chances for damage. Your stuff is safe with us and our team of trained professionals always takes care of everything which we are relocating.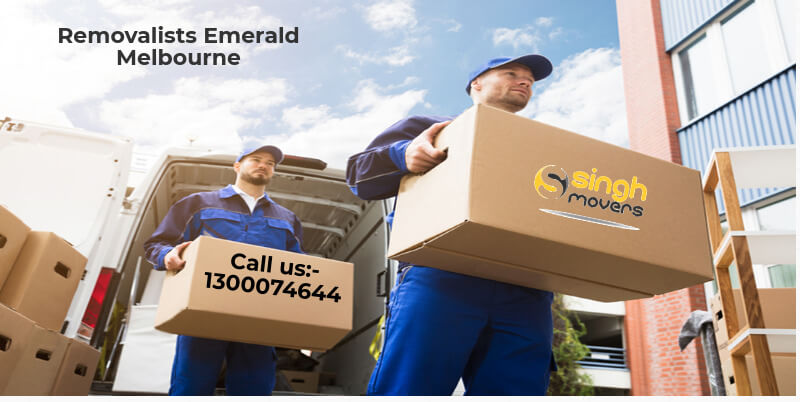 Why Choose Us for Removalists Emerald, Melbourne?
Furniture removals Emerald / House removalists / Office relocation at affordable costs.

Warehouse relocation at really affordable prices.

Piano removalists / Pool table moving.

Boxes from Company for removals.

Payment accepted as cards or cash or All types of cards accepted.

Full storage system. We provide you with the proper storage services which you want.

Trucks with a safe storage system. Trucks for transportation with full packaging you want.

Best moving service at the best price. We also provide you with an on-road and off-road Moving Service.

All furniture is properly covered for proper protection. We have a packing Service from the company by default.

On-time services with on-time pickup and drop.

Great rep in the specific field.

Skilled employees with trained professionals.

24 x 7 service.
We always believe in the best quality of all the services which we are offering here and that too with our finest and most professional staff. Our great services altogether as we happen to be the best furniture removalists Emerald, Melbourne and are always available for any kind of relocation which you want. We are the best in our field and our services are always available, with our services being available 24 x 7. we provide you such a service which you would have always wished for and make it easy for you to shift from one place to another so that you can relocate your stuff easily.
So, if you want to hire us, you can always call our services and make sure for yourself that you get the best removalists service which you deserve rather than any other kind of service which has a lot of hassles in it. We are the best house removals with positive customer reviews, always!
Frequently Asked Questions (FAQ) about Singh Movers and Packers:
Q1: Can relocate antiques, pianos, or other heavy stuff for us?
Ans: Of course, we do and we have highly trained staff which is used to relocate antiques and we have an art transport division equipped and skilled at moving, storing and installing valuable and delicate works of art. Our department uses specialized all types of vehicles are used which depends upon what you want to select services. and our staff offer stress-free services and you should call us anytime and we also provide the best profit for you. Many of our vehicles contain piano trolleys. Our staff is experienced at disassembling and reassembling can grand pianos and multi-piece billiard tables.
Q2: Can I pack the stuff which I have in my own boxes?
Ans: You can, for sure. If you can't still do that, we can do that for you and you can easily do it too and keep everything according to your preferences. We won't even question you for this. You can leave the more fragile items to us. If you choose to do this, we will always supply you with appropriate professional quality boxes long and medium, and packing materials. We can also provide you with instructions for packing your boxes to experienced standards.
Q3: What kind of storage services do you offer?
Ans: We also give storage service for as much time as you want and we provide you with the best solution available, always.
Q4: What equipment used do you bring with you?
Ans: It depends upon you what type of service you want. Our trucks are purpose-built for removals and along with that, we also have the grade tie in straps, double door fridge trolleys, bubble wraps, and medium boxes and piano trolleys.
State: Victoria

Country: Australia

Postcode: 3782

State electorates: Gembrook

Federal electorate: La Trobe

Population: 5,778 according to the 2016 census

Density: 284.6 people per square km

Local government area: Shire of Cardinia

Distance from Emerald to Singh Movers Melbourne: 34.0 km or 31 minutes by car

Distance from Emerald to Melbourne CBD: 44 km
​
Surrounding Suburbs around Emerald:
Kallista

Monbulk

Macclesfield Avonsleigh

Menzies Creek

Clematis

Dewhurst

Cockatoo

Mount Burnett